Police in Australia have launched an appeal for witnesses after "not very smart" thieves made off with a practically worthless two-tonne rock from the National Rock Garden in Canberra.
Officers said it would have taken specialist lifting equipment to remove the giant 450-million-year-old stone from its perch on a larger rock – to which it was attached with three steel nails.
The rock was donated by a mining company to symbolise Victoria's gold rush in the 1800s, yet despite its impressive appearance and visible veins of gold it is actually of very little monetary value.
Rock Garden chairman Brad Pillans described the theft as both "disappointing" and "silly", because it would likely cost the thieves more to have the rock crushed than the resale price of the gold it contains.
"They've trucked the rock away," he told ABC News. "They may well try to crush it up and extract the gold.
"The silly thing is they've caused thousands of dollars of damage to the exhibition and taken a rock which will be very difficult to replace, all for perhaps $200 (£100) worth of gold."
The rock, transported in from Australia's famous Bendigo Goldfield, is far more significant for its historical value than any riches it might have contained.
According to its listing on the Rock Garden website, the rock consists of metamorphosed sandstone, subjected to immense heat over hundreds of millions of years, forming white quartz veins, pyrite and small grains of gold.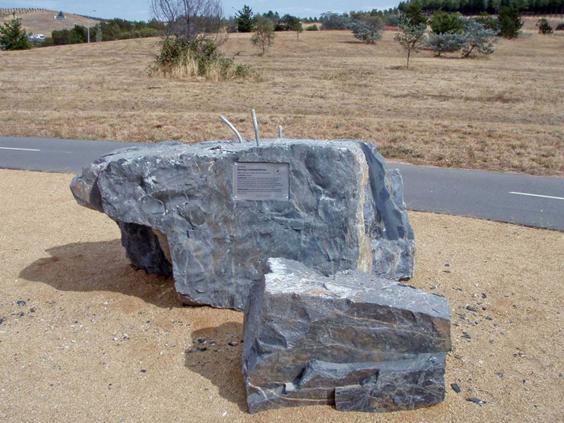 Writing on the garden's Facebook page, organisers appealed for help finding the  "perhaps not very smart" thieves, saying: "Many volunteers helped bring this together and now the Victorian contribution from Bendigo has been stolen.
"This theft was not a spur of the moment decision; the stone was heavy and involved a truck with a crane. On Thursday, 13 February, organised thieves stole from the garden and damaged the rocks in the process.
"The volunteers are working to create something educational and beautiful, bringing rocks from all corners of the country to help tell the geological story of Australia. Help us re-unite the missing Bendigo rock."
Commenting on the appeal online, Sydney-based Facebook user Alastair Williams wrote: "This is the most sad story I've heard in a while."
Andreas Schmidt Mumm, from Adelaide, said: "Who on Earth steals a rock?! In Australia?"
Australian police have urged anyone with information about the theft, or who thinks they may have spotted the distinctive object, to get in touch.
Reuse content