An Australian politician has issued an apology on his Facebook page after he compared same-sex marriage reform to gun control.
George Christensen, an MP for the ruling Liberal party, sparked controversy on Sunday when he reacted to renewed calls for an equal marriage debate on Twitter, wondering if they followed America's lead on the issue how long it would be before they adopted its views on gun control.
The comments came just two days after the USA's Supreme Court legalised equal marriage in all 50 states.
In a now deleted tweet he said: "How many Aussies who want to follow the US on "gay marriage" want to follow them on the right to bear arms as well?"
But just a day later he backtracked and apologised for comparing the two. He said his intention was just to say "not everything the United States does should be followed" but "on reflection" decided that it was a "poor analogy".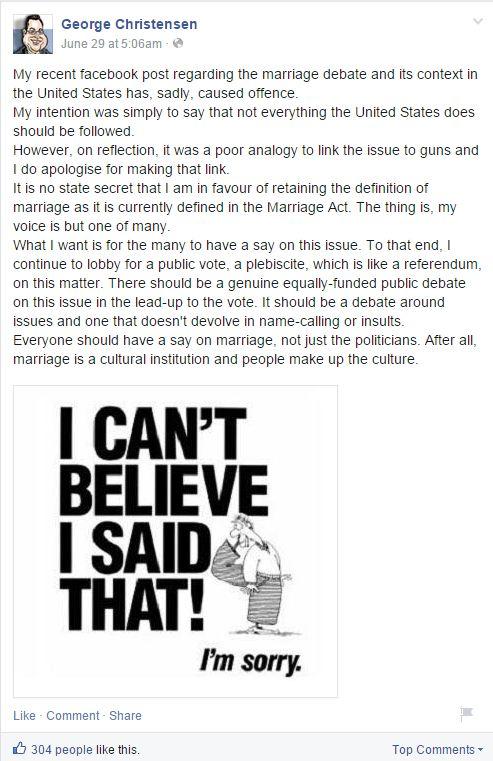 This is not the first time the Queensland MP has attracted controversy. Since he was elected in 2010 he has labelled Greenpeace and other environmentalists as "terrorists" and claimed that Australian consumers who buy Halal products could be funding extremism.
According to Buzzfeed Australia, the country is known for its strict gun laws enacted by former prime minister John Howard in 1996 after a mass shooting in Port Arthur, Tasmania.
Through a government funded buy back programme, over 640,000 guns were collected and destroyed and the sale of certain high powered weapons were destroyed.
Christensen believes the bill due to be put before parliament in August will fail telling ABC News: "Of all of the feedback that's come into my office, come to me personally, the figures are four to one against."
He thinks there should be a nationwide referendum: "We want to have another measure that looks at this issue. I think that that measure should be a vote by the people, not the politicians.
"I have already asked the Prime Minister about that and I note that it is something that's supported by all sides of the debate."
Same-sex marriage legalised across the US
Same-sex marriage legalised across the US
1/15 Same-sex marriage legalised across the US

U.S. Supreme Court ruled that the U.S. Constitution provides same-sex couples the right to marry

Reuters

2/15 Same-sex marriage legalised across the US

Ariel Olah of Detroit, left, and her fiancee Katie Boatman, are overcome by emotion outside the Supreme Court in Washington, Friday, June 26

AP

3/15 Same-sex marriage legalised across the US

Lori Hazelton and Stephanie Ward are the first same-sex couple to receive their marriage license on Friday, June 26, 2015, in Muskegon, Mich

AP

4/15 Same-sex marriage legalised across the US

Wedding cakes provided by All Saints Episcopal Church of East Lansing are cut inside the Ingham County Courthouse in Mason, Mich

PA

5/15 Same-sex marriage legalised across the US

Ariel Cronig (L) and Elaine Cleary embrace outside of the US Supreme Court after the ruling in favor of same-sex marriage

Getty

6/15 Same-sex marriage legalised across the US

Reverend Laura Barclay, right, officiates the marriage of Tadd Roberts, left and Benjamin Moore at the Jefferson County Clerks Office Friday

AP

7/15 Same-sex marriage legalised across the US

Beth Sherman (L) and her wife Karen Hawver (R) celebrate with their children Ben and Emma (C) the U.S. Supreme Court's landmark ruling of legalizing gay marriage nationwide

Reuters

8/15 Same-sex marriage legalised across the US

People celebrate in front of the U.S. Supreme Court after the ruling in favor of same-sex marriage June 26, 2015 in Washington, DC

Getty

9/15 Same-sex marriage legalised across the US

Eric Hause of Norfolk, center, hugs Claus Ihlemann and Robert Roman in the lobby of the Slover Library Friday morning, June 26, 2015

AP

10/15 Same-sex marriage legalised across the US

Spencer Trzybinski hangs a rainbow flag, a symbol of the lesbian, gay, bisexual, and transgender movement, at the Dunes Resort and Entertainment Complex in Douglas, Mich

AP

11/15 Same-sex marriage legalised across the US

Angela Boyle, left, and Laura Zinszer take a selfie after receiving their marriage license at the Boone County Recorder of Deed's office on Friday, June 26, 2015, in Columbia, Mo

AP

12/15 Same-sex marriage legalised across the US

After 54 years as a couple, George Harris, 82, and Jack Evans, 85, are married by Judge Denise Garcia on Friday, June 26, 2015 at the Dallas County Records Building in Dallas, Texas

AP

13/15 Same-sex marriage legalised across the US

Newlyweds, Colby Roanhorse, left, and Zachary Roanhorse celebrate after applying for a marriage license from the Kent County clerks office, Friday, June 26, 2015, in Grand Rapids, Mich

AP

14/15 Same-sex marriage legalised across the US

A couple kiss to celebrate the US Supreme Court's historic decision on same sex marriage during a rally outside the Stonewall Tavern in the West Village in New York on June 26, 2015, after the US Supreme Court's historic decision on same sex marriage

AFP

15/15 Same-sex marriage legalised across the US

A demonstrator arrives at a rally in Greenwich Village to celebrate the Supreme Court's ruling on gay marriage, Friday, June 26, 2015, in New York.

AP
Reuse content