Tony Abbott's determination to keep refugees out of Australia is well known.
But now the Australian Prime Minister has gone step further, and compared the efforts needed to stop asylum seekers entering the country as similar to those needed to thwart terrorists.
During a speech about the government's anti-terror measures, he said: "We need to bring the same drive, focus and clarity of purpose to countering terrorism that resulted in stopping the boats under Operation Sovereign Borders."
Operation Sovereign Borders is a border protection operation aimed at stopping the arrivals of boats of asylum seekers from poverty or conflict-stricken areas of south east Asia.
Crazy things Tony Abbott's said (mainly about women)
Crazy things Tony Abbott's said (mainly about women)
1/16 1979

"I think it would be folly to expect that women will ever dominate or even approach equal representation in a large number of areas simply because their aptitudes, abilities and interests are different for physiological reasons."

Rex

2/16 March 17th, 2004

"Abortion is the easy way out. It's hardly surprising that people should choose the most convenient exit from awkward situations."

Getty

3/16 March 17th, 2004

"Why isn't the fact that 100,000 women choose to end their pregnancies regarded as a national tragedy approaching the scale, say, of Aboriginal life expectancy being 20 years less than that of the general community?"

Getty

4/16 November 9th, 2006

"I won't be rushing out to get my daughters vaccinated [for cervical cancer], maybe that's because I'm a cruel, callow, callous, heartless bastard but, look, I won't be."

Rex

5/16 February 2nd, 2010

"The climate change argument is absolute crap, however the politics are tough for us because 80 per cent of people believe climate change is a real and present danger."

Getty

6/16 February 11th, 2010

"We just can't stop people from being homeless if that's their choice."

Getty

7/16 2010

"While I think men and women are equal, they are also different and I think it's inevitable and I don't think it's a bad thing at all that we always have, say, more women doing things like physiotherapy and an enormous number of women simply doing housework."

Getty

8/16 2010

"I'd probably say I feel a bit threatened… as so many people." On homosexuality.

Rex

9/16 April 5th, 2010

"Jesus knew that there was a place for everything and it's not necessarily everyone's place to come to Australia."

Getty

10/16 2010

On indigenous Australians "There may not be a great job for them but whatever there is, they just have to do it, and if it's picking up rubbish around the community, it just has to be done."

Getty

11/16 2013

"If you want to know who to vote for, I'm the guy with the not bad looking daughters".

Getty

12/16 January 27th 2014

"I would say to my daughters if they were to ask me this question... [their virginity] is the greatest gift that you can give someone, the ultimate gift of giving and don't give it to someone lightly, that's what I would say."

Rex

13/16 May 2014

"I shouldn't have done it... I should've been more focused on the caller and less focused on the interviewer." After winking at a radio show presenter while taking a call from a listener.

Getty

14/16 October 2014

"I am going to shirtfront Mr Putin – you bet I am – I am going to be saying to Mr Putin Australians were murdered, they were murdered by Russian backed rebels."

Getty

15/16 November 2014

"A good economy is good for the environment…As the world's largest producer of coal, I'd like to stand up for coal." At G20 summit

16/16 May 2015

'Nope, nope, nope': Tony Abbott makes it very clear that Australia will not accept any Rohingya Muslims fleeing systematic persecution in their home country of Burma

AFP
During the same speech, he said: "I think we've demonstrated in the way we have stopped the boats, I think we have demonstrated with our commitment to countering Islamist death cults both here and abroad, that we do take our responsibilities to keep our communities safe very, very seriously indeed."
Abbott was criticised after he told European leaders to simply "stop the boats" flooding to Italy from Libya after up to 1,300 migrants drowned in the Mediterranean in a week.
Australia is a common destination for asylum seekers in the region from countries like Sri Lanka and Burma.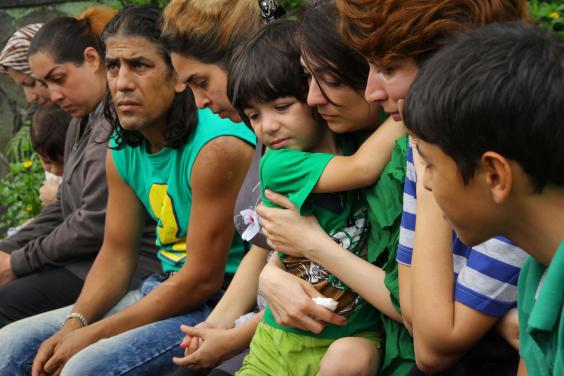 Many Burmese refugees are Rohingya Muslims, who are the victims of state-sanctioned discrimination in their mostly Buddhist home nation.
Australia received 24,300 claims for asylum in 2013, making it the eighth largest recipient of asylum seekers amongst other developed nations.
Mr Abbott used the speech to remind Australians of his government's determination to stop terrorism, an important policy in light of last year's terror attack in Sydney, when customers and staff were held hostage at a café by an Islamic extremist.
During the speech, Abbott said that the current Minister for Justice Michael Keenan will become Minister Assisting the Prime Minister on Counter-Terrorism.
He also said that Keenan will take particular responsibility within the Attorney General's department for Australia's various anti-terror programmes.
Reuse content