When Julia Gillard's family emigrated to Australia from South Wales in 1966, little did they dream that their daughter would make history as the country's first female prime minister.
Yesterday, after her predecessor, Kevin Rudd, was unceremoniously dumped by his own party, Ms Gillard was sworn in – appropriately enough by the nation's first female Governor-General, Quentin Bryce. She later presided over her first parliamentary Question Time as Prime Minister, with Mr Rudd looking on forlornly from the backbenches.
Political commentators, meanwhile, were pinching themselves. Only months ago, Labor was riding high in the polls and Mr Rudd – elected in 2007, in a victory that ended the 11-year reign of John Howard – was Australia's most popular leader for three decades.
However, his government's ratings slumped after a series of blunders and policy backflips, and amid growing discontent about his aloof, authoritarian style. Party powerbrokers decided Labor was in danger of losing an election due later this year. Initially reluctant, Ms Gillard, 48, was persuaded to challenge Mr Rudd, who stepped aside, having lost the support of key unions and most of his colleagues.
Ms Gillard, who had been his deputy and a member of his inner circle, promised to call an election "within months". She also signalled a new approach on the two major issues that felled Mr Rudd: his shelving of a carbon trading scheme, and his protracted battle with the powerful mining industry over plans to introduce a new tax on "super profits".
It's an uphill battle, but she is unlikely to shirk the challenge. A former university activist and industrial lawyer, she had to fight long and hard to be a Labor candidate. She has endured insults from her political opponents, who have called her a union stooge and a communist. One conservative backbencher, Bill Heffernan, even accused her of being "deliberately barren".
Her childless, unmarried status (she has a long-term partner) has attracted much comment, along with her hairstyle, her fashion sense and her lack of interest in cooking. Forthright, personable and formidably bright, she is considered Labor's star performer. She has spent the last two and a half years in charge of the crucial areas of education, employment and industrial relations.
Born in Barry, Ms Gillard was four when her family emigrated to Australia under the "Ten Pound Pom" assisted passage scheme. They settled in Adelaide, where she attended school and then university, gaining a law degree – but only after interrupting her studies to be president of the Australian Union of Students. After qualifying, she joined a leading law firm, Slater & Gordon and became the firm's youngest partner at 29. She entered parliament in 1998, after three unsuccessful attempts. After being the opposition's spokeswoman on immigration and health, she was elected deputy leader in 2006.
Generally unflappable, Ms Gillard has a fiery nature to match her red hair, according to her mother, Moira, who told a recent documentary: "Julia is very easy-going, but when something does upset her, just look out. She gets into a temper, just like a sleeping volcano." In 2006 Ms Gillard was ejected from parliament for calling the then health minister, Tony Abbott, a "snivelling grub". Mr Abbot was elected opposition leader last December. Recent polls put his conservative Liberal-National Party Coalition slightly ahead of Labor.
Hailed as a Labor hero in 2007 for ousting Mr Howard, Mr Rudd, 53, now has the dubious distinction of being Australia's shortest-serving prime minister since 1972. Not given to displays of emotion, he was tearful yesterday as he told a press conference: "I have given it my absolute best; I have given it my all."
Voters were horrified when he postponed a carbon trading scheme in April, having once called climate change "the greatest moral and economic challenge of our age". The government had also become embroiled in a damaging battle with mining companies over a plan to impose a new tax on their "super profits". One of Ms Gillard's first acts was to offer an olive branch to the industry, pledging more consultation.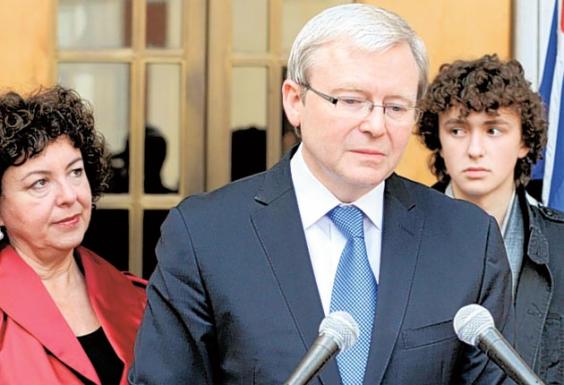 The speed and brutality with which Mr Rudd was overthrown shocked even seasoned observers. Under his tenure, Australia had weathered the global turmoil better than any other developed country. Mr Rudd had also apologised to the Aboriginal "Stolen Generations", and signed the Kyoto Protocol.
On becoming Deputy Prime Minister, Ms Gillard remarked: "If anybody had suggested to my parents when we migrated to this country that something like this was possible, they would have taken their temperature and said they needed to go to bed." Yesterday Moira and John Gillard watched proudly as their daughter was sworn into the highest office in the land.
Rudd cries off – but he's not the first
As a member of the Labor party, and thus susceptible to right-wing accusations of softness, Kevin Rudd may have spent his whole career being careful not to cry in public. Yesterday, as that career came to an end, the floodgates opened. As he enumerated his government's achievements in office, he wept.
Rudd is far from the first politician to find his own downfall tragic, but at least, with his time in high office over, he can be cleared of tactical tearfulness. The same can't be said for Bob Hawke who cried like a baby, right, when interviewed about his infidelity in 1989. "I'm only human," the former Australian PM wailed, in a paean to his "incredible" wife. He stayed in office, and later remarried, which might suggest that those were crocodile tears.
Still, calculated or not, the exposure of something resembling the qualities of an actual human being can often count in a politician's favour. The former Home Secretary Jacqui Smith rarely seemed so sympathetic as when she fought back the tears after losing her seat; Hillary Clinton, likewise, won many friends when she choked up in the race for the US presidency.
"You know, I have so many opportunities from this country, I just don't want to see us fall backwards," she said, when asked by an admiring audience member how she coped with the pressures of the road. Many of her campaign team feared that any display that could be stereotyped as weak femininity would count against her; instead, she won a fillip in the polls, persuading at least a few voters that she wasn't the ruthless political robot that so many had assumed.
Our own least-loved political figure of recent years, Gordon Brown, could hardly be called calculating for seeming to tear up at the mention of the death of his son in an interview – even if the interrogator was Piers Morgan. But not all displays of emotion will win you friends. When Margaret Thatcher dabbed her eyes leaving Downing Street, few who had criticised her ruthless administration were moved. And that may be a reminder of a near-universal truth about our leaders: when it's someone else losing their job, most of them are resolutely stony-faced.
Archie Bland