The predator hidden in plain sight on this tree trunk is a potentially lethal poisonous snake.
In this photo posted on Facebook by Leanne Cook, the snake's skin of multiple shades of grey makes it difficult to spot.
Ms Cook from New South Wales spotted the reptile, believed to be a Stephens' Banded snake, on a tree in Maitland north of Sydney.
She wrote alongside the photo: "Hiding in plain sight! When you see it don't post the answer, let others continue to search."
Stephens' Banded snakes are described by Queensland Museum as "ready biters" with a venom that affects blood clotting.
In March 2013, a 60-year-old man died after a snake bite to his hand by one of the reptiles. The man only reached a hospital seven hours after being bitten.
This species grow up to 1.5m in length and feed mainly on frogs, reptiles and small mammals.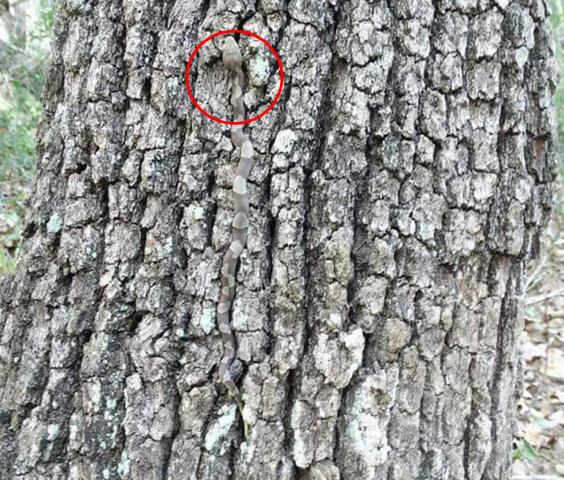 Between one and four people die from snake bites each year in Australia with the majority of such deaths due to Eastern Brown snakes, according to the Australian Venom Research.
Brown snakes are the world's second most venomous land snake.