A senior Vatican official has admitted the Catholic Church "has made enormous mistakes" in covering up the widespread sexual abuse of children by priests. 
Australian Cardinal George Pell - who is a key financial adviser to Pope Francis - was giving evidence from Rome via videolink to the Royal Commission in Sydney over questions as to whether he knew about paedophile priests operating in the city of Ballarat in the south of the country in the 1970s and 1980s.
Cardinal Pell - who has not been accused of sexual abuse - was a priest in the city during the early 1970s and lived in a seminary with Gerald Ridsdale, who committed at least 130 offences against young boys between the 1960s and 1990s. 
He said he had heard an Australian Catholic teacher who serially abused his pupils may have been involved in "paedophilia activity" but said he did not know how widespread the abuse was. 
Two dozen Australian abuse survivors and their companions traveled across the globe to witness Cardinal Pell give evidence to the inquiry in a Rome hotel's conference room.
Several protesters held placards outside the inquiry's headquarters calling for Pope Francis to sack Cardinal Pell over the allegations that he turned a blind eye to his fellow priests' crimes.
The Royal Commission into Institutional Response to Child Sex Abuse is currently holding its second round of interviews in its inquiry into child sex abuse in Ballarat. 
Cardinal Pell said: "I'm not here to defend the indefensible.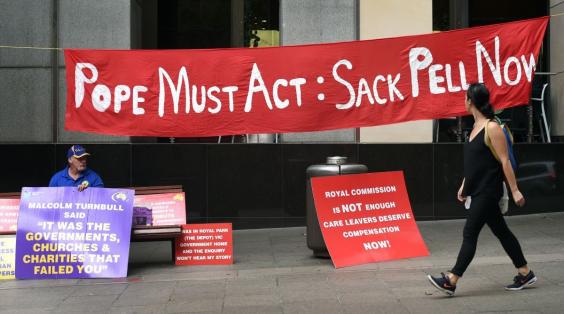 "The Church has made enormous mistakes and is working to remedy those but the Church in many places, certainly in Australia, has mucked things up, has let people down."
The priest  criticised former Bishop of Ballarat, Ronald Mulkearns, for his conduct in the Ridsdale case. 
Bishop Mulkearns has been accused of moving Ridsdale between parishes for decades every time allegations against him surfaced. 
World news in pictures
World news in pictures
1/30 30 September 2016

Yael Pedazur, who works at the Peres Center for Peace, mourns besides the grave of former Israeli president Shimon Peres during his burial ceremony at Jerusalem's Mount Herzl national cemetery

AFP/Getty Images

2/30 30 September 2016

Children play with water from a burst water pipe at a site hit yesterday by an air strike in Aleppo's rebel-controlled al-Mashad neighbourhood, Syria

REUTERS

3/30 30 September 2016

Fighters supporting Libya's Tripoli-based Government of National Accord (GNA), set up drones in the coastal Libyan city of Sirte. Fighters use drones with camaras to spot Islamic State (IS) group positions in the District 3 neighbourhood of the city

AFP/Getty Images

4/30 29 September 2016

People are treated for their injuries outside after a NJ Transit train crashed in to the platform at Hoboken Terminal in New Jersey. Dozens are reported injured from the rush hour accident in the terminal that handles up to 50,000 passengers a day

Getty Images

5/30 29 September 2016

A rescue worker is seen next to an overturned car at the site of a landslide caused by heavy rains brought by Typhoon Megi, in Sucun Village, Lishui, Zhejiang province, China

REUTERS

6/30 29 September 2016

About 23 giant pandas born in 2016 are seen on a display at the Chengdu Research Base of Giant Panda Breeding in Chengdu, Sichuan province, China

REUTERS

7/30 29 September 2016

A man takes a photograph of a portrait of former Israeli President Shimon Peres, as he lies in state at the Knesset plaza, the Israeli parliament, in Jerusalem

REUTERS

8/30 28 September 2016

Rescuers evacuate residents through floodwaters brought by typhoon Megi in Ningde, eastern China's Fujian province. Typhoon Megi smashed into the Chinese mainland, killing one person, after leaving a trail of destruction and four people dead in Taiwan

AFP/Getty Images

9/30 28 September 2016

A CalFire firefighter surveys a hot spot in the Santa Cruz Mountains near Loma Prieta, California. The Loma Fire has charred more than 2000 acres and burned multiple structures in the area

AFP/Getty Images

10/30 28 September 2016

A civil police officer carries a girl to a safe place during the demolition of over 300 settlements of the Bukit Duri neighbourhood located on the Ciliwung river banks, in order to improve the riverside infrastructure planned by the government in Jakarta. Authorities ordered the slum residents to vacate their settlements built on riverbanks and for the residents to relocate to new flats, as the government is trying to clear the flood-prone area, where more than 900 homes were demolished a year earlier

AFP/Getty Images

11/30 27 September 2016

A woman eats and struggles with her umbrella against powerful gusts of wind generated by typhoon Megi across the the island in Taipei, Taiwan. Schools and offices have been closed on Taiwan and people in dangerous areas have been evacuated as a large typhoon with 162 kilometers- (100 miles-) per-hour winds approaches the island

AP

12/30 27 September 2016

Alstom employees stage a protest in front of its headquarters in St Ouen, north of Paris, asking not to close a plant in Belfort, eastern France, which employs 400 people. Alstom's situation is considered by many French politicians as symbolic of France's difficulty of keeping a strong industry at home

AP

13/30 26 September 2016

A man poses as he gathers with others at Bogota's Bolivar main square, to celebrate the historic peace agreement between the Colombian government and the Revolutionary Armed Forces of Colombia (FARC). Colombia will turn the page on a half-century conflict that has stained its modern history with blood when the FARC rebels and the government sign a peace deal. President Juan Manuel Santos and the leader of the FARC, Rodrigo Londono, better known by his nom de guerre, Timoleon "Timochenko" Jimenez, are set to sign the accord at 2200 GMT in a ceremony in the colorful colonial city of Cartagena on the Caribbean coast

AFP/Getty Images

14/30 26 September 2016

Tourists pose in front of the illuminated Eiffel Tower during an event to mark the Breast Cancer Awareness month in October in Paris

AFP/Getty Images

15/30 26 September 2016

A nail house is seen in the middle of an area covered by a dust screen in Hangzhou, Zhejiang province, China

REUTERS

16/30 26 September 2016

Students at the Durban University of Technology march as countrywide protests demanding free tertiary education continue, in Durban, South Africa

REUTERS

17/30 26 September 2016

Palestinian women throw sweets at the militants from the al-Nasser Brigades, an armed wing of the Popular Resistance Committees (PRC), while marching on their vehicles during a rally to commemorate the 16th anniversary of their group in Gaza

AP

18/30 26 September 2016

A supporter of Awami Ittihad Party (AIP), a pro-India party, is detained by Indian police during a protest demanding to hold a plebiscite, in Srinagar

REUTERS

19/30 25 September 2016

A dog wipes out during the Surf City Surf Dog competition in Huntington Beach, California

REUTERS

20/30 25 September 2016

Indian folk dancers from the Panghat Group of Performing Arts perform during a dress rehearsal for an event to mark the forthcoming Hindu festival 'Navaratri', or the Festival of Nine Nights, in Ahmedabad

AFP/Getty Images

21/30 25 September 2016

An artisan hangs decorative pieces at a pandal, or a temporary platform, for the upcoming Hindu festival of Durga Puja, in Kolkata, India

REUTERS

22/30 25 September 2016

Runners take the start of the 43rd Berlin Marathon in Berlin

AFP/Getty Images

23/30 25 September 2016

The Five-hundred-metre Aperture Spherical Radio Telescope (FAST) is seen on its first day of operation in Pingtang, in southwestern China's Guizhou province. The world's largest radio telescope began operating in southwestern China, a project which Beijing says will help humanity search for alien life

AFP/Getty Images

24/30 25 September 2016

Australian knight Philip Leitch (R) has a floral basket on his helmet smashed by an opponent at the St Ives Medieval Fair in Sydney, one of the largest of its kind in Australia

REUTERS

25/30 25 September 2016

A security guard working at the Cascade Mall places flowers at a makeshift memorial in Burlington, to the five victims killed in a shooting at the mall. The 20-year-old man suspected of killing the five people with a rifle at a Macy's makeup counter had a string of run-ins with the law in recent years, including charges he assaulted his stepfather

AP

26/30 25 September 2016

A man works in a rice field where rice crop is planted in a shape which looks like a map of China, ahead of China's National Day, in Shanghai, China

REUTERS

27/30 25 September 2016

Law enforcement officials inspect a boat overturned on a jetty, off Miami Beach. Authorities said that Miami Marlins starting pitcher Jose Fernandez was one of three people killed in the boat crash the day before. Fernandez was 24

AP

28/30 24 September 2016

Syrians await to receive treatment at a make-shift hospital following air strikes on rebel-held eastern areas of Aleppo. Heavy Syrian and Russian air strikes on rebel-held eastern areas of Aleppo city killed at least 25 civilians, the Britain-based Syrian Observatory for Human Rights said, overwhelming doctors and rescue workers

AFP/Getty Images

29/30 24 September 2016

A fire broke out on a tanker belonging to the Mexican state oil company PEMEX, causing no injuries, according to a company official, in the Gulf of Mexico off the coast of Boca del Rio in Veracruz state, Mexico

AFP/Getty Images

30/30 24 September 2016

Participants attend a competition of the 2016 XTRAIL Expedition at Kanas National Geological Park in Altay, China's Xinjiang Uygur Autonomous Region

REUTERS
Cardinal Pell - who was an adviser to Bishop Mulkearns at the time - has denied knowing anything about it and said the bishops's handling of the situation was a "catastrophe for the Church". 
In a statement on Sunday, Pell repeated his support for the commission's work, vowed to meet individually with victims who had traveled to Rome and said he hoped the coming days "will eventually lead to healing for everyone." 
The cardinal will resume giving evidence to the inquiry on Monday.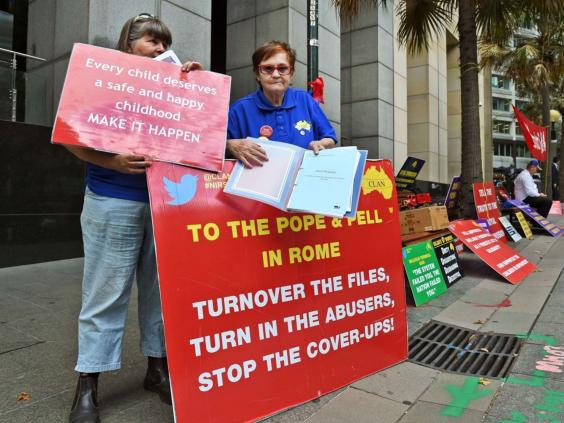 Anthony Foster, whose eldest daughter was repeatedly raped by priest Kevin O'Donnell and later killed herself, said it was "astounding and empowering for victims" that the commission was now sitting in judgment of Cardinal Pell on a global stage. 
"I feel as though we haven't just brought it to Rome. We've brought it to the world," he said.  
Cardinal Pell's evidence, is the closest he has ever come to publicly stating that he had even tangential awareness of the scandal playing out in Ballarat.
The Catholic Church has been reluctant to admit culpability in the widespread abuse by priests in its orders. 
The movie Spotlight, which won the Oscar for Best Picture on Sunday, focuses on the investigation by journalists at the Boston Globe in 2002 which exposed a similar cover up by local church authorities. 
According to American journalist John L Allen Jr, Cardinal Pell - despite his external reputation as part of the establishment responsible for the cover- up - is regarded as "public enemy number one" among the Vatican "old guard" because he is seen as "the leader of the reform camp that is trying to drag [it], kicking and screaming at times, into the 21st century".
He said: "When you go to the Vatican, you have basically stepped through the looking glass. There is an old guard in the Vatican deeply wedded to pre-modern ways of doing business that, in most respects, would strike reasonable people as corrupt and dysfunctional."
Additional reporting by AP
Reuse content