At least eight people are feared dead after Cyclone Pam battered the south Pacific archipelago of Vanuatu, in a weather disaster UN agencies believe could be one of the worst in Pacific history.
Unconfirmed reports say dozens were killed after fierce winds slammed into the island nation, ripping off roofs, uprooting trees and downing power lines.
The Prime Minister David Cameron sent his thoughts to everyone affected by the disaster in a tweet announcing the UK will donate £2million to support international relief efforts.
My thoughts are with those affected by #CyclonePam. We have offered immediate support to Vanuatu. http://t.co/XlVG5BwE83

; David Cameron (@David_Cameron) March 14, 2015
Chloe Morrison, a World Vision emergency communications officer in Port Vila, said the capital's streets were littered with debris from damaged houses and downed power lines. She said reports are emerging of entire villages being destroyed in more remote areas.
 Alice Clements, a spokeswoman for the UN Children's Fund (UNICEF) said, "it felt like the world was going to end", when it hit.
Vanuatu has a population of 267,000 spread over 65 islands. About 47,000 people live in the capital.
Cyclone Pam hits Vanuatu island
Cyclone Pam hits Vanuatu island
1/6 Cyclone Pam

People walking along a seaside with waves splashing on land on Vanuatu island, South Pacific region

EPA

2/6 Cyclone Pam

Cyclone Pam hits Vanuatu

EPA

3/6 Cyclone Pam

People on a dock view yachts damaged in Port Vila, Vanuatu, Saturday, March 14, in the aftermath of Pam

AP

4/6 Cyclone Pam

People walk along the shore where debris is scattered in Port Vila, Vanuatu on Saturday

AP

5/6 Cyclone Pam

People scour through debris damaged and flung around in Port Vila, Vanuatu on Saturday

AP

6/6 Cyclone Pam

A satellite image of the cyclone

NOAA
There is no power or running water in Port Vila and communication systems in many of the hardest-hit outer islands are still down, meaning the full extent of the damage caused by Cyclone Pam remains unclear.
"It's still really quite dangerous outside. Most people are still hunkering down," Ms Morrison said. "The damage is quite extensive in Port Vila but there are so many more vulnerable islands. I can't even imagine what it's like in those vulnerable communities."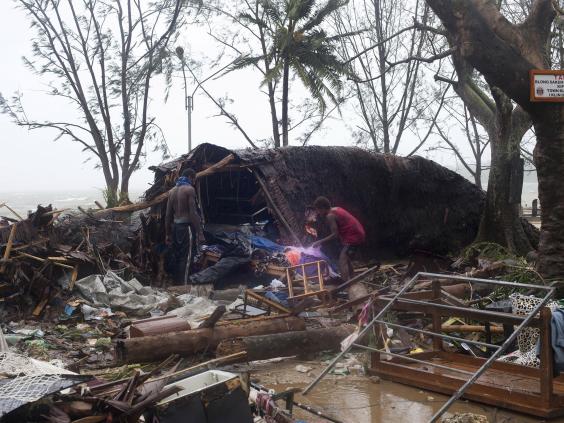 Ms Morrison said the winds peaked between midnight and 1am on Saturday morning. A westward change of course put populated areas directly in the path of Cyclone Pam's 270 kilometre (168 mile) per hour winds.
The UN Office for the Co-ordination of Humanitarian Affairs said there were unconfirmed reports of deaths in Vanuatu's northeastern islands after Cyclone Pam moved off its expected track.
Tom Skirrow, country director for the Save the Children aid group, told Reuters that Vanuatu's National Disaster Management Office had confirmed eight dead and 20 injured. He said he expected those figures to rise substantially.
Mr Skirrow said many residents were now taking shelter in evacuation centres, where they will be for up to six weeks.
"These people are homeless now," he added.
Australian foreign minister Julie Bishop said Australia is preparing to send a crisis response team to Vanuatu if needed.
"There are destructive winds, rain, flooding, landslides, sea surges and very rough seas and the storm is exceedingly destructive there," she said. "We are still assessing the situation, but we stand ready to assist."
Additional reporting by agencies
Reuse content