He's the military dictator who locked up a coup leader and then carried out a coup of his own. Now Frank Bainimarama is urging Fijians to vote for him if they want a coup-free future for their South Pacific nation.
Long-suffering Fijians could be forgiven for feeling confused as they prepare to vote tomorrow in their first democratic election for nearly eight years. Mr Bainimarama may be an irascible despot, but at least Fiji has been relatively stable since he seized power at gunpoint in 2006 – and that counts for a lot in a country some call Coup-Coup Land, with justification.
The self-appointed Prime Minister is also genuinely popular, particularly in rural areas. He has introduced free education and half-price bus fares for the over-60s, built new roads and brought water and electricity to long-neglected village communities.
Mr Bainimarama has also tried to heal the racial divisions which have blighted the former British colony since independence in 1970.
Previous coups (there two in 1987, one in 2000) were fuelled by resentment of Indo-Fijians, the descendants of labourers brought over by Britain in the 19th century to work in the sugarcane fields. By contrast, Mr Bainimarama has rewritten the constitution to give Indo-Fijians equal status with ethnic Fijians – and many of the former support him and his new Fiji First party.
"He's united the whole country, Indians and Fijians, and he's helping both races, likewise," said Dami Naidu, a sugarcane farmer in the small town of Rakiraki. Recalling the anti-Indian violence which followed earlier coups, a honey farmer, Anil Tikaran, said: "There's not that feeling all the time that something bad's going to happen. We can live virtually without fear."
However, those who have dared to oppose the military regime tell a different story. Virisila Buadromo, head of the Fiji Women's Rights Movement, was hauled up to the main barracks in the capital Suva one Christmas Eve. During angry questioning by two officers, she was screamed at, punched, kicked, stamped on and made to lick a soldier's boots.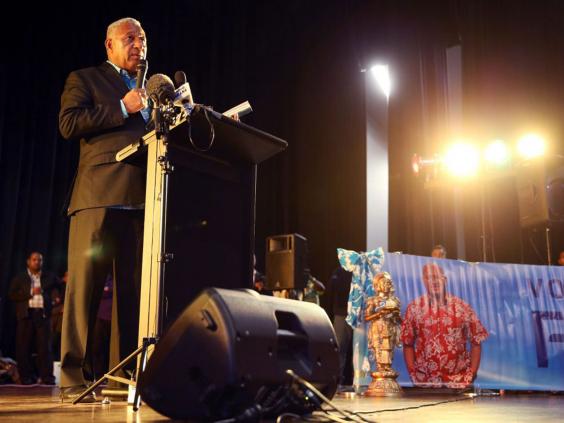 Felix Anthony, a veteran union leader, was summoned to a meeting with Mr Bainimarama at a sugar mill in the town of Ba, along with his union deputy. Outside the mill, they were abused and sworn at by the Prime Minister, who threatened to "pour kerosene over us and burn us". They were then taken inside and beaten up by military officers.
The election is being closely watched by Fiji's neighbours, particularly Australia and New Zealand, who imposed sanctions following Mr Bainimarama's coup in December 2006. In 2009, after reneging on a promise to hold elections, he tore up the constitution and declared martial law – a move some saw as a second coup. Fiji was suspended from the Commonwealth and from a regional grouping, the Pacific Islands Forum.
Although opinion polls have been mixed, overall they suggest that Fiji First will win the most seats in the 50-member parliament. Mr Bainimarama himself is confident of victory. "We're going to win. The only question is by how much," he told The Independent while touring his island nation earlier this year, seeking members for his new party.
At every stop along the way, the dictator was mobbed by supporters. He gave speeches, cracked jokes, and – displaying a common touch rare among Fiji's ruling classes – gave his mobile phone number to all and sundry. The crowds were impressed. "Even if my father is standing for another party, I'll still support Bainimarama," said Shiu Kumar, a market stallholder in Ba.
Mr Bainimarama's military takeover was the fourth coup in 19 years – and the only one not motivated by antipathy towards Indo-Fijians, who make up about 40 per cent of the 850,000-strong population, and dominate business and the professions.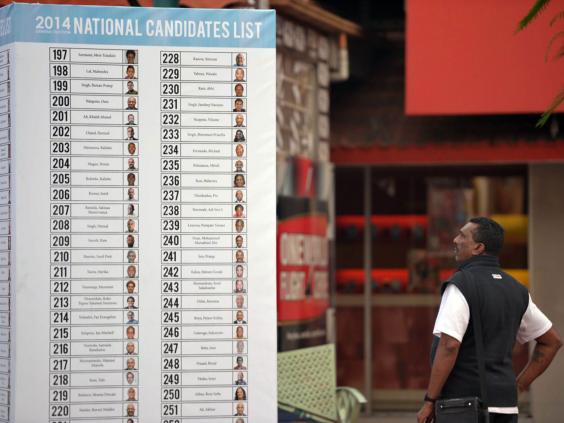 A government controlled by Indo-Fijians was removed in 1987 by Sitiveni Rabuka, a charismatic colonel who, for good measure, carried out a second coup four months later. In 2000, George Speight, a businessman backed by renegade soldiers, held Fiji's first Indo-Fijian Prime Minister, Mahendra Chaudhry, hostage for 56 days, along with his government.
The crisis was resolved by Mr Bainimarama, then military commander,  who sent in the army, locked up Mr Speight and installed a civilian Prime Minister, Laisenia Qarase. It was Mr Qarase's government which he ousted in 2006, claiming it was not only corrupt but pursuing an ethno-nationalist agenda.
His was billed as "the coup to end all coups", and he insists it was Fiji's last. But Fijians are not convinced. They worry about what will happen if he fails to win tomorrow's election and concocts an excuse to call in the army.
Mr Bainimarama swats away that idea, and recounts how a European Union commissioner once offered him €500m (£400m) in aid if he held elections. "I said, 'You think Fiji is like some African country, and every time we have a coup you just give us money?' I nearly hit him over the head with a bottle of Fiji Water."
At a meeting with local chiefs in the village of Saunaka, a choir serenaded him with Methodist hymns. Then the villagers queued up to meet him, shuffling towards him on their knees. Later, he declared: "I could have sat there and drunk kava all night, I was so happy." He laughed and added: "If I was leader of an opposition party, I would give up now."
Reuse content