The row over plans to dump millions of tonnes of mud and sediment into Australia's Great Barrier Reef Park has deepened after it emerged two directors of the board that approved the plans are under investigation for conflicts of interest with mining and gas companies.
Last week the Great Barrier Reef Marine Park Authority (GBRMPA) approved the dumping of around three million cubic metres (106 million cubic feet) of dredged sludge within the waters of the park, in plans to expand northern Queensland's largest coal port, Abbot Point.
Environmentalists described the approval of the plans as "devastating", and warned it drastically increases the likelihood of UNESCO's World Heritage Committee listing the reef as "in danger" when it meets in May.
While developers say the dumping will only take place between the coast and the reef – and away from any of the world-famous coral marine life – a 2012 UNESCO report expressed serious concerns about development along the reef, including ports.
In response, Queensland's Premier Campbell Newman said his government would protect the environment — but not at the expense of the state's economy.
"We are in the coal business," he said at the time. "If you want decent hospitals, schools and police on the beat we all need to understand that."
Since Friday's decision, it has emerged that two of the authority's board members are still under investigation over apparent conflicts of interest.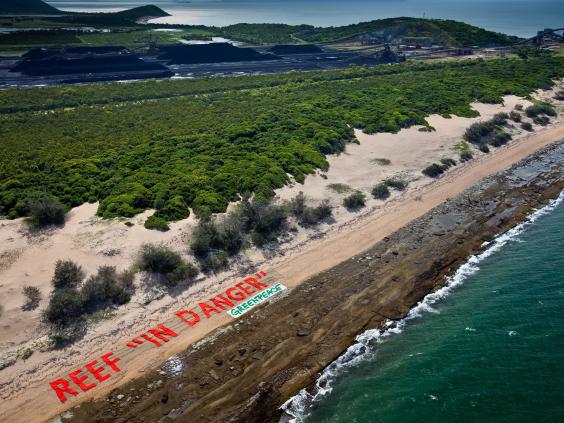 Last October the environment minister Greg Hunt ordered a probe into the business commitments of Tony Mooney, who earns $250,000 as a mining company executive, and Jon Grayson, who set up and owns shares in the company Gasfields Water and Waste Services.
While that report has now been delivered to the authority and the Environment Department, according to Guardian Australia it is yet to be made public and a spokesperson for the GBRMPA said its chair was still considering the findings.
A spokesperson for the GBRMPA said the approval of the dredging plans was not a decision made directly by the board. Final approval was instead granted by Bruce Elliot, a general manager nominated for the role by GBRMPA chair Russell Reichelt.
Meanwhile, Mr Hunt vowed that "some of the strictest conditions in Australian history" will be in place to protect the reef from harm, including water quality measures and safeguards for the reef's plants and animals.
But outraged conservationists say the already fragile reef will be gravely threatened by the dredging, which will span a 184-hectare (455-acre) area. Apart from the risk that the sediment will smother coral and seagrass, the increased shipping traffic will boost the risk of accidents, such as oil spills and collisions with delicate coral beds, environment groups argue.
The application was brought forward by the state-owned North Queensland Bulk Ports Corporation, whose CEO Brad Fish said sediment was extensively tested for contaminants.
"This is natural sand and seabed materials ... it's what's already there," Fish said in an interview last month. "We're just relocating it from one spot to another spot, in a like-per-like situation."
The decision nonetheless infuriated environmentalists. "We are devastated," said Richard Leck, reef campaign leader for international conservation group WWF. "I think any Australian or anyone around the world who cares about the future of the reef is also devastated by this decision."
"Exactly the wrong thing that you want to do when an ecosystem is suffering ... is introduce another major threat to it — and that's what the marine park authority has allowed to happen."
Reuse content