An Australian sports reporter has been criticised for hugging his female colleague live on air, drawing comparisons with cricketer Chris Gayle's controversial remarks to a female reporter during a pitch-side interview.
Channel Seven was inundated with complaints after reporter Hamish McLachlan wrapped his arms around his colleague, former Miss Universe contestant Monika Radulovic, during a broadcast. 
Ms Radulovic, who is a friend of Mr McLachlan and a guest presenter at the channel, laughed and immediately pushed him away saying "Professional please, my goodness". 
The incident came just days after the Jamaican cricketer was fined AUS$10,000 (£4788) for attempting to flirt with Channel Ten sports reporter Mel McLaughlin while she was interviewing him after he scored 41 runs for Melbourne Renegades. 
As the journalist asked him about his innings he began to flirt with her saying "I just wanted to have an interview with you as well, that's why I batted so well."
"Your eyes are beautiful, hopefully we can win this game and then we can have a drink after as well. Don't blush, baby." 
Ms McLaughlin brushed him off and her boss David Barham later told the local 3AW radio station she had been left "angry and upset" by the incident.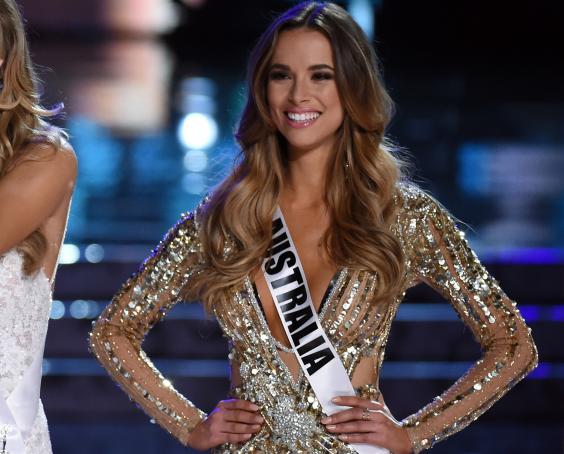 Channel Seven received a barrage of criticism from viewers, with some pointing to perceived double standards over the reaction to the Gayle incident.
So how is this ok ? Or different to what @henrygayle did and was so unfairly criticized for? #HamishMcLachlan https://t.co/kq21YsNCuB

— Apurv Nagpal (@apurvnagpal) January 9, 2016
What if #ChrisGayle 'embraced' Mel Mclaughlin the same way as #HamishMclachlan did Monika? @Channel7 @BBL @CricketAus #AusPol

— Racism Must End (@Racism_Must_End) January 10, 2016
So how is this ok ? Or different to what @henrygayle did and was so unfairly criticized for? #HamishMcLachlan https://t.co/kq21YsNCuB

— Apurv Nagpal (@apurvnagpal) January 9, 2016
How can MonikaRadulovic say she didn't think twice about it. Omg look at her body language! #HamishMcLachlan that's hard to wash off!

— S.J.M (@_sara_jade_) January 9, 2016
This may explain why #HamishMcLachlan will probably get off scot-free, whilst #ChrisGayle got pilloried... https://t.co/LPy5UERd1Z … #AusPol

— Imhornswoggled (@Imhornswoggled) January 10, 2016
Another viewer, John Alexander, commented on the channel's Facebook page "I'm confused! One minute you guys are discussing Chris Gayle's crappy behaviour and the next you have some horse racing bloke copping a feel of your weather presenter!"
Leanne Kingswell also wrote: "Please advise what actions are you taking to protect your female employees right to not be disrespected, demeaned, groped and/or sexually harassed both off and on-air".
Sports Quotes of the Year 2015
Sports Quotes of the Year 2015
1/27 Jose Mourinho after Chelsea's shock FA cup loss to Bradford:

'I repeat the word that I used yesterday in case we lost - it's a disgrace. A sporting disgrace, but it's a disgrace.'

2015 Getty Images

2/27 Cristiano Ronaldo after winning the Ballon d'Or

'I would like to thank all of those who voted for me, my president, my coach and Real Madrid. It has been an unforgettable year. To win this trophy at the end of it is something incredibly unique.'

2015 Getty Images

3/27 Toto Wolff on Red Bull's rise to dominance in Formula One

'I remember Red Bull, transitioning from a super cool team with Star Wars costumes in Monaco, and all of us being so happy for them scoring a podium there, to a team that was seen as the Dark Side! From being a Jedi, you become Darth Vader.'

2014 Getty Images

4/27 Harry Redknapp after leaving his job as QPR manager due to medical reasons

'I'm struggling so badly now. I can't walk; I can barely stand and watch. I'm in pain all the time. I've been putting it off, and putting it off, but it has got to the stage where I cannot do the job.'

2015 Getty Images

5/27 Jamie Redknapp on Arsenal's humiliating 3-1 home defeat to Monaco

'This is Wenger's most disappointing performance in Europe, ever. Cazorla, Rosicky and Oxlade-Chamberlain couldn't tackle a hot dinner. It was so inept.'

2015 Getty Images

6/27 Ireland captain Paul O'Connell on Ireland's dramatic Six Nations victory when three countries went into the final day with a chance of winning

'I never would have predicted such a game at Twickenham. Fair play to England and fair play to France. I've never received a trophy in such a bizarre situation. It's strange. In some ways it's better than last year.'

2015 Getty Images

7/27 Joe Root on being compared to Geoffrey Boycott

'Much as I admire the man I've been named after, my fellow Yorkshireman Geoffrey Boycott, I'm not all that keen on being compared to him for my running between the wickets.'

8/27 Jordan Spieth on victory at the Masters

'There's a reason I have a hairline like this, it's stressful, what we do on a daily basis.'

2015 Getty Images

9/27 Nigel Pearson's strange outburst in a Leicester press conference

'If you don't understand that question then I think you are an ostrich, your head must be in the sand. Is your head in the sand?'

2015 Getty Images

10/27 Floyd Mayweather before the disappointing mega-fight against Manny Pacquiao

'It's time to fight now. The biggest fight in history. I feel good. I feel strong.'

11/27 Sepp Blatter announces his resignation as the president of Fifa

'I will organise extraordinary congress for a replacement for me as president. I will not stand. I am now free from the constraints of an election.'

12/27 Toni Duggan on England's third place finish at the Women's World Cup

'I think when people look back at the women's game, if we have success in the future, they will see this summer as the big turning point.'

2015 Getty Images

13/27 Fabian Delph six days before leaving Aston Villa in an £8m move to Manchester City

'I'm aware there has been intense media speculation surrounding my future in the last 24 hours and I want to set the record straight. I'm not leaving. I'm staying at the football club and I can't wait for the start of the season and captaining this great football club.'

2015 Getty Images

14/27 Tyson Fury on Wladimir Klitschko

'I adapt. You put me in the jungle in Africa, I'll come out wearing a chinchilla and being a millionaire, you put him in the jungle he'll probably just get eaten by the lions.'

'You have about as much charisma as my underpants. Zero.'

2015 Getty Images

15/27 Chris Froome after Stage 14 of the Tour De France

'Someone threw a cup of urine into my face and shouted 'doper' which is wrong on so many different levels.'

2015 Getty Images

16/27 Geoffrey Boycott after Australia lose the 4th Ashes test by an innings and 78 runs

'These pathetic Australians are so bad it is unbelievable.'

2015 Getty Images

17/27 Michael Johnson on Usain Bolt's victory in the 100m at the Athletics World Championships

'Usain Bolt was challenged here more than he has been at any time during his career. Put on top of that the burden of 'saving the sport' which was placed on his shoulders, it means that the pressure was there. I have to give him so much credit for that performance.'

2015 Getty Images

18/27 Wayne Rooney after becoming England's top scorer

'This is such a huge moment for myself and my family in my career. Hopefully for the team and for myself there will be a lot more to come, we can be successful.'

2015 Getty Images

19/27 Alex Ferguson cites Eric Cantona, Ryan Giggs, Paul Scholes and Cristiano Ronaldo when speaking at the launch of his new book

'I only ever had four world-class players at Manchester United.'

2015 Manchester United FC

20/27 Jurgen Klopp during his first press conference as Liverpool manager

'I don't want to describe myself. I'm a totally normal guy, I'm the Normal One.'

2015 Getty Images

21/27 Aaron Ramsey after Wales qualify for Euro 2016

'What a great moment for Welsh football. What an achievement to have made history, we are finally going to a major tournament. It's not going to sink in for a while, I'm so proud. We are finally going.'

2015 Getty Images

22/27 Matt Dawson reaction to the late penalty decision drama which robbed Scotland of a semi-final spot

'Craig Joubert you are a disgrace and should never referee again! How dare you sprint off the pitch after that decision!'

2015 Getty Images

23/27 John Terry responding to criticism from Robbie Savage

'When certain other people speak, maybe I don't like listening and taking it on the chin. When players have not had a career, have played at a really bad level throughout their career and come for people who have achieved what I have achieved in the game... Robbie Savage being one.'

2015 Getty Images

24/27 Lewis Hamilton on his celebrations after clinching his third F1 world title

'Up until last year I didn't really drink a lot. It's changed a lot this year. You'd be really proud if you knew how much I'd consumed. I plan the next couple of months to be party time.'

2015 Getty Images

25/27 Andy Murray after Great Britain's Davis Cup victory

'It feels amazing. I never thought we would have the opportunity to do this and I can't believe we have.'

2015 Getty Images

26/27 Jose Mourinho after Chelsea's 2-1 defeat to Leicester, the game before his sacking

'One of my best qualities is to read the game for my players and I feel like my work was betrayed.'

2015 Getty Images

27/27 Tyson Fury responding to calls he should be removed from the sports personality of the year shortlist

'Believe in the Lord Jesus Christ and you will be saved.'

2015 Getty Images
Mr McLachlan later apologised for the incident saying: "I understand people have made stuff of it on social media and if I've offended anyone at home I'm apologising for that absolutely."
He also apologised to Ms Radulovic who said she had not "thought twice about it".
Reuse content