A woman went through the "ultimate survival story" after becoming lost in the Australian bush in northern Queensland.
Shannon Leah Fraser, 30, stumbled out of the wilderness on Wednesday morning, local media reported.
She had gone to the Golden Hole swimming spot with two men, one her partner, when she went missing on 21 September. Her companions first raised the alarm after she became disorientated and was separated from them, failing to return to their vehicle, said Queensland Police.
Ms Fraser is now recovering in hospital and being treated for infected cuts and severe sunburn, after spending more than two weeks surviving on creek water, small fish and insects. The mother of three, who weighed 90kg previously, reportedly lost about 16kg during her ordeal.
Her brother Dylan Fraser told ABC: "She's just a soldier. It's the ultimate survival story."
The Courier-Mail reported that she told her family of her ordeal, which included coming face to face with a giant cassowary flightless bird and being chased by a two-metre freshwater crocodile.
The disappearance sparked a search operation involving 25 officers from the police and emergency services. She was eventually found just 30 metres from the spot where she disappeared.
Country patrol group inspector Rhys Newton said: "The Police service are very happy that this person has been located and now in the Innisfail hospital resting comfortably.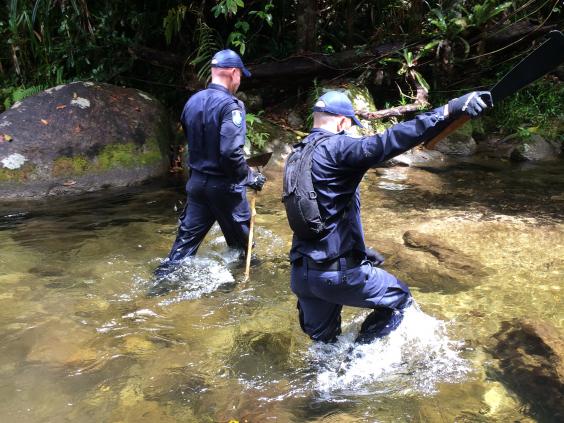 Her partner, Heath Cassady, told the Courier Mail that they had been on a "bender" prior to her disappearance and had gone to Golden Hole to "chill out".
"Her whole body is scarred and peeling, she's been through a lot," Mr Cassady said. "It is amazing she's still alive."
Police are still investigating how she disappeared, but a spokesman told reporters on Thursday that they do not believe that there were any suspicious circumstances.
Reuse content