Volunteers in New Zealand are battling to save up to 200 beached pilot whales stranded near Farewell Spit, after at least 24 died in hot weather.
Members of the Project Jonah conservation group have been splashing the pod with water in a bid to keep them cool after they washed up on a 7km stretch of beach.
The Department for Conservation said attempts to refloat the animals and get them back into the sea could only take place during high tide.
Project Jonah said some were successfully refloated on Friday evening.
Farewell Spit has been described as a whale trap because of how often whales have been stranded there.
In January, 36 whales died when a pod became stranded. Experts say the creatures are confused by the shallow waters and lose their ability to navigate, according to the Associated Press.
Andrew Lamason, a spokesman for the Department, said help from the public was not currently needed, although they could appeal for help on Saturday if attempts were unsuccessful.
"Re-floating stranded whales is a difficult and potentially dangerous job, so it's important we have the right people on the ground tonight trying to get these whales back to safety," he said.
"Community group Project Jonah has 140 volunteers in the Golden Bay area who are trained to do this and we're working alongside them.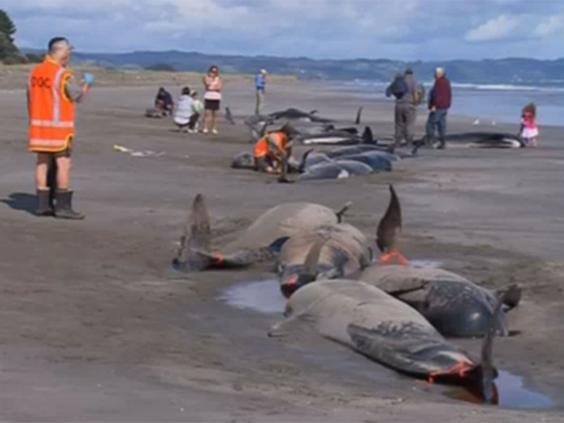 "If tonight's refloat is not successful, members of the public may be needed between 8am and 3pm on Saturday to help keep the whales cool and wet until the next high tide."
He told 3 News the stranding was the biggest the Department has witnessed in at least ten years.
Reuse content