Visitors to Hanging Rock no longer call out "Miranda, Miranda, where are you?" as they were wont to following the release of Peter Weir's film about the mysterious disappearance of three schoolgirls and a teacher on St Valentine's Day, 1900.
Hanging Rock remains a popular day-trip destination, not to mention picnic spot. But its unique ambience is under threat, thanks to a bizarre plan by the local council to encourage developers to build a conference centre and 100-room hotel at the site high up in Victoria's Macedon Ranges.
According to the council, the rock is failing to pay for its upkeep, and A$8.5m (£4.5m) is required to repair buildings, eliminate weeds and pests, and regenerate native vegetation. However, locals are horrified. The spot designated for development is "really the only unspoilt vista" from the rock, according to one resident, Luke Spielvogel.
Mr Spielvogel, spokesman for the Hanging Rock Action Group, has collected more than 5,000 signatures on a petition calling on Macedon Ranges Shire Council to reconsider. Protest meetings – and even a protest picnic – have been held at the site.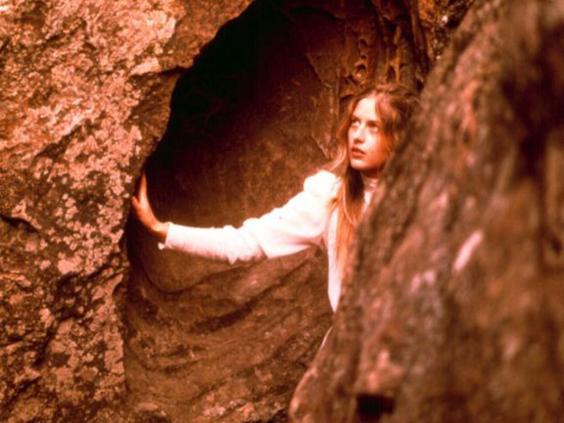 It is not surprising that Joan Lindsay chose it as the setting for her 1967 novel, Picnic at Hanging Rock, which inspired Weir's 1975 film. Although only 50 miles north of Melbourne, Hanging Rock, with its distinctive rocky outcrops, has a sense of isolation and a brooding beauty.
An important Aboriginal site where tribal people would gather to trade and hold weddings and initiation ceremonies, it was a hideaway for 19th-century bushrangers such as the notorious Dan "Mad Dog" Morgan. They would lie in wait to ambush wagons transporting gold dug up in the ranges.
Hanging Rock already has a café, car park and visitor centre. It has hosted concerts by Bruce Springsteen and Rod Stewart. The Rolling Stones will play there in April.
Yet those who climb the winding path to its rocky pinnacles experience a sense of tranquillity. Critics say that will be lost if the development – which could include a restaurant, day spa, apartments and two metal viewing towers – goes ahead. They also fear it could destroy a wildlife corridor used by vulnerable species such as the powerful owl, which is Australia's largest owl, and the greater glider, a small marsupial.