Anyone who forces a child to wear a burqa in public could be jailed for up to a year and fined $68,000 (£37,000) under a draft law in Australia.
Jacqui Lambie, a Palmer United Party senator, proposed the "Full Face Coverings Prohibition in Public Places Bill" as the latest step in her controversial campaign to ban the Islamic veil.
It would create three offences – one for wearing a burqa or an unauthorised facial covering in public and two others for forcing adults or children to.
Ms Lambie said her private members' bill was "modelled on the French political experience" and would be "simple to implement".
Any person deemed by police officer to be breaking law will be issued with an on-the-spot fine of $3,400 (£1,900).
Those convicted of "compelling" an adult to wear a burqa in a public place would face a maximum penalty of a $34,000 (£19,000) fine and six months in prison, rising to $68,000 (£27,000) and 12 months imprisonment for children.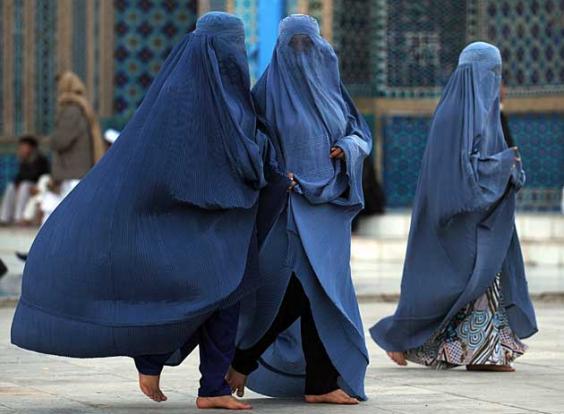 The draft bill's defines the offence as using "any means whatsoever, including by threat, inducements or any promise".
"The process will be very simple and similar to the way traffic infringements are handled," Ms Lambie said.
"Religious excuses will not be accepted as reasonable exemptions or lawful defence…because the wearing of full-facial coverings is not mandated in any holy book."
But Ms Lambie, dubbed "Canberra's Sarah Palin" said there would be exemptions for the wearing of facial coverings in private places of worship and at home.
"In addition the prohibition of wearing face covering material or objects does not apply if such items are authorised by law, are authorised to protect the anonymity of the person, are justified for health reasons or on professional grounds, or are part of authorised artistic or traditional festivities or events," she added.
Her plans were released after protesters attempted to enter the Australian parliament wearing a Ku Klux Klan hood, a motorcycle helmet and a niqab, in a protest against the burqa.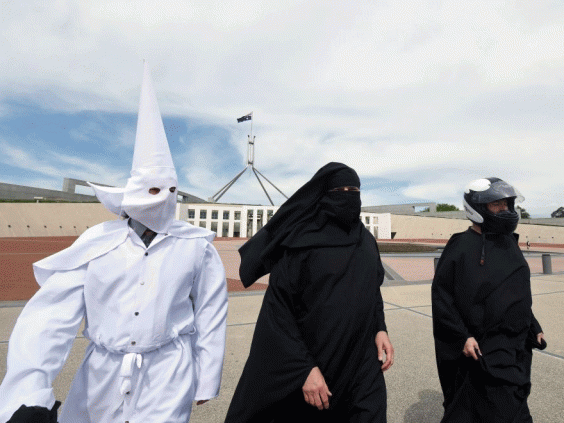 Full face is defined in the draft bill as meaning "the surface of the front of the head from the top of the forehead to the base of the chin and the space in between, but not including the ears".
Ms Lambie, the senator for Tasmania, came under fire last month for sharing a picture on her Facebook created by the far-right group Britain First.
It used the image of Afghanistan's first female police officer to argue for a ban on the burqa for "security reasons", despite the fact that she fought for women's rights and was assassinated by the Taliban.
The photographer,  Lana Slezic, said: "Everything she stood for, everything she fought for, for herself, her family, her daughters and future of her country, everything has been desecrated by how Jacqui Lambie and Britain First have used this photograph."
Ms Lambie later dismissed the criticism as "a gross overreaction", claiming Lieutenant Colonel Malalai Kakar "would have been the first to agree with my call to ban the burqa".
She argues that the garment, which includes a veil covering the face with semi-transparent cloth or a slit for the eyes, should be banned "for basic security reasons and the need for assimilation" because it hides the wearer's identity.
"Once again, our enemies will laugh at us," she said. "France, Belgium and Turkey - an Islamic country – have sorted this problem out. So can Australia."
The French ban was upheld following a challenge in the European Court of Human Rights in July.
Ms Lambie has been criticised for her vocal opposition to Islamic face coverings and frequent assertions that "extremists" in Australia are trying to implement Sharia law.
"It's about time we faced the fact that these maniacs and depraved humans will not stop committing their cold-blooded butchery and rapes until every woman in Australia wears a burqa and is subservient to men," she told the Australian Parliament in September.
She served as a soldier in the Australian Defence Force between 1989 and 2000 and became a campaigner for veterans after being injured, going on to start her political career.
A legal expert has already warned that her draft bill could violate section 116 of Australia's constitution, which protects religious freedoms.
The Australian Security Intelligence Organisation has said there is no valid security reason to ban the burqa and, in a leaked 2011 report, warned the move could have negative security consequences.
Reuse content