A photographer has described her horror after being alerted to a picture she said she took of Afghanistan's first female police officer being used to promote banning the burka by Britain First.
Canadian Lana Slezic alleges that a picture she took of Lieutenant Colonel Malalai Kakar, who was shot dead by the Taliban in 2008, has been posted to Facebook without permission by Britain First.
She said she was alerted by various media outlets that the photo was being used in such a manner on Friday.
She claims that the image of Lt.Col Kakar in a burka and holding a gun has been edited with a caption that reads: "Terror attack level: severe – an attack is highly likely. For security reasons it's now time to ban the burqa."
Lt. Col. Kakar was a high profile policewoman who fought for women's rights and against extremism and terrorism until she was assassinated on her way to work at a Kandahar police station.
Ms Slezic says her memory has been "desecrated" by Britain First and the Australian Palmer United senator Jacqui Lambie, who shared Britain First's post on her Facebook wall.
"Here's a woman whose life was taken by terrorists, extremists in the most horrific way," she told the Australian Associated Press. "She died in front of her son, shot to death outside her home on her way to work.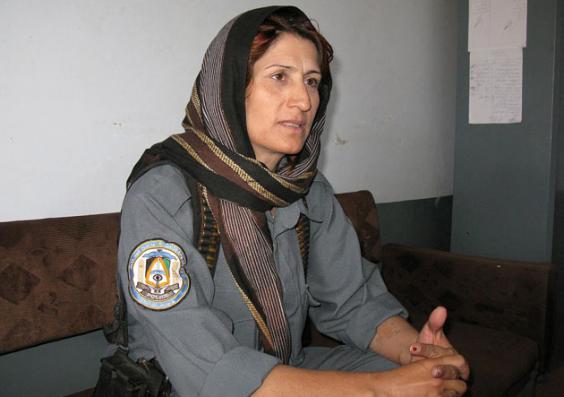 "Everything she stood for, everything she fought for, for herself, her family, her daughters and future of her country, everything has been desecrated by how Jacqui Lambie and Britain First have used this photograph."
The image was taken at Lt. Col. Kakar's office in 2004 as part of a series showing her in different aspects of her life.
Ms Slezic, who lives in Toronto, told The Independent Lt. Col. Kakar would be in uniform when she was in the office, but would be expected to wear the burka when she went outside.
"I took a portrait of her in the office and I photographed her at home and in the field working, and when she was dealing with women who would come to her office with their issues, because she was there for women all the time.
"Women knew they could turn to her with issues of rape, domestic violence forced marriage."
She described the image as "inflammatory" and said the thousands of likes and shares it had gained on Britain First's Facebook page were "disturbing".
"It shows the message they are trying to send has spread quickly," she said.
"I was horrified because it's a complete misrepresentation of the truth. It insults everything she stood for, it insults her and her family and suggests a story that is opposite of the truth. It is also an infringement of intellectual property."
Ms Slezic says she emailed both Britain First and Jacqui Lambie on Friday explaining the context of the photo and asked them to remove the image from their pages.
Ms Lambie later dismissed Ms Slezic's comments as "a gross overreaction" and the reports as "disgusting, unprofessional beat up".
In a Facebook post, she claimed Ms Kakar "would have been the first to agree with my call to ban the burka".
Anja Niedringhaus: The most amazing images by a photographer who was killed in Afghanistan
Anja Niedringhaus: The most amazing images by a photographer who was killed in Afghanistan
1/20 Iraq

A U.S. Marine of the 1st Division carries a mascot for good luck in his backpack as his unit pushed further into the western part of Fallujah on 14 November 2004

2/20 Kuwait

Hundreds of U.S. Marines gather at Camp Commando in the Kuwait desert during a Christmas eve visit by Santa Claus on 24 December 2002

3/20 Iraq

Local Iraqis flee from Basra in southern Iraq as smoke looming over the city can be seen in the distance on 29 March 2003

4/20 Iraq

President George W. Bush carry a platter of turkey and fixings as he visits U.S. troops for Thanksgiving in Baghdad on 27 November 2003

5/20 Iraq

Iraqi woman Rahab Ali al-Musawi (18) looks on while her three month old son Ali Mohammed cries during his treatment for diarrhea in the General Teaching Hospital for Children in Baghdadon 3 June 2004

6/20 Afghanistan

An Afghan boy holds a toy gun as he enjoys a ride with others on a merry-go-round to celebrate the Eid al-Fitr festival in Kabul on 20 September 2009

7/20 Libya

A Libyan rebel urges people to leave as shelling from Gadhafi's forces started landing on the frontline outside of Bin Jawaad, 150 kilometers (93 miles) east of Sirte, central Libya on 29 March 2011

8/20 Afghanistan

Injured United States Marine Cpl. Burness Britt reacts after being lifted onto a medevac helicopter from the U.S. Army's Task Force Lift "Dust Off", Charlie Company 1-214 Aviation Regiment on 4 June 2011

9/20 Afghanistan

A German soldier lifts weights at his combat outpost in Char Darah, outside Kunduz on 17 September 2011

10/20 Afghanistan

Hundreds of Afghans wait to see the holy flag at the Kart-e Sakhi mosque in Kabul on 21 March 2013

11/20 Afghanistan

An Afghan woman waits in a changing room to try out a new Burqa, in a shop at in the old city of Kabul on 11 April 2013

12/20 Afghanistan

An Afghan National Police officer mans a checkpoint in the outskirts of Maidan Shahr, Wardak province on 15 May 2013

13/20 Afghanistan

Pakistani bank notes covered in blood are displayed on the body of a dead suicide bomber after police found them in his pocket after an attack on the former Afghan intelligence headquarters, in the center of Kandahar on 12 March 2014

14/20 Afghanistan

A giant election poster of an Afghan woman showing with her ink finger that she voted and holding up a picture of presidential candidate Abdullah Abdullah in the center of Kabul on 17 March 2014

15/20 Afghanistan

Afghan men play cards under a huge election poster showing Abdul Rahim Wardak, Afghanistan's former defense minister, shaking hands with soldiers in Kabul on 17 March 2014

16/20 Afghanistan

An Afghan special forces soldier (L) is kissed by an Afghan man after the commandos took over control of an election office after the Taliban launched an assault with a suicide bomber detonating his vehicle outside an election office in Kabul on 25 March 2014

17/20 Afghanistan

Afghan President Hamid Karzai hangs on a wall in the main room of the district municipality in eastern Kabul on 29 March 2014

18/20 Afghanistan

Afghan President Hamid Karzai (R) is displayed next to Afghanistan's late King Amanullah Khan on the parade ground of the Ministry of Defense in Kabul on 29 March 2014

19/20 Afghanistan

An Afghan carpet seller holds up a framed carpet depicting Afghan President Hamid Karzai in his store in Kabul on 30 March 2014

20/20 Afghanistan

An Afghan soldier (L) and a police man peek through a window as they queue with others to get their registration card on the last day of voter registration for the upcoming presidential elections outside a school in Kabul on 1 April 2014
"Far from desecrating her memory, my Facebook post honours her and the deadly struggle against brutal thugs and extremists," she wrote.
"As a police officer she would have known how easy it was to conceal weapons or bombs capable of killing large numbers of innocents under a burka. She would have known how much safer it would be in public if the burka was banned."
Britain First could not be reached for comment.
Reuse content