An episode of much-loved children's cartoon Peppa Pig has been banned from being aired again in Australia after a single viewer complained.
The "Spider Web" episode of the British cartoon is to never be shown on Australian television as it seemingly sends the wrong message to children about spiders, The Herald Sun reports.
Children's books with pigs in
Children's books with pigs in
1/5 The Sheep-Pig

Inspiration for the film Babe, Dick King-Smith's children's story features a pig who thinks he's a sheep-dog.

2/5 Wibbly Pig

Trying to get your little one to go to sleep? Mick Inkpen's Wibbly Pig stories are a lovely addition to the bedtime routine

3/5 Peppa Pig

Mark Baker and Neville Astley's modern children's classic is also a popular Channel 5 cartoon

4/5 Winnie The Pooh

The Hundred Acre Wood contains lots of different kinds of animals from kangaroos to tiggers. But Piglet is one of the best-loved A A Milne characters.

5/5 Charlotte's Web

One of the most enduring children's stories features both a scary spider and a smelly pig as its main protagonists.
The five minute-long cartoon features a friendly creepy-crawly called Mr Skinnylegs, who Mummy Pig is scared of and won't let stay in the house – although the rest of the family bond with it.
The complaint was made over Peppa Pig telling her mother to "not be scared" of the arachnid. Some species of spider are highly-feared in Australia due to their ability to inflict pain or even death.
"Don't be scared, Mummy," says Peppa before Daddy Pig takes Mr Skinnylegs by the string of his web to evict him to the garden.
He then says: "It's hard work weaving a web, that's why you must never ever break one. If you do, the spider has to do all the work again."
The Australian Broadcasting Corporation agreed that the episode was "unsuitable" for children as it sends the wrong message about spiders.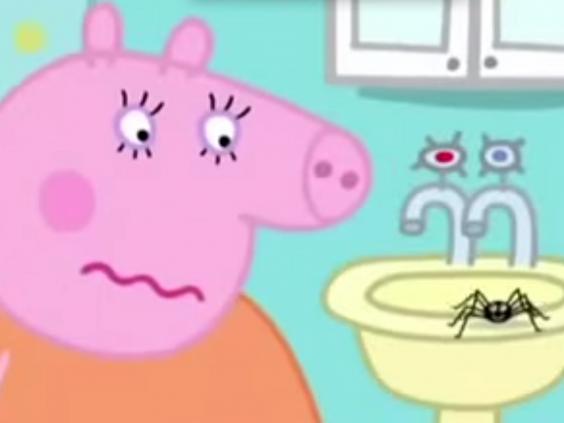 Australia is known to be inhabited with some of the most dangerous spiders in the world, which are known to seriously or fatally wound people.
There have been 27 recorded deaths in the past 100 years caused by spider bites. Male funnel-web spiders are the most deadly.
The channel, according to io9, said: "The ABC considered the episode unsuitable for broadcast in Australia and it had been restricted from being aired on the ABC's television networks.
"However, the episode was accidentally published online due to a technical problem. The ABC apologised to the complainant and advised that the episode was no longer available online."
Reuse content