The man at the centre of the unfolding story surrounding images of a huge Tiger Shark reportedly killed off the Australian coast has criticised the massive interest online.
Images of what is purportedly a dead Tiger shark have captivated the internet, with many discussing whether or not the two photographs are real.
The picture of that massive shark looks soooooo fake!!

— stephen wheeler (@wheeler_87) August 12, 2015
Yea dude totally but the shark still looks fake

— Johnathon Michel (@JohnathMichel17) August 12, 2015
In response Mr Brooks posted an emotive list on his Facebook profile page of "hard-hitting news".
He suggests people instead examine "Australia's pathetic Climate Change policy", spiralling unemployment figures and the country's civil rights being "kicked in the guts".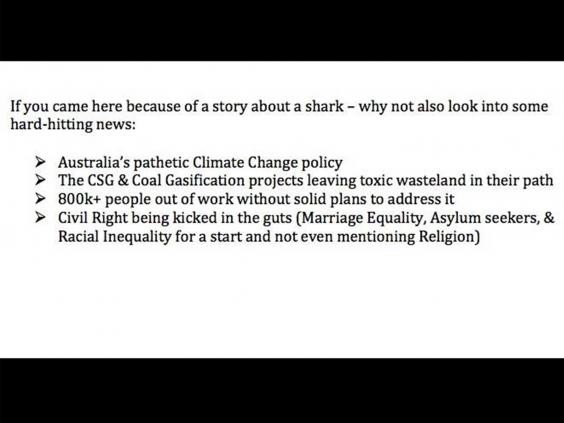 Australian Prime Minister Tony Abbott was criticised on Wednesday by a leading environmentalist, who said the PM's attitude towards global warming was "staggering".
Lord Deben's remarks follow the Australian government's announcement that it plans to cut gas emissions by between 26 to 28 per cent below 2005 levels by 2030 – targets short of those set by Canada and the United States.
Lord Deben, formerly a Conservative minister under Margaret Thatcher, told the Guardian that "Australia is fundamentally out of step and this decision puts Australia among the 'don't cares' of the international community."
The Conservative peer, now chairman of the Committee on Climate Change, added: "Global warming won't wait for Mr Abbott and his government. Mr Abbott's hubris is staggering."
Mr Brooks point on civil rights follows an announcement by Mr Abbott in parliament on Tuesday that his government would defend heterosexual marriage – although the PM did imply that the next parliament may discuss the issue through a plebiscite or a conscience vote.
Reuse content