Tony Abbott's government can lock up refugee children indefinitely on godforsaken islands. It can gag the doctors and teachers who attend to these children's basic needs. But, try as it might, it can't silence Gillian Triggs, the president of Australia's Human Rights Commission.
Over the past few months, British-born Professor Triggs has been the subject of an extraordinary campaign to discredit her and force her out of office. The campaign has reached a crescendo in recent days. The eminent international lawyer has been accused of "politicising" the Commission's work. She has been branded a Labor Party stooge. One minister has called her a "complete disgrace".
But despite Mr Abbott and his colleagues repeatedly urging her to quit, Ms Triggs has no intention of going anywhere. "Were I to receive warm and congratulatory words from the government on a constant basis, I think that taxpayers would be justified in asking for my resignation, because I wouldn't be doing my job," she said.
The former professional ballerina was appointed to head the Human Rights Commission, a statutory body, in 2012 by then Labor Prime Minister Julia Gillard. A former dean of Sydney University's Law School, Ms Triggs was outspoken in her criticism of Labor's asylum-seeker policies, which included a bizarre attempt by Ms Gillard to "swap" refugees with Malaysia.
Crazy things Tony Abbott's said (mainly about women)
Crazy things Tony Abbott's said (mainly about women)
1/16 1979

"I think it would be folly to expect that women will ever dominate or even approach equal representation in a large number of areas simply because their aptitudes, abilities and interests are different for physiological reasons."

Rex

2/16 March 17th, 2004

"Abortion is the easy way out. It's hardly surprising that people should choose the most convenient exit from awkward situations."

Getty

3/16 March 17th, 2004

"Why isn't the fact that 100,000 women choose to end their pregnancies regarded as a national tragedy approaching the scale, say, of Aboriginal life expectancy being 20 years less than that of the general community?"

Getty

4/16 November 9th, 2006

"I won't be rushing out to get my daughters vaccinated [for cervical cancer], maybe that's because I'm a cruel, callow, callous, heartless bastard but, look, I won't be."

Rex

5/16 February 2nd, 2010

"The climate change argument is absolute crap, however the politics are tough for us because 80 per cent of people believe climate change is a real and present danger."

Getty

6/16 February 11th, 2010

"We just can't stop people from being homeless if that's their choice."

Getty

7/16 2010

"While I think men and women are equal, they are also different and I think it's inevitable and I don't think it's a bad thing at all that we always have, say, more women doing things like physiotherapy and an enormous number of women simply doing housework."

Getty

8/16 2010

"I'd probably say I feel a bit threatened… as so many people." On homosexuality.

Rex

9/16 April 5th, 2010

"Jesus knew that there was a place for everything and it's not necessarily everyone's place to come to Australia."

Getty

10/16 2010

On indigenous Australians "There may not be a great job for them but whatever there is, they just have to do it, and if it's picking up rubbish around the community, it just has to be done."

Getty

11/16 2013

"If you want to know who to vote for, I'm the guy with the not bad looking daughters".

Getty

12/16 January 27th 2014

"I would say to my daughters if they were to ask me this question... [their virginity] is the greatest gift that you can give someone, the ultimate gift of giving and don't give it to someone lightly, that's what I would say."

Rex

13/16 May 2014

"I shouldn't have done it... I should've been more focused on the caller and less focused on the interviewer." After winking at a radio show presenter while taking a call from a listener.

Getty

14/16 October 2014

"I am going to shirtfront Mr Putin – you bet I am – I am going to be saying to Mr Putin Australians were murdered, they were murdered by Russian backed rebels."

Getty

15/16 November 2014

"A good economy is good for the environment…As the world's largest producer of coal, I'd like to stand up for coal." At G20 summit

16/16 May 2015

'Nope, nope, nope': Tony Abbott makes it very clear that Australia will not accept any Rohingya Muslims fleeing systematic persecution in their home country of Burma

AFP
The Abbott government makes no effort to disguise its contempt for human rights busybodies. One of its first acts, on coming to power, was to appoint an ideological soulmate, Tim Wilson, former policy director of the free-market Institute of Public Affairs, as a Human Rights Commissioner. Not long before, Mr Wilson had called for the body to be abolished. Now, though, Mr Wilson is among those publicly defending his colleague.
Ms Triggs, 68, first clashed with the new government when it tried to water down Australia's race-hate laws last year. Mr Abbott was outraged by a court ruling that a right-wing columnist and friend of his, Andrew Bolt, had racially discriminated against nine fair-skinned Australians whom he accused of identifying as Aboriginal in order to secure jobs and grants. The proposed changes to the law were eventually dropped following a massive community backlash.
What most angered the government was a report by Ms Triggs on asylum-seeker children detained in Australia and in an Australian-run facility on the remote Pacific island of Nauru. Published in February, it detailed more than 300 incidents of actual or threatened self-harm, 33 alleged sexual assaults and 27 hunger strikes. Rather than address its shocking findings, Mr Abbott dismissed the report as a "stitch-up" and a "blatantly partisan, politicised exercise".
Mr Brandis dispatched a senior civil servant to attempt to persuade Ms Triggs to resign. The government claimed she had delayed her inquiry until the Coalition came to power. Others noted that her report was critical of both sides of the political spectrum. Ian MacDonald, a Coalition senator who chaired a committee examining the report, knew it was biased without even opening it. "I don't waste my time reading documents that I'm going to take no notice of," he explained.
In truth, what annoys ministers is Ms Triggs performing precisely the role for which she is paid: monitoring potential human rights abuses, "without fear or favour".
The government has cloaked its actions against asylum-seekers – including turning their boats around mid-ocean – in secrecy. Nauru now charges A$8,000 (£3,908) for a journalist's visa – presumably to prevent scrutiny. New laws just passed threaten teachers and doctors working in such centres with two years in jail if they speak out against conditions or pass information to the media.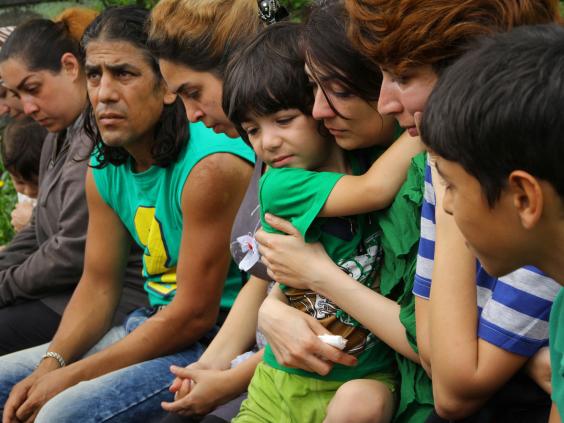 The latest confected row enveloping Ms Triggs follows a speech in which she noted that, in the light of Australia sending boats back to Indonesia, was it "any wonder that Indonesia will not engage with us on other issues that we care about, like the death penalty?" Ministers immediately accused her of an "outrageous slur" in linking asylum-seeker policies with the executions in Indonesia in April of two convicted Australian drug smugglers, Andrew Chan and Myuran Sukumaran.
Ms Triggs reiterated that she was referring to "the future need to work diplomatically to reach agreement on ending the death penalty in the region". 
This week, she has criticised the "unseemly haste" in introducing counter-terrorism laws and warned that plans to strip terrorism suspects of Australian citizenship constitute an "overreach of executive power".
Reuse content