She won $20,000 on a TV game show and vowed to buy 200 pairs of shoes – but this isn't a keen fashionista.
A big-hearted schoolteacher has promised to buy every one of the pupils in her school a new pair of shoes, to get them through the long and harsh winter, after winning the large sum on Australia's version of Who Wants to Be a Millionaire?
Bri Dredge, 32, almost faltered and lost on the spin-off show, Millionaire Hot Seat, at the last minute – until host, Eddie McGuire, stepped-in to guide her down the right path.
The teacher at Yuille Park Community College in the city of Ballarat was asked to complete the title of T.S. Eliot's 1939 book 'Old Possum's Book of Practical…'
Ms Dredge's choices of answers were: Birds, Cats, Advice, or Poetry.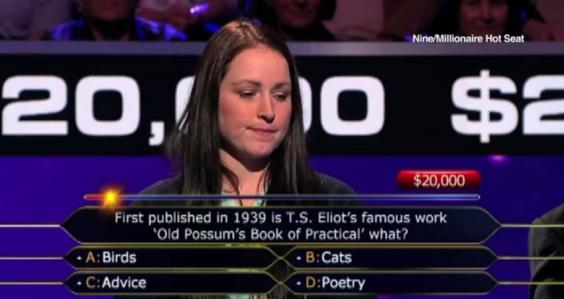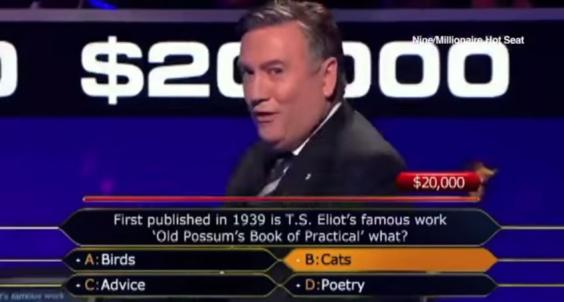 Incorrectly opting for 'Poetry', Mr McGuire – who was clearly rooting for the children to have sturdy winter shoes – asked the teacher: "Come on, Bri. We want you to win this. Are you gonna really buy the kids shoes?"
Correctly opting for 'Cats', the teacher gathered cheers and applause and was close to tears as her wish to spend the $20,000 (£9,500) on shoes for her school's 200 pupils came true.
Walking into the school after her win, Ms Dredge later described how every student in the school gave her a hug and thanked her.
She added: "The look on their faces was worth all the money that I won."
After her "scary" moment on the show, the teacher hopes her win will inspire the students to get out of their own comfort zones and challenge themselves to do something new.
Watch the rollercoaster moment:
Reuse content