A pilot and a skydiver both had a remarkable escape after a Cessna light aircraft collided with a parachute at a small airport in Florida.
Sharon Trembley, 87, was carrying out a so-called 'touch-and-go' maneuver, which involves landing briefly on a runway and taking off again without coming to a full stop, when the accident happened at the South Lakeland Airport in Mulberry.
On his third landing pass the wing of Trembley's plane became entangled in the strings of skydiver John Frost's parachute about 75 feet above the ground.
The whole incident was captured in a series of startling photographs which show the collision, Trembley's plane nose-diving and Frost being flung to the ground.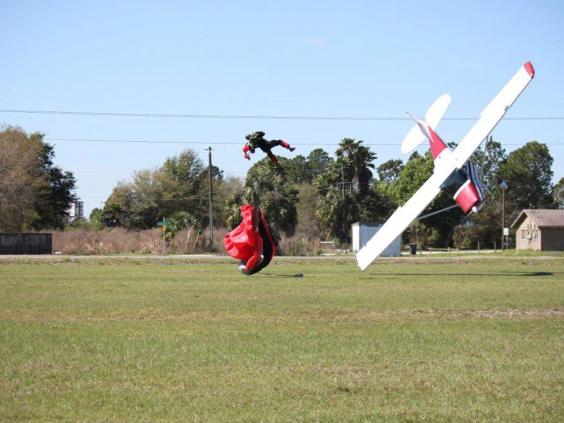 Astonishingly neither pilot nor skydiver sustained serious injury in the incident on Saturday.
Tim Telford, who captured the dramatic images, told US media: "I thought I'd have very exciting pics of a close flyby. Never in a million years did I think I'd see what I saw."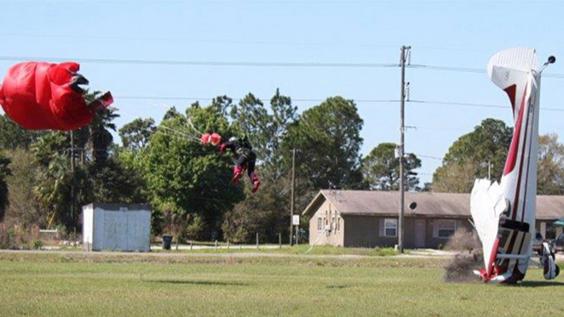 "The plane caught the side of the canopy, flipped the plane 180 degrees and flipped the skydiver into the air", he added.
"You heard the airplane hit the parachute, which sounded like you falling on your face into your pillow; a 'woof' sound."
Mr Frost was released from hospital after treatment and Mr Trembley remains in hospital for observation.
The National Transportation Safety Board and FAA are investigating the accident.
Reuse content