Political activist Alexei Navalny appears to have removed the ankle tag monitoring his house arrest.
Well-known as one of Vladimir Putin's most vocal critics, the lawyer and blogger posted an image of a broken ankle tag on Twitter with a link to his website. 
Об отказе соблюдать режим домашнего ареста http://t.co/ebJyTldSgM pic.twitter.com/a7V1iSDU1q

— Alexey Navalny (@navalny) January 5, 2015
On his website the picture caption reads: "Bracelet took some effort, but has been cut off with kitchen scissors."
He describes his house arrest as "a kind of prison", claiming to be the "only man in Russian history sitting under house arrest after the verdict".
Navalny gained particular attention when he investigated official corruption and taking a lead role in anti-Putin demonstrations during 2011 and 2012.
Last week the struggle between the two men appeared to enter a new phase at the climax of Mr Navalny's latest lawsuit, where he and his brother Oleg were accused of defrauding two companies of 30 million roubles (around £345,000). The brothers had denied the charges, claiming the trial was politically motivated.
Both brothers were sentenced to three and a half years in jail: Oleg was taken to prison, while Mr Navalny's sentence was suspended.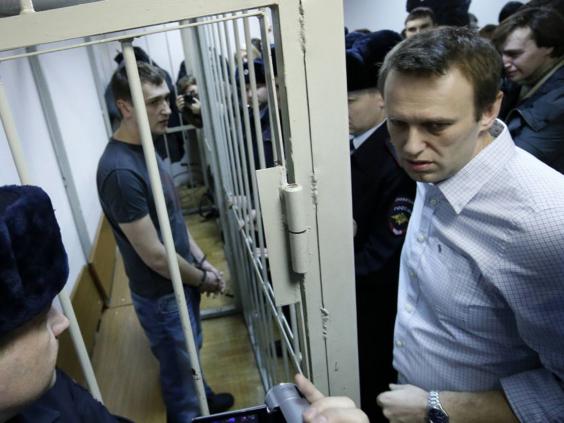 After his sentence became known to the public, his supporters took to the streets in protest. Navalny himself was arrested on the way to the protest for breaking the terms of his house arrest, the terms of which he says he will no longer observe.
Reuse content