A Russian court has upheld a suspended three-and-a-half year prison sentence for Krelmin critic and activist Alexei Navalny, in a theft case which has been widely viewed as a political vendetta by the Kremlin.
Navalny, an activist and lawyer, and his brother Oleg were both handed 3-and-a-half-year jail sentences last year for stealing 30 million roubles (£310,000) from two firms, including an affiliate of French cosmetics firm Yves Rocher.
While Oleg is serving his time in jail, Navalny was handed a suspended sentence and given house arrest terms in February pending the theft case. Today, those terms were dropped by Moscow City court.
In 2011 and 2012 Navalny, a blogger and activist, led protests against Russian President Vladimir Putin, and his conviction last year brought thousands of protesters on to the streets in what was described as one of Russia's boldest anti-government demonstrations in years.
9 controversial Putin quotes
9 controversial Putin quotes
1/9 2004

"Anyone who doesn't regret the passing of the Soviet Union has no heart. Anyone who wants it restored has no brains."

Getty images

2/9 December 2005

"There is no such thing as a former KGB man."

Getty images

3/9 G8 Summit press conference 2008

"If you want to become an Islamic fundamentalist and be circumcised, come to Moscow. We are multiconfessional. We have very good specialists. I can recommend one for the operation. He'll make sure nothing grows back."

Getty images

4/9 2010

"Russia doesn't negotiate with terrorists. It destroys them." After the Moscow Metro bomb

Getty images

5/9 September 2013

"They say that Pyotr Ilyich Tchaikovsky was a homosexual. Truth be told, we don't love him because of that, but he was a great musician, and we all love his music. So what?" Interview with Associated Press

Getty images

6/9 March 2014

"The West's leaders seem, from what they say, entirely to have forgotten that there are some leaders in the world who want to conquer other countries."

Getty images

7/9 2014

Amazingly elaborate metaphor regarding the West and Russia "[Sometimes I think] our bear should probably just sit quietly and just eat honey instead of hunting animals, maybe then they will leave the bear in peace, but, no, they will not. What they are trying to do is chain the bear, and when they chain the bear they will take out his fangs and claws. This is how nuclear deterrence is working at the moment. If they take out the bear's fangs and claws, then the bear will not be able to do anything. It will just be a stuffed animal." Russian President's annual press conference

Getty images

8/9 2014

After Ksenia Sobchack, a well-known anti-Kremlin activist and journalist, was allowed to ask a question about Putin's government suppressing opposing political viewpoints: "Why did you give her the floor?" Russian President's annual press conference

Getty images

9/9 January 2014

"You can feel relaxed and calm [in Russia], but leave children alone, please." Directed at gay people in January 2014, before the Sochi Winter Olympics

Getty images
The brothers were found guilty of defrauding companies by overcharging for mail parcel services provided by their business from 2008 to 2011, with Oleg allegedly using his position as a senior manager at Russia's Post Office to attract customers. Nalavny was embroiled in the case as he was registered as the company's founder.
The court's verdict quickly attracted negative attention, with the US State Department calling it a disturbing development "designed to further punish and deter political activism" while, the EU said the verdict seemed to be politically motivated.
During the appeal at Moscow City court, Russian prosecutors had sought a 10 year jail sentence for the brothers. They argued that Navalny's suspended sentence was "excessively soft" and the pair should be isolated from society, according to reports from Russian news agencies.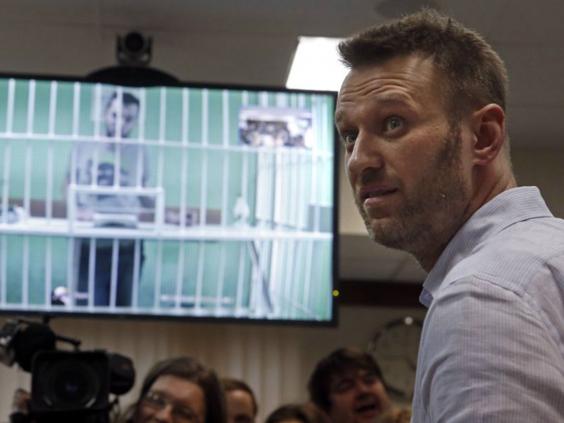 Navalny responded to prosecutors' demands by saying they were "not based on the law and are not worth reviewing", Interfax news agency reported.
In the face of the theft case, Navalny has promised to lead a 100,000-person-strong protest on 1 March against policies he says are plunging Russia deeper into economic crisis.
While Putin's popularity ratings have soared since the annexation of Ukraine's Crimea territory, Navalny hopes to tap into anger over a faltering economy expected to contract this year in the face of falling oil prices and Western sanctions.
Additional reporting by Reuters
Reuse content