Pope Francis on Sunday venerated the purported remains of his first ever predecessor, as the Vatican gave a public display for what some claim are St Peter's remains.
Tens of thousands of worshippers packed St Peter's Square to catch a glimpse of the bronze chest containing eight small fragments of bone.
Pope Francis kissed and prayed before the chest, which is usually kept in the tiny chapel of the papal apartments, before blessing them with incense.
But there is some controversy around exactly whose remains they might be.
No pope has ever definitively declared the fragments to belong to the Apostle Peter, but Pope Paul VI in 1968 said fragments found in the necropolis under St Peter's Basilica were "identified in a way that we can consider convincing". Some archaeologists dispute this.
They were first discovered in a 1940 dig under St Peter's Basilica in the years following the 1939 death of Pope Pius XI, who had asked to be buried in the grottoes where dozens of popes are buried. When archaeologist Margherita Guarducci discovered graffiti near the excavated tomb reading "Petros eni", which could mean "Peter is here", she requested tests on the fragments.
She found they belonged to a robust man who died aged between 60 and 70 and had been buried in a purple, gold-threaded cloth. That was enough to convince Pope Paul VI to say in 1968 that Peter's bones had been identified "in a convincing manner."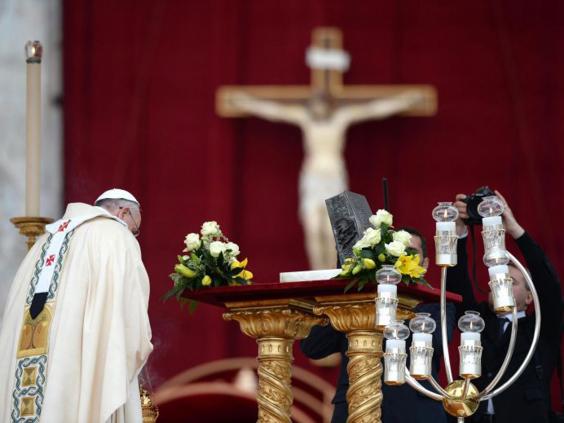 But last week, a top Vatican official, Archbishop Rino Fisichella, said it almost doesn't matter if archaeologists one day definitively determine that the bones aren't Peter's, saying that Christians have prayed at Peter's tomb for two millennia and will continue to do so, regardless of any findings.
"It's not as if pilgrims who go to the altar (of Peter's tomb) think that in that moment in which they profess their faith that below them are the relics of Peter, or of another or another still," he told reporters. "They go there to profess the faith."
"No Pope had ever permitted an exhaustive study, partly because a 1,000-year-old curse, attested by secret and apocalyptic documents, threatened anyone who disturbed the peace of Peter's tomb with the worst possible misfortune," veteran Vatican correspondent Bruno Bartoloni  wrote in his book, The Ears of the Vatican.
The Vatican newspaper, L'Osservatore Romano, published excerpts of the book last year, giving his account a degree of official sanction.
The Vatican has said it "has no intention of opening up any argument."
Additional reporting by Associated Press
Reuse content