The Great Wall of China, the Taj Mahal, the Pyramids of Giza. And now, perhaps, Benidorm. Three are monuments to human achievement, endeavour and industry, and one is Spain's most famous cheap and cheerful package holiday destination – rarely are they ever mentioned in the same breath.
But that could be about to change if Benidorm is successful in its bid to join the others and become a Unesco World Heritage site.
Despite a sceptical public, town officials are deadly serious about the Unesco process and highlight not only Benidorm's role as the place where mass tourism took off in Spain in the 1960s, but also its more than 5km of golden beaches, its stunning surrounding countryside and its own unique microclimate.
The town's new mayor, Toni Perez, is behind the bid, which will take at least another three years. "It's a story about human creation," he tells The Independent in his office at Benidorm town hall. "Of course we're not a monument like the Great Wall of China, but we already meet many of the Unesco criteria. We have sustainability and our model here is what the world is looking for."
Summer holiday events 2015
Summer holiday events 2015
1/14 Alice in Wonderland Garden Trail, RHS Garden Hyde Hall, Essex

Hyde Hall celebrates the 150th anniversary of Lewis Carroll's Alice with a Wonderland trail. Meet the Cheshire Cat, find the Mock Turtle and take part in a caucus race – which has no rules at all!

Thursday to 31 August, 10am-6pm; free (garden admission applies: adults £8.95, children £4.50); rhs.org.uk

© RHS/Rachael Meyer

2/14 Keeper for a Day, Birdland, Bourton-on-the-Water, Gloucestershire

No two days are the same at Birdland: helping behind the scenes could involve catching birds for ringing, working in the hatchery, building an aviary or preparing penguin food.

Until 30 September, 10am- 5pm; £85 (over-14s only); birdland.co.uk

3/14 Grand Medieval Mêlée, Cardiff Castle, Wales

Hop back 1,000 years at this historic hoopla. Watch resplendent knights do honourable battle, listen to age-old stories, feast on medieval meals and have a go at weaving, weapon skills and ancient games.

15-16 August; adults £6, children £4; cardiffcastle.com

4/14 Blitzed Brits, IWM North, Manchester

This new exhibition marks the 75th anniversary of the Blitz. Hear real stories, take cover in an air-raid shelter and milk a cow like an evacuee. During the holidays, join in with object-handling and craft activities, too.

Until 10 April 2016; free; iwm.org.uk

5/14 Vitality SportFest, Wormsley Estate, Buckinghamshire

A sporting extravaganza with real star power. Greg Rusedski, Daley Thompson, Beth Tweddle and more will lead coaching sessions; there's music and games, too – and feasts from Jamie Oliver.

7am Saturday to 3pm Sunday, 1-2 August; adults and 5+ £150, 3-4s £39, under-3s free, includes camping, two meals, coaching and activities; sport-fest.co.uk

6/14 Top Hat Stage School, St Albans, Hertfordshire

Top Hat has pedigree: its mini-performers star in West End shows such as Matilda. Wannabe starlets can learn drama skills from the pros, finishing with a full performance of Aladdin at the week's end. Ta-dah!

10-14 & 17-20 August; 6-17yrs £150, 4-5yrs £100; tophatstageschool.co.uk

7/14 Anglo Saxon Combat, Sutton Hoo, Suffolk

Let out the last of that holiday energy with an ancient battle: the re-enactment group Ealdfaeder will be teaching the rules of combat, from swinging swords to shooting arrows and planning an enemy raid.

29-31 August; free (Sutton Hoo admission applies: adults £7.90, children £3.95); 01394 389 714, nationaltrust.org.uk

8/14 Foyles Summer of Fun, London and Bristol

From Mad Hatter's Tea Parties to Where's Wally hunts, there's lots of literary liveliness at Foyles' bookshops. Highlights? Make a Shaun the Sheep with an Aardman expert (29 July) and sign up for Thunderbirds Training Day (19 August).

25 July to 28 August; various prices (Shaun £8, Thunderbirds £5); foyles.co.uk

9/14 Family Outdoor Theatre: Robin Hood the Musical, Attingham Park, Shropshire

Fancy dress and picnics are encouraged for Cambridge Touring Theatre's outlaw tale. Come early for a pre-play workshop, where kids can join in thespian games.

8 August, 6.30pm-8.30pm (pre-performance workshop 5pm); adults £13, children £8, workshop £4; 01743 708 123, nationaltrust.org.uk

10/14 Chester Zoo Islands, Cheshire

Delve into the islands of South-east Asia – in Chester. New for Summer 2015, the zoo has created six tropical isles, swarming with Sumatran tigers, carnivorous plants, gharial crocodiles and swinging orang-utans.

Open from now; adults from £20, children from £16.36; chesterzoo.org/islands

11/14 Holiday Workshops, Maddermarket Theatre, Norwich, Norfolk

Via theatre games and exercises, professional tutors at Maddermarket's Theatre School workshop will help stage students of all ages discover characters and tell stories.

10-14 August (12+), 17-21 August (7-11s), 10am-2pm; £70; maddermarket.co.uk

12/14 Touch Tank Days, Scottish Seabird Centre, North Berwick, East Lothian

See sea urchins, crabs, mussels and more marine beings up close in a touch tank; design a creature in the cartoon lab; and join the Alien Or Not workshop to learn more about invasive species.

13 August; exhibition free (Discovery Centre admission applies: adults £8.95, children £4.95); seabird.org

13/14 Children's Festival of History, Lincoln Castle, Lincolnshire

Get hands-on with history at Lincoln Castle (also home to a new Magna Carta visitor centre). Make a shield or a Tudor pomander (a perfume-diffusing ball), march with Roman centurions and meet CBeebies' Mike the Knight.

22-23 August; adults £12, children £7.20; lincolncastle.com

14/14 Coasteering, Bass Point, Lizard, Cornwall

Coasteering is the art of negotiating the shore by any means: climbing, clambering, scrambling, swimming and leaping. Cornwall's Lizard is a cracking place to learn, with instructors providing kit, tuition and wildlife facts.

29 July, 9am-1pm; £45; 01326 558 424, nationaltrust.org.uk
Benidorm is universally known as an inexpensive holiday destination favoured by British stag parties looking for cheap alcohol, sex and lots of sunshine. A walk along Avenida de Mallorca at midnight on Wednesday and it's easy to see why. Music booms from the brightly lit bars and clubs, a group of young Brits queues up in front of a kebab shop, passing the time staring at a young woman dancing on a tabletop in her underwear. A man appears to have passed out on a nearby bench.
"People come here to get drunk and have a good time," says Navid Akhtar, a barman at the Broadway pub. As we speak a man with a northern accent comes over to tell Mr Akhtar that the toilet is overflowing. "I have been here for five years and its good business – people spend lots of money and enjoy themselves. But Unesco, I don't think so. We're not exactly full of heritage," Mr Akhtar says.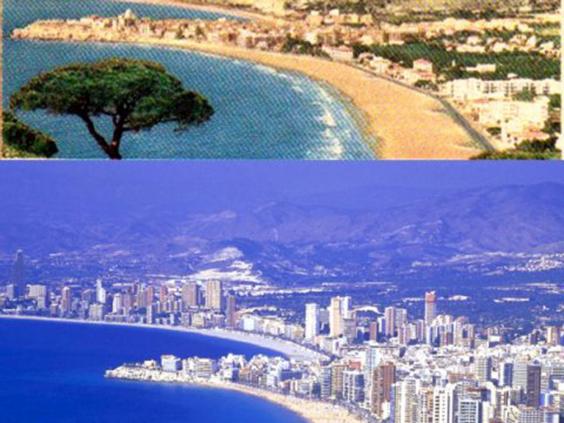 Avenida de Mallorca is in the middle of the area that is always full of Brits. A walk along the street will bring offers of  "free shots", "gear" and "girls" by several of the people trying to persuade holidaymakers to enter one of the bars.
"You can put a pig in a dress, but it's still a pig," says one Brit, drinking in a nearby bar where a darts match is being shown on the TV screens. He declines to be named, but says: "I've been working here for six years and it's all about the Brits. Honestly though, I make my money through selling drugs – coke, weed, pills – it's what we do. It's supply and demand."
Each August, Benidorm's population swells from the 80,000 on the electoral roll, to more than 300,000. It is Spain's third most popular tourist destination after Madrid and Barcelona and Brits make up the majority of people who visit. Mr Perez says that he does not want to discourage the British from coming, but says that the Unesco bid is about showing that Benidorm has more to offer. "The bid is not a joke," he said. "The UK media treats us a little bit like a joke, but we have theme parks for families, we have great beaches, we have stunning countryside nearby. There is something for everyone here, and hopefully the Unesco bid will help to highlight these things."
Mr Perez's officials point out that both Iker Casillas, the recently departed Real Madrid captain, and actor Bruce Willis have stayed in up-market parts of the resort in recent weeks, and says that as well as the beer-drinking Brits, part of the Unesco process is about attracting a more affluent tourists.
"We want to speak about the whole of Benidorm, not just the bars and the beaches. We want to welcome lots of different types of people to Benidorm,"  Mr Perez adds.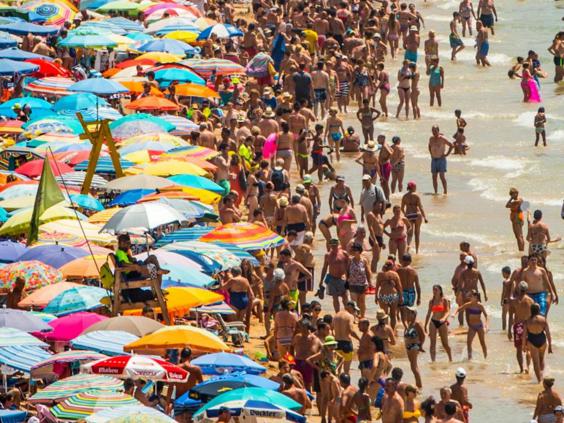 And perhaps he has a point. Until the 1960s, Benidorm was a sleepy fishing village with just 3,000 inhabitants. A local with connections in Madrid persuaded General Francisco Franco to drop his opposition to mass tourism and specifically the bikini, which was frowned upon at the time by the conservative dictatorship. Many of the hotels are owned by locals, and the southern part of the town is almost entirely Spanish. It is easy to laugh at the Unesco bid, and to point out Benidorm's flaws, but its development is closely linked to that of Spain, and in that respect, it has rich heritage.
On Avenida de Mallorca, however, the holday-makers  will take some persuading. Tanya, who lives in Chester but describes herself as a regular visitor to Benidorm, sums up the problem officials have with Benidorm's reputation. She scoffs at the idea of her favourite resort being recognised by Unesco. "Come on," she says. "This is Benidorm."
Reuse content