German prosecutors say they have detained a Tunisian man who they think may have been involved in the Berlin Christmas market attack that killed 12 people.
Federal prosecutors said the 40-year-old was detained during a search of his home and business and that "further investigations indicate that he may have been involved in the attack".
Police found a link to Anis Amri, a fellow Tunisian believed to have driven the truck on 19 December, and who was shot dead during a routine patrol in Milan last Friday.
"The deceased suspect Anis Amri had saved the number of this 40-year-old Tunisian national in his phone," said the federal prosecutor's office in a statement on Wednesday.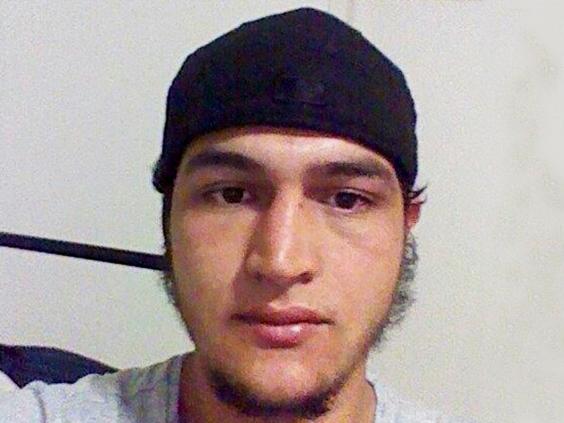 "The investigations indicate that he may have been linked to the attack."
Prosecutors have until Thursday evening to determine whether the case against the man justifies a formal arrest.
It follows reports in French media that 24-year-old Amri, who became the centre of a Europe-wide hunt and a €100,000 (£85,000) reward, travelled from Germany to France via the Netherlands during his escape.
Berlin Christmas market lorry attack
Berlin Christmas market lorry attack
1/18

Several people have been killed after a lorry drove into crowds at a Christmas market in Berlin

REUTERS/Fabrizio Bensch

2/18

'At least nine' people have been killed and more than 50 injured.

AP

3/18

Emergency Services rush a Berlin market victim to an ambulance

Associated Press

4/18

Police cordoned off the square at Kaiser Wilhelm Memorial Church following the incident

REUTERS

5/18

Rescue workers inspect the lorry that crashed into a Christmas market close to the Kaiser Wilhelm memorial church in Berlin

EPA

6/18

Emergency crews inspect the lorry that ploughed into a Berlin Christmas market, killing at least nine people

AFP

7/18

Fire crews attend the scene of the attack

AFP/Getty

8/18

Armed police secure the site of a lorry attack at a Christmas market in Berlin

REUTERS

9/18

Crushed debris is visible beneath the wheels of the vehicle

REUTERS

10/18

An injured man is pushed to an ambulance

REUTERS

11/18

Medics attend an injured person after the lorry attack which killed at least nine and injured more than 50 people

AFP/Getty

12/18

Firefighters examine the lorry which was rammed into a Berlin Christmas market

REUTERS

13/18

A person is carried into an ambulance

REUTERS

14/18

View of the lorry that crashed into a Christmas market in Berlin, killing at least nine and injuring at least 50 people

AFP/Getty

15/18

Rescue workers push a person on a stretcher to an ambulance

Getty

16/18

Firefighters assess the damage after the lorry rammed the Christmas market, killing 'at least nine', and injuring more than 50 people

AP

17/18

Firefighters stand beside a toppled Christmas tree at the site of the suspected terrorist attack in a Berlin Christmas market

AP

18/18

Damaged stalls at the scene of the incident at a Berlin Christmas market where at least nine people have been killed

EPA
Amri, who pledged his allegiance to Isis in a video, reportedly boarded an overnight bus at the Dutch city of Nijmegen that took him to Lyon.
"There are indications that he did travel via the Netherlands [on his way to Lyon]," Wim de Bruin, a spokesman for the Dutch national prosecutor's office, said. 
"From there, as caught on surveillance cameras, he took a train to the French Alpine town of Chambery before heading to Milan."
However, an Italian anti-terrorism investigator said the only evidence currently linking Amri to the Netherlands is a SIM card found in his possession after he was killed.
Amri, who travelled to Europe from Tunisia in the wake of the 2011 Arab Spring, had his asylum application rejected by German authorities in June.
His documents, which would have rubber-stamped his deportation from Germany, arrived at the country's interior ministry two days after the attack.
Following the attack in Berlin, Chancellor Angela Merkel has faced growing criticism over her immigration policy. Germany had already toughened its stance on immigration in recent months, prompted by concerns about security and integration after admitting more than 1.1 million refugees and migrants from the Middle East, Africa and elsewhere since early 2015.
Also on Wednesday, the German government revealed that 54,123 migrants, who were not eligible or were likely to be denied asylum, left the country voluntarily in 2016.
Separately, German security officials told Reuters the number of those deported after their asylum requests were rejected rose to almost 23,800 from January to November – up from almost 20,900 in all of 2015.
Interior Ministry spokesman Harald Neymanns said that the number of migrants leaving of their own volition was a "considerable increase" by 20,000 upon the same figure for 2015.
"The increase is welcome," he said. "It's always preferable when people leave the country voluntarily instead of being deported."
Most of those leaving returned to their homes in Albania, Serbia, Iraq, Kosovo, Afghanistan and Iran, according to the Sueddeutsche Zeitung.
Those leaving are eligible for one-off support of up to €3,000 to support them in finding employment back home.
A Finance Ministry spokesman also said the government will boost funding slightly to €150m in 2017 to support efforts in encouraging people to leave Germany.
There has also been a rise in the number of refugees turned away at the borders. A report by the Neue Osnabruecker Zeitung daily said police had turned back 19,720 refugees through the first 11 months of 2016 – up from 8,913 in all of 2015. Most were from Afghanistan, Syria, Iraq and Nigeria. They had been registered in other EU countries.
As public support for her pro-refugee policies wanes ahead of next September's federal election, Merkel has said it is vital to focus resources on those fleeing war, and to keep public support up by deporting foreigners to countries where there is no persecution.
Attacks and security alerts involving refugees and migrants have boosted the popularity of the anti-immigration Alternative for Germany (AfD) party, whose rise above 10 per cent in opinion polls could complicate Ms Merkel's re-election hopes.
Agencies contributed to this report