Six gunmen are wanted in connection with a fatal shooting at a boxing match weigh-in at a Dublin hotel.
Three gunmen entered the Regency Hotel dressed as SWAT officers while another dressed as a woman and a middle-aged man wearing a baseball cap, police confirmed.
Armed with AK-47s, the men reportedly targetted alleged gang members believed to be attending the weigh-in, not the boxers themselves.
Three-hundred people had gathered to watch the weigh-in for a World Boxing Organisation (WBO) lightweight title fight between Jamie Kavanagh and Antonio Jao Bento .
The boxing match called the "Clash of the Clans" has now been cancelled.
Assistant Commissioner Jack Nolan told a news conference: "We believe that the violent perpetrators of this are out there in the community and can be located.
"We believe there were a minimum of six people involved in this event - three uniformed and helmeted people carrying automatic weapons. One person, a male disguised as a female, was also present and a middle aged male wearing a peak cap.
"We are also conscious people may be talking of retaliation in this matter.
One man was killed, 39-year-old David Byrne, with two other men seriously injured in the attack.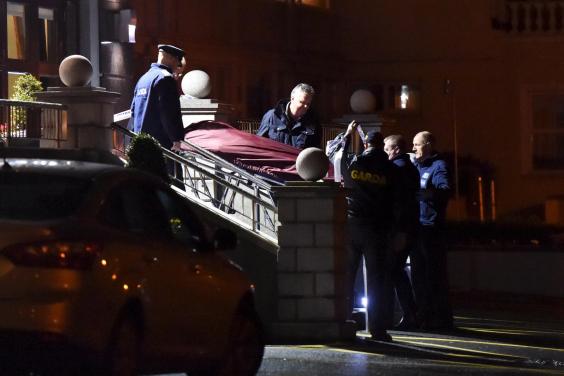 It is believed one of the two injured men was shot in the chest, RTE reports.
The Irish broadcaster said Byrne was known to police and had been questioned numerous times about serious and organised crime.
It is believed a number of gangland figures were expected to be attending the weigh-in.
There has been speculation about a feud between Dublin gangsters and an Irish criminal outfit based in southern Spain.
Witness Mel Christle, the president of the Boxing Union of Ireland, was standing on a podium when the gunfire erupted outside the room.
He said: "There was an incredible noise out there (in the lobby) and that is where I saw a body, a corpse, lying literally at the edge of the reception desk."
Mr Christie claimed the attackers were not targeting the boxers, but other individuals who were hit in the hotel reception.
Reuse content