A British historian, noted for his biographies of Adolf Hitler, has described the Brexit vote along with a rise in populist far-right groups across Europe as "extremely worrying".
Sir Ian Kershaw, whose work chiefly focuses on the social history of 20th Century Germany, warned that "democracy has deteriorated on every level across the continent since 2014, and not just with Russia."
He told AFP: "Brexit, the rise of the far right, xenophobia and racism... are all extremely worrying to say the least, and naturally make one think back to the pre-war period."
The historian, who voted to remain in the European Union in June, said it was wrong to draw direct parallels between the current climate and "the dark ages of the 1930s [Germany]", but did say support for populist political groups "echoes" that period, "with an antipathy towards outsiders now directed at Islam and migrants arriving from beyond Europe."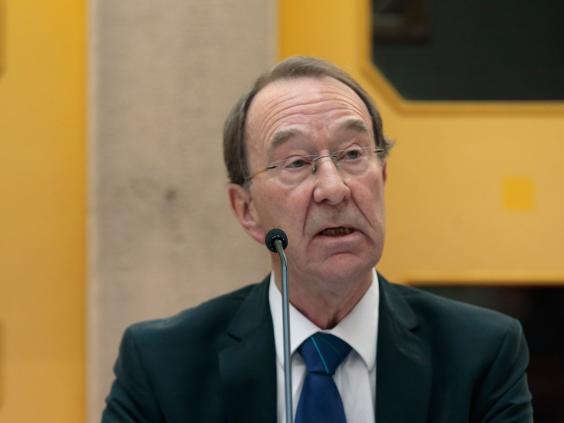 Police in England and Wales recorded a sharp increase in the number of racially or religiously aggravated crimes following the EU referendum.
In July 2016, police recorded a 41 per cent increase compared to the same month the year before, according to a Home Office report. 
The Independent was given access to a database of more than 500 racist incidents compiled in the weeks since the EU referendum. These included assaults, arson attacks and dog excrement being thrown at doors or shoved through letter boxes.
Concerns have also risen after a number of far-right populist parties have garnered increasing support across Europe, with some even topping election voting rounds this year - their backing spurred by popular fears over immigration and terrorism. 
In April, Austria's far-right Freedom Party candidate, Norbert Hofer, who has called for a burqa ban, came top in the first round of the country's presidential elections with 36 per cent of the vote.
In France, the Front National party have been gaining ground, with the party's leader, Marine Le Pen - known for her hard line conservative stances - promising a referendum on France's EU membership. 
And in Germany, Chancellor Angela Merkel's party, the Christian Democrats, suffered badly in recent regional elections, falling behind the anti-immigrant Alternative for Germany (AfD) party. 
But Sir Ian, whose two-part biography of Hitler, "Hubris" and "Nemesis", was an international bestseller, insisted that despite some support for populist right-wing parties, drawing direct comparisons with the rise of fascism in 1930s Germany was off the mark.
Brexit racism and the fightback
Brexit racism and the fightback
1/9

Demonstrators protest against an increase in post-ref racism at London's March for Europe in July 2016

PA

2/9

These cards were found near a school in Huntingdon, Cambridgeshire, the day after the EU referendum

Twitter/@howgilb

3/9

Getty

4/9

Romford, Essex, June 25

@diamondgeezer

5/9

A worker at this Romanian food shop was asleep upstairs at the time of this arson attack in Norwich on July 8, but escaped unharmed. Hundreds later participated in a 'love bombing' rally outside the shop to express their opposition to racism and their support of the shop owners.

JustGiving/Helen Linehan

6/9

This neo-Nazi sticker was spotted in Glasgow on June 26

Courtesy of Eoin Palmer

7/9

But after news emerged of neo-Nazi stickers appearing in Glasgow, some in the city struck back with slogans of their own.

Courtesy of Eoin Palmer

8/9

Getty

9/9

More signs began to appear in some parts of the UK, created by people who wanted to show their opposition to post-referendum racism

Courtesy of Bernadette Russell
"I don't think we are returning to the dark ages of the 1930s because there are big differences as well as superficial similarities," Sir Ian insisted, saying the greatest difference between then and now was that Germany is currently a rich and stable beacon of social democratic values, rather than a country "looking for revenge for [the Treaty of] Versailles". "It is now probably the most pacific nation in the whole of Europe," he said.
"Second, we now have a continent of democracies, admittedly flaky in parts when you look at Hungary and Poland," Dr Kershaw said. "While in the 1930s there were lots of authoritarian states and democracy was very much a contested system."
Sir Ian also credited the EU with keeping the peace. "For all its weaknesses, the EU has got Europeans working through cooperation and talking rather than immediately resorting to threats.
"Those patterns of doing things through negotiation developed by the EU have put us in a better place to withstand the sort of pressures Europe experienced in the 1930s."
Reuse content