A man has died after he was gored by a bull during a controversial summer festival in the Spanish town of Coria.
The 43-year-old, who has not been named, was taking part in a traditional part of the ceremony where a crowd surrounds a bull in an open-air theatre, goading the animal before running behind vertical metal barriers.
Town spokeswoman Clara Iglesias said the man was behind the protective barriers at Coria's bull ring when he was gored, but that the animal charged and managed to get a horn between the bars.
Video of the incident was posted online by some Spanish news websites. It showed the man was gored with such force that he was pushed up against the ceiling of the spectators' area, before the bull twisted to gore him twice more.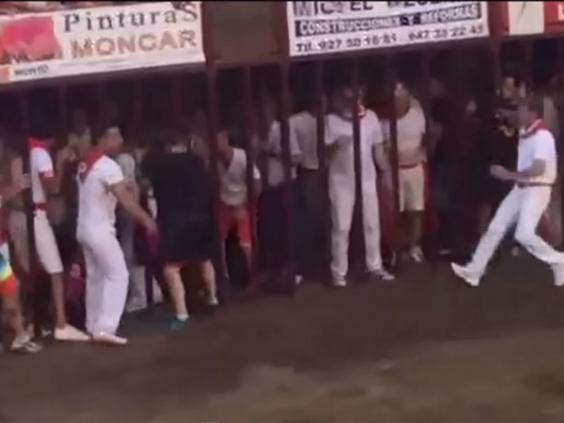 The man was rushed to Coria's hospital for treatment to a large gash in his abdomen and chest, but died on the operating table. A town hall statement said he had come to Coria from a neighbouring town.
Many people are injured across Spain in festivals involving bulls, most famously at the bull-running event in Pamplona in July, but fatalities are rare. Most bull-fighting events don't allow large numbers of spectators to run up close to the animals.
The fatal goring, which occurred last night, sparked mixed responses on social media in Spain, including calls for the event to be banned.
Reuse content