The captain of the Costa Concordia, who is accused of manslaughter and abandoning ship after 32 people died when it capsized two years ago, will return to the wreck for the first time today.
Captain Francesco Schettino reportedly wept when he arrived back in Giglio to see the stricken cruise ship on Tuesday, and is now set to accompany investigators on board the vessel itself.
The 290m-long ship remains stranded after it was moved to an upright position in an elaborate operation last year. Experts searched the bridge and lifts last month, and will today examine the Concordia's emergency generators.
Schettino is being tried by a court in Grosseto, Tuscany on a number of charges, including manslaughter, all of which he denies. If found guilty he faces up to 20 years in prison.
Investigators are currently attempting to determine if any factors beyond human error contributed to the disaster, which saw the ship hit a reef off the Tuscan island on 13 January, 2012.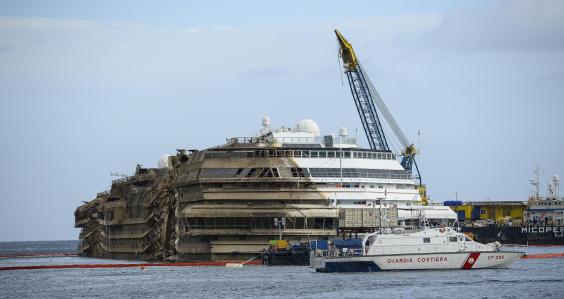 Defence lawyers for the captain asked the court to authorise the search, and on Tuesday it agreed to allow him to go on board alongside experts.
Judge Giovanni Puliatti stressed to reporters that Schettino will be there to help, not ask questions, adding that he is "a defendant, not a consultant".