Dominique Strauss-Kahn rented a secret flat in Paris under someone else's name at which several sex parties took place – which proves his status as an "organiser" of the events, prosecutors have told his pimping trial.
On the third and last day of his testimony in the Lille "pimping" trial, the disgraced former IMF chief said the flat, in the Rue d'Iéna, was rented under a false name to disguise his activities from his then wife, Anne Sinclair, a well-known French journalist and TV presenter.
He said that he used the apartment to "entertain young women for personal reasons…but it was also useful for meeting political friends. And, yes, I was a married man at the time."
"The flat was not just for sexual activities…But it's true that I didn't want its existence to be known," he said.
Mr Strauss-Kahn admitted that sex-parties had taken place at the flat but he insisted that he had not organised then and he was not aware that any of the women invited were prostitutes.
Earlier, Mr Strauss-Kahn was confronted with scores of text messages that he had sent to friends to organise "swingers'" parties in Washington, Madrid and Vienna.
Dominique Strauss-Kahn: A timeline
Dominique Strauss-Kahn: A timeline
1/11 Dominique Strauss-Kahn

25 April 1949: Born in Paris in the wealthyy suburb of Neuilly-sur-Seine, the son of a lawyer

2/11 Dominique Strauss-Kahn

1972: Attended Paris' prestigious Institut d'études politiques de Paris – or Science Po – a breeding ground for the French elite

3/11 Dominique Strauss-Kahn

1986: First foray into politics following involvement in the Socialist Party. Elected a member of French parliament in the Haute-Savoie department

4/11 Dominique Strauss-Kahn

1997: French PM Lionel Jospin appoints Strauss-Kahn as his finance minister, one of the most senior political roles in the country

5/11 Dominique Strauss-Kahn

2006: Loses out in bid to become president of Socialist Party to Segolene Royal.

6/11 Dominique Strauss-Kahn

2007: Named as the European nominee to run the IMF, and announced as its managing director on 28 September

7/11 Dominique Strauss-Kahn

2008: IMF calls independent investigation over allegations Strauss-Kahn had an affair with subordinate Piroska Nagy. Nagy accused DSK of sustained harassment that left her feeling she had little choice but to sleep with him

8/11 Dominique Strauss-Kahn

2011: Resigned after being arrested by New York police on sexual assault allegations

9/11 Dominique Strauss-Kahn

2012: Signs settlement with hotel maid Nafissatou Diallo in December

10/11 Dominique Strauss-Kahn

2014: The events inspired a film starring Gerard Depardieu, released amid threats of a defamation suit from Dominique Strauss-Kahn

11/11 Dominique Strauss-Kahn

Dominique Strauss-Kahn goes on trial for aggravated pimping

Reuters
In one text, DSK wrote to a friend in northern France: "Do you want to try out a magnificent naughty nightclub in Madrid with me and some equipment?"
Pressed on his use of such a derogatory word, the former French politician appeared embarrassed for the first time since his cross-examination began on Tuesday. "When I spoke of 'equipment', I meant that he could come along with anyone that he wanted to," Mr Strauss-Kahn said.
He rejected suggestions that the dismissive word implied that he knew that some of the women invited to a series of sex parties in 2008-2011 were prostitutes. In other texts, he referred to "candidates" and "girlfriends" and offering a woman as "a present". The use of such language was all "part of the swingers' world," DSK said.
The text messages, recovered by investigators, are regarded by the prosecution and civil parties as an important part of the alleged evidence that Mr Strauss-Kahn was an "instigator" and "organiser" of sex partes involving prostitutes. Under French law, this would amount to "pimping" even  if DSK was not taking a share of the women's earnings.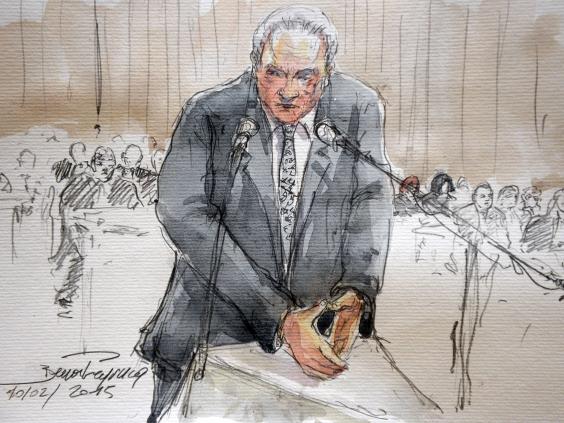 Mr Strauss-Kahn and 12 other people are on trial for "aggravated pimping in an organised gang". DSK and three other people are accused of arranging sex parties with prostitutes in Brussels, Paris and Washington. 
On the second day of his testimony on Wednesday, Mr Strauss-Kahn complained that he seemed to be on trial for his sexual morals and "rough" and "deviant" sexual behaviour  rather than for "pimping".
"I'm beginning to have enough of all this," he said. "Everyone has the right to an opinion on my sexual behaviour in private but it his has nothing to do with this trial."
"You would think that I was on trial for deviant sexual practices. But there is no longer any such law (in France)."
A former prostitute claimed yesterday – echoing a similar claim made by another ex-prostitute on Tuesday – that she had been subjected to unwilling anal sex by the former IMF chief in a Brussels hotel in 2009. DSK did not deny either incident but said that, in both cases, the sexual act was consensual.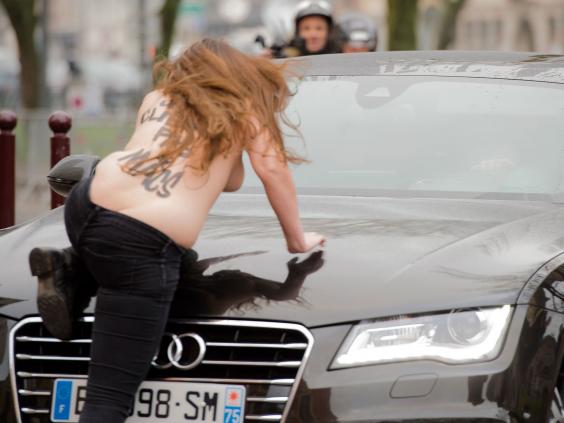 Asked why both women now said that they suffered great distress, Mr Strauss-Kahn replied: "I think I must have a form of sexuality which is rougher than that of the average.  I am beginning to realise that and I deplore it. But I had no idea at the time that these experiences were so unpleasant as the women now say."
Earlier, "Jade", a Belgian former prostitute in her 40's, said Mt Strauss-Kahn had anal sex with her without asking her permission when she was part of a threesome in his hotel room at the five star Amigo Hotel in Brussels in Autumn 2009. She said that he had driven Mr Strauss-Kahn in her car to the hotel from a sex-club in the Belgian countryside and they had discussed her prostitution on the way.
"When I was lying with my back to Monsieur DSK, I suffered a penetration. If he had had asked me, I would have said no. I didn't like that," Jade said.
"With a swinger, you at least ask the question. I was impaled and he didn't ask at all and I think it was because I was a prostitute."
The last of the sex parties was another event in Washington in May 2011 a day before DSK's arrest in New York accused of attempting to rape a hotel chamber-maid. Charges in that case were later dropped and a civil claim settled out of court.
The trial is expected to last until the end of next week. Judgement by the panel of two male and two female judges will probably be reserved for several months. If convicted. DSK could, in theory face ten years in prison and a fine of Euros 1.5m.
Reuse content