The former IMF chief Dominique Strauss-Kahn should be cleared of "pimping", the French state prosecutor said today.
The "pimping" case against Dominique Strauss-Kahn, the former International Monetary Fund chief, has all but collapsed after the state prosecutor in Lille called for his "pure and simple" acquittal.
Although the final decision on his innocence or guilt now rests with a panel of four judges, he seems likely to be acquitted of the only charge to reach trial after four years of unproven accusations of sexual misconduct in France and the United States.
The likely outcome of the saga leaves many awkward questions for the French justice system. Even the state prosecutor, Frédéric Fèvre, came close today to suggesting  that the former Socialist politician had been the victim of a moral witch-hunt. Mr Fèvre said that he was "troubled" that of the 14 defendants in the Lille trial, only one – DSK – had his sex life  "persistently revealed" with "such an obsession for detail".
The Lille prosecutor had urged, 18 months before the trial began, that the charge of "aggravated pimping" against DSK should be dropped, but two examining magistrates who led the investigation insisted that he must appear in court.
Campaigners for prostitutes' rights protested against the leniency of today's prosecution recommendations on all 14 defendants, including Mr Strauss-Kahn. A prison sentence was demanded against only one of the accused, a Belgian sex-club owner, Dominique Alderweireld, known as "Dodo the mackerel".
Emmanuel Daoud, a lawyer representing The Nest, a prostitutes' defence group, complained that it was "incomprehensible" that the French judicial system should "have two completely different readings" of the same case.
Dominique Strauss-Kahn: A timeline
Dominique Strauss-Kahn: A timeline
1/11 Dominique Strauss-Kahn

25 April 1949: Born in Paris in the wealthyy suburb of Neuilly-sur-Seine, the son of a lawyer

2/11 Dominique Strauss-Kahn

1972: Attended Paris' prestigious Institut d'études politiques de Paris – or Science Po – a breeding ground for the French elite

3/11 Dominique Strauss-Kahn

1986: First foray into politics following involvement in the Socialist Party. Elected a member of French parliament in the Haute-Savoie department

4/11 Dominique Strauss-Kahn

1997: French PM Lionel Jospin appoints Strauss-Kahn as his finance minister, one of the most senior political roles in the country

5/11 Dominique Strauss-Kahn

2006: Loses out in bid to become president of Socialist Party to Segolene Royal.

6/11 Dominique Strauss-Kahn

2007: Named as the European nominee to run the IMF, and announced as its managing director on 28 September

7/11 Dominique Strauss-Kahn

2008: IMF calls independent investigation over allegations Strauss-Kahn had an affair with subordinate Piroska Nagy. Nagy accused DSK of sustained harassment that left her feeling she had little choice but to sleep with him

8/11 Dominique Strauss-Kahn

2011: Resigned after being arrested by New York police on sexual assault allegations

9/11 Dominique Strauss-Kahn

2012: Signs settlement with hotel maid Nafissatou Diallo in December

10/11 Dominique Strauss-Kahn

2014: The events inspired a film starring Gerard Depardieu, released amid threats of a defamation suit from Dominique Strauss-Kahn

11/11 Dominique Strauss-Kahn

Dominique Strauss-Kahn goes on trial for aggravated pimping

Reuters
The Lille trial, which will end on Friday, has several related trials-within-a-trial. Five people, including Mr Strauss-Kahn, are accused of "aggravated pimping" for allegedly organising sex parties with prostitutes in France, Belgium and the United States between 2008 and 2011.
Under French law anyone who helps to organise acts of prostitution can be considered guilty of pimping, even if they take no financial benefit. The examining magistrates who investigated the case believed that Mr Strauss-Kahn was the "instigator" and an organiser of the orgies-sans-frontières.
Under questioning at the trial last week, DSK admitted going to the sex parties and said that he took pleasure in "libertinage" or sexual "free-for-alls". He admitted that his sexual behaviour towards women was sometimes "rougher than the average". 
On the other hand, he denied organising the parties and insisted that he had no idea that some of the young women present were prostitutes. "You would think that I was on trial for deviant sexual practices," DSK complained on the stand last week. "But there is no longer any such law [in France]."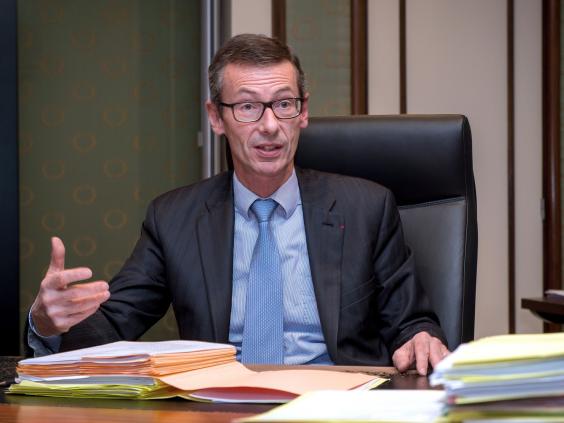 Mr Fèvre's closing statement sounded more like a prosecution of the examining magistrates rather than of DSK. "Did [DSK] organise these parties?" he asked. "The answer is no. Did he pay for these parties? The answer is no? Did he search out these prostitutes? The answer is no.
"Neither the investigation nor the trial justified the charges against Mr Strauss-Kahn. I call for him to be acquitted, pure and simple."
During a break in the hearing, Mr Strauss-Khan chatted to journalists about the case for the first time. Speaking before the prosecution announced its recommendations, he said: "There is nothing against me in this case. I have known that for three-and-a-half years."
He was asked whether two ex-prostitutes who told the court last week about "brutal" experiences with him were lying. He replied: "No, I don't say they were lying but they have perhaps revisited their memories."
Mr Strauss-Khan said that the real damage to the two women had been caused by the media publicity surrounding the case, not by his own actions. "These girls, what most destroyed them, was not what happened but the press circus," he said.
The prosecutor called earlier for the conviction of all but one of the 13 other defendants in the case but recommended relatively lenient sentences.
Two businessmen in northern France, Fabrice Paszkowski and David Roquet, are accused of organising the sex parties to ingratiate themselves with Mr Strauss-Khan, as a possible future French president. The prosecution recommended a two-year suspended jail sentence and a €20,000 (£15,000) fine against both men. 
The only prison sentence recommended by the prosecutor was a one-year term – plus another year suspended – against Mr Alderweireld. He was accused of supplying prostitutes to a sex ring based at the Carlton Hotel in Lille, which led to the international sex parties.
Mr Strauss-Khan's involvement came to light in October 2011, six months after he was accused of the attempted rape of a chambermaid in a Manhattan hotel. Criminal charges against him in New York were later dropped and he settled a civil claim by the maid, Nafissatou Diallo, out of court.
Mr Strauss-Kahn was also accused in the summer of 2011 of sexually assaulting and attempting to rape a young French writer, Tristane Banon, several years earlier. A police investigation found that the sexual assault allegation was justified but it was too late to bring a prosecution. The attempted rape accusation was dismissed.
Reuse content