Dozens were injured in Germany after clashes erupted between Kurdish protesters and hard-line Islamists overnight.
Police say 14 were injured and 22 arrested in violent scuffles in the northern city of Hamburg after hundreds of Kurds staged a demonstration against Isis, also known as the Islamic State.
Similar protests were held across Europe yesterday by Kurds attempting to draw attention to Isis's siege of the Kurdish town of Kobani in northern Syria.
Germany, home to Europe's largest Kurdish population, saw a standoff in Hamburg between 600 Kurdish protesters and members of a nearby mosque associated with the Salafist movement, a strict interpretation of Islam banned in Germany, descend into violence.
In a video posted on YouTube, which cannot be independently verified, a strong police presence attempts to control crowds as ambulance and emergency services can be seen.
Police used water cannons to break up the demonstration, later confiscating 'cut and thrust' weapons found at the scene. German newspaper Bild reported that some demonstrators carried iron rods, knives, brass knuckles and a machete.
Meanwhile, in Brussels, 50 pro-Kurdish activists forced their way into the European parliament to demand Europe does more to aid the beleaguered forces fighting Isis.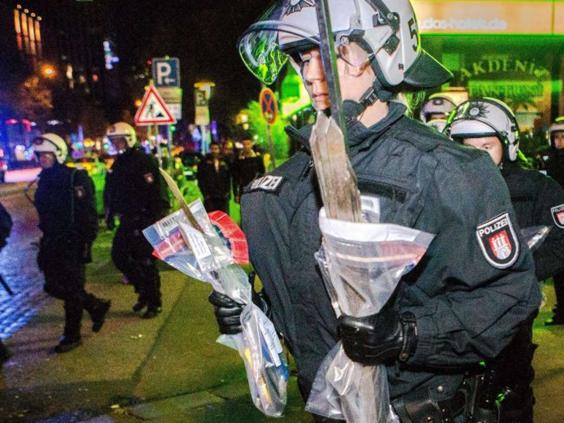 "They need something to defend themselves and civilians," said Hakan Cifci of the Kurdistan National Congress in Brussels.
Turkey, which borders Syria and has been watching the escalating situation in Kobani with concern, reported at least six protests in different cities last night.
Police allegedly used tear gas and water cannons to disperse crowds in Diyarbakir, Batman, Van, Sirnak, Sanliurfa, Hakkari and Kucuk Kenderciler, not far from Kobani on the Turkish side of the border.
Anti-Isis demonstrations across Europe
Anti-Isis demonstrations across Europe
1/10 Anti-Isis protests in Ankara, Turkey

A person holds a flag as police uses tear gas and water cannon in Ankara against demonstrators who protest against attacks launched by Islamic State insurgents targeting the Syrian city of Kobani and lack of action by the government

2/10 Anti-Isis protests in Diyarbaki, Turkey

Protesters clashing with riot police during a demonstration against Isis in Diyarbakir, southeast of Turkey

3/10 Anti-Isis protests in Diyarbaki, Turkey

Kurdish protesters in the southeastern city of Diyarbakir

Getty Images

4/10 Anti-Isis protests in Diyarbaki, Turkey

Kurdish protesters clash with Turkish riot policemen in the city of Diyarbakir

Getty Images

5/10 Anti-Isis protests in Brussels, Belgium

Riot police block Kurdish protesters as they gather in front of the entrance of the European Parliament in Brussels

AP

6/10 Anti-Isis protests in Berlin, Germany

Demonstrators, including one holding a sign that reads: "Save the Kurds of Kobane from IS," and many of them members of Berlin's large Kurdish community, march to protest against the ongoing violence by militias of the Isis in Iraq and Syria in Berlin

7/10 Anti-Isis protests in Hamburg, Germany

Kurds protest against Isis militants advancing through the Syrian border city of Kobani, in Hamburg, Germany

8/10 Anti-Isis protests in London, UK

Kurdish protesters gather at Heathrow Airport as anti-Isis demonstrations take place across Europe

Lisa Campbell

9/10 Anti-Isis protests in Paris, France

Kurds living in France demonstrate in Paris

10/10 Anti-Isis protests in Marseille, France

Kurdish people hold flag in Marseille during a protest against the threat of a "Syrian Kurdish population's genocide" by Isis militants and to support the population of the Syrian Kurdish town of Ain al-Arab, known as Kobani
In Istanbul protestors set up barricades, hurled stones, fireworks and firebombs at police and set a bus on fire, according to local media sources.
Across Turkey local media reported multiple wounded as a result of the clashes, with police officers also injured as protests became increasingly violent last night.
Kurds make up one fifth of Turkey's population and are reacting with increasing fury at what they perceive to be their government's reluctance to intervene in the conflict over the border.
Turkish President Recep Tayyip Erdogan has said: "There has to be co-operation with those who are fighting on the ground," but his government has so far refused to join any coalition against the Sunni Muslim militants.
Additional reporting from PA
Reuse content