Intense emotion and heavy security surrounded a concert in Paris by the Eagles of Death Metal on Tuesday night. The Californian band were on stage when 90 rock fans were slaughtered by jihadist terrorists at the Bataclan music venue on 13 November.
Sixty-five days after the attacks, the streets around the Olympia theatre – a venue made famous by Edith Piaf in the 1950s and 1960s – were closed to everyone but concert-goers. 
Hundreds of  "Bataclan survivors" were given free tickets. Teams of psychologists were present to help those who were overcome by the occasion. Entering the stage at the historic theatre a 1966 song by the French singer Jacques Dutronc called "Paris s'eveille" (Paris Wakes Up) was played.
The band's frontman Jesse Hughes told the crowd: "Bonsoir Paris, we're ready for this," adding: "We are having a good time tonight – amen! Ain't nobody going to stop us."
He later apologised if he messed a song up because "it was an emotional moment" for him, adding that he saw a "venue full of all my friends. You know that? Mes amis."
At one point, the band led the crowd in an emotional chant of "Don't be scared". At the end of the gig, Hughes held a guitar painted with the colours of the French flag in the air and told the crowd: "You have no idea how much I love you."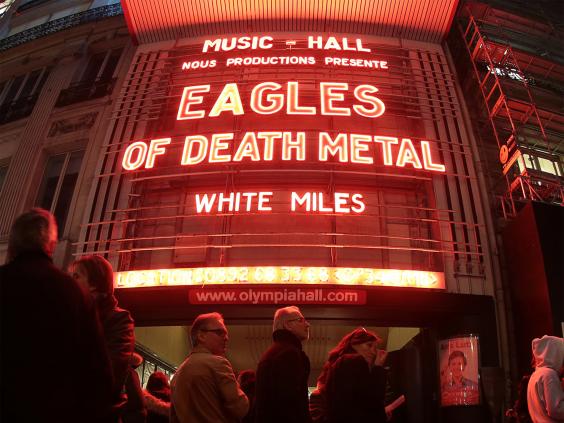 Hughes had earlier revealed that he was planning to meet some of the survivors during his visit to the French capital. He said that the band felt a "sacred duty" to complete the show interrupted when three terrorists cut down fans with hand grenades and automatic rifles just over three months ago. 
The attack was one of three terrorist assaults in Paris on 13 November in which 130 people were killed.
"I take it as a very sacred duty. I feel we were elected by circumstances to represent this for good or bad. I take that as a responsibility I'm charged by God to do," said Mr Hughes, who is a Catholic.
The singer and guitarist is also a fervent supporter of gun ownership. He caused consternation by suggesting that fewer people might have died at the Bataclan if the audience had been carrying weapons.
In a tearful interview with the French TV station, iTélé, Hughes, said: "Did your French gun control stop a single fucking person from dying at the Bataclan? … I  hate it that it's that way [but] … maybe until nobody has guns everybody has to have them."
Before the concert began, Bataclan survivors had mixed feelings, Some welcomed the opportunity to sweep away the memories of 13 November. Others thought that the occasion had come too soon. Paul, a 27-year-old survivor, told The Local news website: "I wanted to go, but now it's getting close and it's feeling more real, I'm starting to get scared.
"I'm not scared something will happen, we know there will be soldiers and police everywhere. But it might create an atmosphere of fear and I am not really sure I want to go through that," he added.   
Carole Damiani, a psychologist and leader of a group  that counsels Bataclan survivors, warned that there was danger that the event could be more traumatic than some concert-goers realised. "One person panicking is one thing. Collective panic is something else," she told Agence France-Presse. Hearing the same music in a similar venue "could trigger trauma" she said. "For some that could be painful."
She added: "No one should kid themselves that this concert is going to cure them and put everything right." 
Survivors and relatives of victims of November's attacks have lambasted the French security services. In a submission given to a parliamentary inquiry, they pointed to evidence that the French government had been warned that the self-declared Islamic State was planning an attack on a music venue. 
One of the Bataclan survivors, Alexis Lebrun, said: "No security measures could be seen. There was no military or police presence in front of the hall. 
"How can it be that national security was at its highest level but there was no attempt to guard venues welcoming hundreds or thousands of people?"