The man suspected of hijacking an EgyptAir flight and redirecting it to Cyprus has appeared in court and said he acted in a bid "to see his wife and children".
Seif Eldin Mustafa, 59, flashed "v" signs for victory as he left the court in Larnaca following a short hearing, where he was remanded in custody for eight days on suspicion of hijacking, abduction, threatening violence, terrorism-related offences and two counts related to possession of explosives.
Police said the latter charges would relate to Mr Mustafa's alleged claim that he had a bomb vest, even though Cypriot officials later said the "explosives" were in fact iPhone covers bound together with cloth.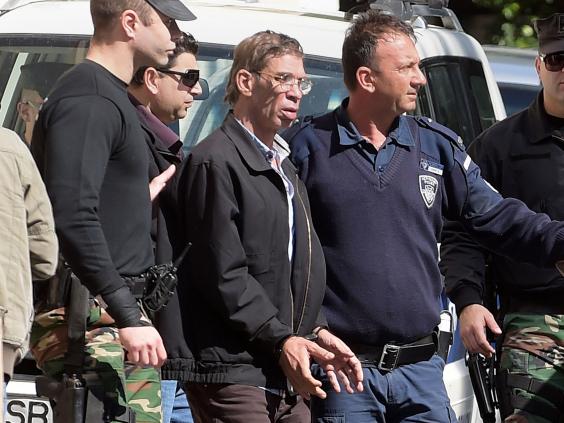 It has previously been reported that the hijacker made a range of demands after the plane from Alexandria landed at Larnaca airport with 72 passengers and crew on board.
After a six-hour stand-off, the suspect identified by Egyptian and Cypriot authorities as Mr Mustafa walked off the plane and handed himself in to police.
In a statement to Cypriot police, Mr Mustafa said: "When someone hasn't seen his family for 24 years and wants to see his wife and children, and the Egyptian government doesn't allow it, what should one do?"
The suspect allegedly commandeered the aircraft 15 minutes after takeoff from Alexandria. He approached a flight attendant and showed off the belt, attached to a remote control he held in his hand, investigating officer Andreas Lambrianou told the court.
"The suspect asked all passengers and crew to hand in their passports, then gave two messages to a member of the crew, asking that the pilot be informed that he was a hijacker and wanted to land at an airport in Turkey, Greece or Cyprus, but preferably Cyprus," Lambrianou said.
"In a note, he stressed that if the airplane landed on Egyptian territory he would immediately blow the plane up."
In pictures: EgyptAir hijacked plane
In pictures: EgyptAir hijacked plane
1/10

Seif Eldin Mustafa, suspected of hijacking EgyptAir plane MS181, flashes the 'V' for victory sign as he leaves the court in Larnaca in a police car

AFP/Getty Images

2/10

Seif Eldin Mustafa wears handcuffs as he leaves the court in Larnaca escorted by Cypriot police

AFP/Getty Images

3/10

An EgyptAir flight 181 passenger embraces a family member after arriving at Cairo international airport

Reuters

4/10

CCTV footage shows Seif Eldin Mustafa walking through a metal detector before being patted down by security

Egypt Ministry of Interior

5/10

Cypriot police guard the hijacked EgyptAir A320 plane at Larnaca Airport after it landed in Cyprus

EPA

6/10

Passengers evacuate a hijacked EgyptAir Airbus 320 plane at Larnaca airport, Cyprus

Reuters

7/10

An official boards a hijacked Egyptair A320 Airbus at Larnaca Airport in Larnaca, Cyprus

8/10

An Egypt Air Airbus A-320 sits on the tarmac of Larnaca aiport after it was hijacked and diverted to Cyprus

9/10

A Cypriot policeman stands guard near a hijacked EgyptAir A320 plane at Larnaca Airport, Cyprus

10/10

Screen grabbed image taken from Flightradar24 of EgyptAir plane MS181 which has landed in Cyprus after being hijacked while flying from Alexandria to Cairo
In Cyprus, Mustafa dropped an envelope on the runway addressed to a Cypriot woman, later ascertained to be his ex-wife. In the letter, the suspect demanded the release of 63 female prisoners held in Egypt.
Additional reporting by Reuters 
Reuse content