Germany has declared it is leading the way in Europe by opening its doors to refugees - but for migrants fleeing the world's deadliest warzones, nothing is ever that simple.
The road to Europe for the thousands travelling from the Middle East, Asia and Africa offers a range of roadblocks and diversion that prove deadly for some.
At the centre of attention now are attempts to build a six-foot fence the full length of the border between Serbia and Hungary, effectively the frontline for the EU's Schengen Area of free movement.
But that race for the border doesn't paint the full story of a continent where migrants face a new obstacle at every turn.
The Road To Europe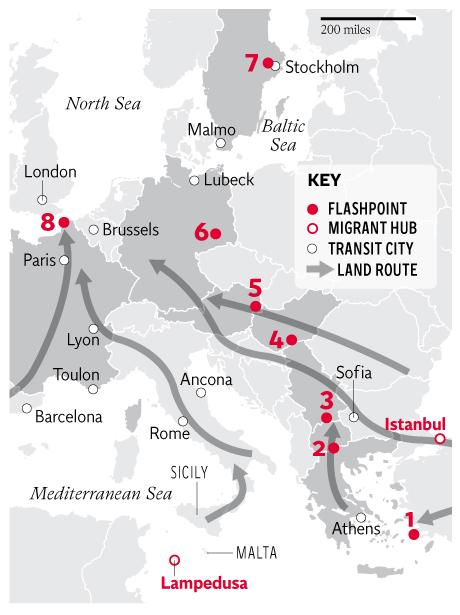 1 Greek Islands
Coastguard rescues 877 over the weekend near islands of Lesbos, Chios, Samos and Kos. Hundreds more make crossing using inflatable dinghies
2 Macedonia/Greek border
Violent scuffles have broken out as Macedonian police attempt to control the flow of hundreds of migrants entering from Greece
3 Serbia
Thousands enter on foot from Macedonia, with 8,000 registering with Frontex in Presevo over 24 hours. Many take trains and buses towards Hungary
4 Hungary
Rush to build anti-migrant barbed-wire fence along Serbian border, in effect the entry point to the EU
5 Austria
Two vans packed with migrants collide, injuring 37, near Hungarian border. Dozens more flee police, as do suspected smugglers
6 Germany
Dozens of police injured over weekend as neo-Nazis try to block opening of new asylum-seekers' shelter near Dresden
7 Sweden
Signs of backlash over expected 74,000 asylum-seekers to arrive this year, many from Syria, as Roma people are attacked
8 Calais, France
Weekend Eurotunnel delays after migrants boarded train to Britain, despite security crackdown on number trying to enter terminal.
Reuse content