A Dublin vet has warned dog owners of the dangers of loom bands after a family pet had to have its tail amputated.
Patches, a cross-breed belonging to a young family on the outskirts of Dublin, was "decorated" by the children with a loom band around her tail, causing the dog significant discomfort.
The colourful band cut off the blood supply to Patches' tail – meaning that it had to be partly amputated.
Vicky Fenlon, manager of Cara Vet Hospital in Blanchardstown which treated the animal, said: "We sedated Patches and cut away the hair from her tail and found that a loom band had cut off the blood flow to it".
The vet was forced to partly amputate Patches' tail.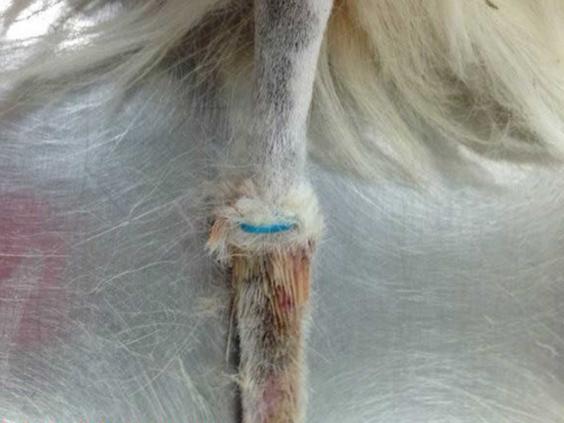 Ms Fenlon, speaking to Ireland's Herald newspaper, urged parents to "be extra vigilant and know that children are putting loom bands on dogs' legs, tails or ears".
Patches has now recovered and is back at home with her family.
More than three million loom bands have been sold worldwide since the craze started early this summer. Marketed as a toy for children, adults have been spotted wearing the brightly coloured plastic bands.
Loom bands: Summer 2014's 'hottest trend'
Loom bands: Summer 2014's 'hottest trend'
1/6 Loom band clothes

Two trends are combined in this loom band crop top sporting the modern "carpe diem" slogan YOLO ("you only live once")

eBay/karinthis

2/6 Loom band clothes

You're sure to make a statement in this multi-coloured beanie, which currently has a single bid placed at just 99p

eBay/kids05-2013

3/6 Loom band clothes

This bikini features a pretty pink pattern with a dangling heart gem, but it might not be the most practical choice for you beach holiday

eBay/ukcharlie78

4/6 Loom band clothes

Fans of a "look-at-me" tie might be interested in this loom band version

eBay/cashel1962

5/6 Loom band clothes

If you don't fancy rocking the look yourself, why not purchase a unique outfit for your Barbie doll?

eBay/emilygicquel2010

6/6 Loom band clothes

And the dress that started it all: this child's garment reportedly sold for an eye-watering £170,100

eBay/helenwright1972
In one instance a dress made entirely from loom bands sold on eBay for more than £170,000. 
Last month, The Entertainer, the British toy giant who sells loom bands, was forced to withdraw all loom band charms from stores after a BBC investigation discovered carcinogenic chemicals in a loom band charm.
Reuse content