The father of a woman who was kidnapped and murdered during her honeymoon has had his arm severed in an industrial accident.
Vinod Hindocha, 65, whose daughter Anni Dewani was killed by a gang in South Africa five years ago, had his right arm torn off below the shoulder while he was mending a lift last week.
A chain slipped and the lift cage plunged to the ground floor. Mr Hindocha's brother Ashok said that he could see his own arm hanging one storey above him after he fell.
Honeymoon crime: Shrien and Anni Dewani
Honeymoon crime: Shrien and Anni Dewani
1/8 Honeymoon crime

Shrien Dewani and wife Anni on their wedding day

PA

2/8 Honeymoon crime

The couple pictured together

3/8 Honeymoon crime

Mrs Dewani is believed to have been shot three times

4/8 Honeymoon crime

Xolile Mngeni was sentenced to life after being convicted for the murder of Mrs Dewani in November 2012

Rex

5/8 Honeymoon crime

Mngeni, convicted of killing Anni Dewani, had a brain tumour and died in prison in October

Getty Images

6/8 Honeymoon crime

Mr Dewani, who has consistently maintained his innocence, broke down in tears as graphic footage and images of his wife's dead body were shown in a South African court

7/8 Honeymoon crime

Vinod Hindocha, left, the father of murdered Mrs Dewani, has said he was not aware of his son-in-law's sexuality prior to his daughter's marriage to the British businessman

AFP

8/8 Honeymoon crime

Here, Mr Hindocha, breaks down at a news conference on the eve of the murder trial's start

AP
Mr Hindocha, who lives in Sweden – where the accident occurred – was flown to hospital where the limb was reattached after 13 hours of surgery.
Doctors believe he could regain full use of the arm, as he has some warmth in his fingertips, but they say it will take up to 18 months to know the full extent of the damage caused.
Ashok, who sat in the murder trial of Anni's accused Bristol millionaire husband Shrien Dewani, added: "He has movement in his elbow, which surgeons say is the most important thing, and his fingertips are getting warmer. He is a fighter."
Mr Hindocha's wife and Anni's mother Nilam, 64, is in remission from stomach cancer and was with him in Sweden at the time of the accident but had gone shopping.
Mr Dewani, 34, was cleared at Western Cape High Court, of any role in his engineer wife's death during their luxury honeymoon in Cape Town a year-and-a-half after they first met.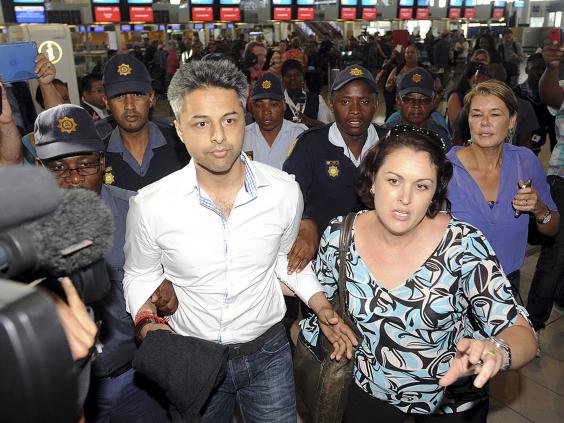 Anni was killed aged 28 on 13 November 2010 while riding in a cab with her new husband through the impoverished township of Gugulethu in the suburbs of the city.
Two gunmen hijacked the cab and threw Shrien out before driving away. The vehicle was discovered the next day with Anni's body in the back seat. She had been shot in the neck.
Three men, Zola Tongo, Mziwamadoda Qwabe and Xolile Mngeni, who were already serving jail terms for their role in the killing, claimed Dewani arranged a hijacking in which he would survive and his wife – who would have been 33 this week – would be killed.
But Judge Jeanette Traverso ruled their evidence was flawed and the case was thrown out in December before Dewani could give evidence.
The acquittal came after Dewani revealed in court that he was bisexual and had sexual interactions with both men and women. He also listed himself as a gay single man on a dating site.
Dewani has not commented publicly on the case since he was cleared, although he might be called to give evidence at his late wife's inquest, a date for which is yet to be set.
Reuse content