Madonna is playing the Hallenstadion later this year. If she follows the Sepp Blatter formula the crowd will love it. Stick to the greatest hits, and whatever you do, don't try any new material.
Harsh critics might label his lengthy welcoming address for Fifa's vice-presidents and confederation heads as unnecessary filler, given how many of them are currently spread around detention centres across the Zurich canton.
But that aside, the speech was impeccable, the culmination of close to two decades the president has spent developing and practising Blatterese, that slipperiest of tongues.
There had been speculation that the severity of the current crisis might call for a tweak here, a new line there, but having honed it to such perfection over the years, and with so much else going on, why waste time on a rewrite?
"You will agree with me, these are unprecedented and difficult times for Fifa," he began. The public has never wavered in its agreement with Mr Blatter on this matter, ever since he first sought such an assurance on taking control of the organisation in 1998. Not in 2002, 2007, 2011 or for a single moment along Fifa's long and downhill journey.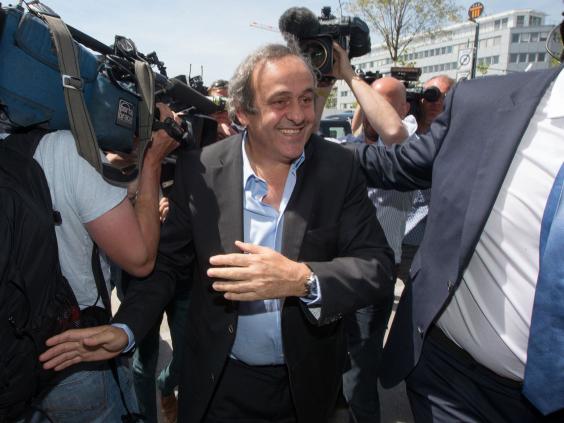 The only way forward, he said, would be "to achieve positive change through responsible leadership", but not before absolving himself of all responsibility for the perpetual crisis in the organisation which he has led for 17 years.
"I know many people hold me ultimately responsible for the actions and reputations of the global football community, whether it's a decision for a hosting of a World Cup, or a corruption scandal," he said, accurately, before channelling the indisputable wisdom of every minister declining to take the rap for disasters in their department. "I cannot monitor everyone all of the time. If people want to do wrong, they will also try to hide it."
In these turbulent times we shouldn't be surprised that a day in the life of Sepp Blatter can begin with even Michel Platini, his old friend and ally, looking him in the eye, and telling him "face to face, man to man, to leave Fifa" – and yet end with the solemn Tolkienite proclamation that: "It must fall to me to bear responsibility for the well-being of our organisation, and to find a way forward to fix things."
When Madonna turns up, it is safe to imagine she won't have an angry Free Palestine protest outside by way of a warm-up act. Four years ago, Grace Jones played this gig, and as Fifa's super-rich sponsors continue to threaten to walk out, it is tempting to wonder which big-name acts refused to perform this time.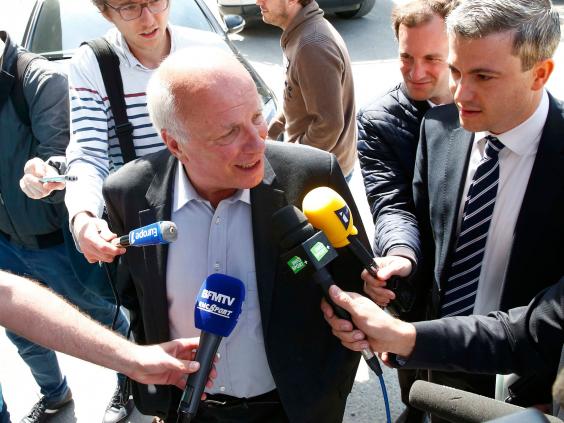 It is an achievement that should not go unacknowledged that Mr Blatter, who once had genuine designs on the Nobel Peace Prize, has managed to bring the war between Israel and the Palestinians right into the heart of the football establishment, and relegate it to the stature of a minor problem.
To run through the changing status of crisis at Fifa is to channel Bart Simpson's famous improvisation to Principal Skinner: "I didn't do it. Nobody saw me. You can't prove anything."
"What is a crisis?" Mr Blatter declared on election  four years ago, closely followed by, "We are not in a crisis," then finally, just  five months ago, "We were  in a crisis but now that crisis has stopped."
As the president knows, it is just getting started. It was not so long ago that he was speaking of the possibility of interplanetary football, of matches between beings from other galaxies.
If there is intelligent life, anywhere out there, even they have seen the one thing only he can't. That change  can only start to come once he has gone.
The challenger: Prince Ali bin Al-Hussein
The most obvious way in which Prince Ali bin al-Hussein of Jordan differs from Sepp Blatter is that he is a doer, not a talker. While never-ending scandals compel Blatter to proclaim his various "missions" and "quests", the son of the late King of Jordan likes to get on and do.
The Prince was made head of his country's football association at the age of 24. More recently (he is now 39) he has set up the West Asian Football Federation, an association for the 13 football-playing countries in the region, from Iran, Iraq, Syria and Lebanon to the UAE and, yes, Qatar.
His public proclamations of his commitment to reform in football governance appear genuine. "The world game deserves a world-class governing body – an international federation that is a service organisation and a model of ethics, transparency and good governance," he said.
There will be those who ask what he offers apart from not being Blatter. His four-year term on Fifa's executive committee expires, so he doubtless feels he has nothing to lose.
Certainly, he is a member of a smallish reformist modernising clique among the 25 members of the executive committee, and among that group he has long been one of the first to speak publicly about Fifa's many woes.
In the unlikely event that he does defeat Blatter, it would mark a turn of events that his backers, Uefa, did not foresee, and would not want – a further transfer of global sporting influence to the Middle East. Qatar is hardly the home of football. Neither is Jordan.
Tom Peck
Reuse content