Herman Van Rompuy is entitled to more than £400,000 of EU taxpayers' money over the next three years despite having finished his term as president of the European Council.
Mr Van Rompuy, who stood down on Monday, will continue to be paid around half his salary salary amounting to a total of £401,169 until December 2017 as part of a "transitional allowance".
He is not required to do any further work to receive the money.
An EU official told the Independent that earlier reports that Mr Van Rompuy would receive £578,000 over three years were wrong because Mr Van Rompuy would not receive any pension payments until he stopped receiving his allowance.
Reports that Mr Van Rompuy would also get a one-off-payment of £21,000 where also incorrect, he said.
The former president's pension will amount to £52,000 a year before tax or 21.375% of his final basic salary.
The official stressed that the conditions on pensions and allowances were determined by all member states, including Britain, in a decision of the European Council.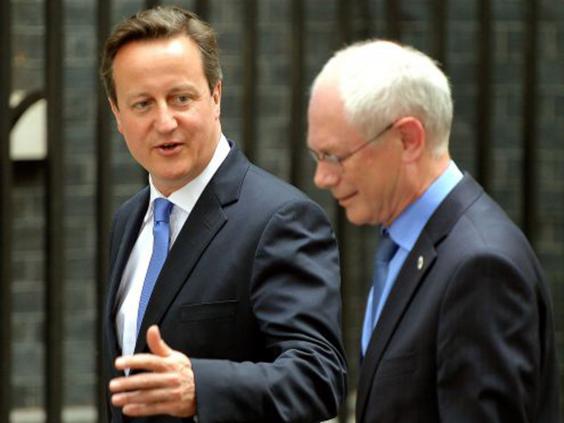 The transitional payments, likes those of all European civil servants, will be subject to the top European Community tax rate of 45% - the same as the top rate in Britain, but lower than Mr Van Rompuy's native Belgium where the top marginal rate is 53.7%.
After EU tax the transitional allowance would amount to £277,000.
Mr Van Rompuy must ask permission before he takes any job for up to 18 months after leaving his post, as with other senior EU officials. The rule is intended to prevent conflicts of interest from arising and to ensure the independence of recently departed figures who could be influential.
As Prime Minister of Belgium Mr Van Rompuy was forced to constantly mediate between political factions stop the nation of French and Dutch speakers from splintering in two; he is considered a skilled political operator and a master of achieving consensus.
He was famously ridiculed by British MEP and UKIP leader Nigel Farage, who told him he had "all the charisma of a damp rag and the appearance of a low-grade bank clerk" during a session of the European Parliament. The video of the exchange went viral on YouGov.
Mr Van Romuy's presidency of the European Council was characterised by most observers as low-key.
His replacement, former Polish Prime Minister Donald Tusk, said over the summer that he was determined to keep Britain in the European Union.
Reuse content