THE former IMF chief Dominique Strauss-Kahn was comprehensively acquitted of "aggravated pimping" today in a blistering judgement which turned into a trial of his accusers and the French judicial system.
In a delayed ruled after a three week court hearing in Lille in February, a panel of four judges threw out "pimping" charges against Mr Strauss-Kahn and 11 other people.
In their 147 page ruling, which took two hours to read, the judges made it clear that they thought that the case should never have reached court. They implied that the investigating magistrates – who pursued the trial against the wishes of the state prosecutors – had been influenced by the celebrity of Mr Strauss-Kahn.
His acquittal brings to an end four years of accusations of sexual misconduct against the former French finance minister, beginning with his arrest for alleged attempted rape in New York in May 2011. None of the allegations have led to convictions.  Mr Strauss-Kahn did, however, settle out of court a civil claim by the New York chambermaid, Nafissatou Diallo.
Dominique Strauss-Kahn: A timeline
Dominique Strauss-Kahn: A timeline
1/11 Dominique Strauss-Kahn

25 April 1949: Born in Paris in the wealthyy suburb of Neuilly-sur-Seine, the son of a lawyer

2/11 Dominique Strauss-Kahn

1972: Attended Paris' prestigious Institut d'études politiques de Paris – or Science Po – a breeding ground for the French elite

3/11 Dominique Strauss-Kahn

1986: First foray into politics following involvement in the Socialist Party. Elected a member of French parliament in the Haute-Savoie department

4/11 Dominique Strauss-Kahn

1997: French PM Lionel Jospin appoints Strauss-Kahn as his finance minister, one of the most senior political roles in the country

5/11 Dominique Strauss-Kahn

2006: Loses out in bid to become president of Socialist Party to Segolene Royal.

6/11 Dominique Strauss-Kahn

2007: Named as the European nominee to run the IMF, and announced as its managing director on 28 September

7/11 Dominique Strauss-Kahn

2008: IMF calls independent investigation over allegations Strauss-Kahn had an affair with subordinate Piroska Nagy. Nagy accused DSK of sustained harassment that left her feeling she had little choice but to sleep with him

8/11 Dominique Strauss-Kahn

2011: Resigned after being arrested by New York police on sexual assault allegations

9/11 Dominique Strauss-Kahn

2012: Signs settlement with hotel maid Nafissatou Diallo in December

10/11 Dominique Strauss-Kahn

2014: The events inspired a film starring Gerard Depardieu, released amid threats of a defamation suit from Dominique Strauss-Kahn

11/11 Dominique Strauss-Kahn

Dominique Strauss-Kahn goes on trial for aggravated pimping

Reuters
Mr Strauss-Kahn, 66, is unlikely to resume his political career. He was front runner to be the next French president at the time of his arrest in New York but his reputation has since been sullied by his own admission to a taste for "rough" and "libertine" sex.
Before he left the court, DSK was heard to mutter: "All that for that...What a disaster."
In the Lille case, Mr Strauss-Kahn and others were  accused of "aggravated pimping" for allegedly organising sex parties with prostitutes in France, Belgium and the United States in the period 2008-11.
Under French law anyone who helps to organise acts of prostitution can be considered guilty of pimping, even if they take no financial benefit. The examining magistrates who investigated the case believed that Mr Strauss-Kahn was the "instigator" and an organiser of these orgies-sans-frontières.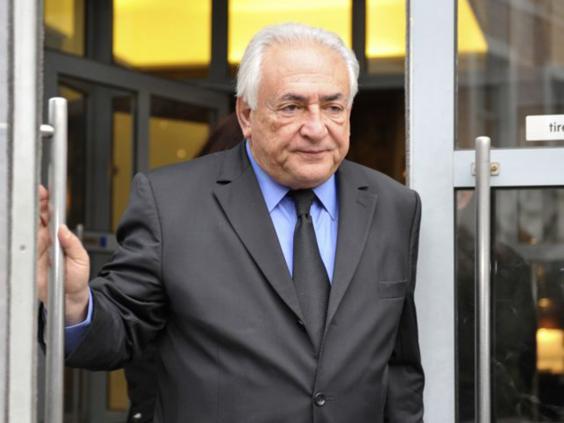 The judges ruled that there was no evidence that DSK knew that  women at the parties were prostitutes and no evidence that he instigated or organised the events. At most, they said, he was a "client, which is not a crime under French law".
The trial heard evidence of allegedly brutal or insensitive behaviour by DSK towards two of the women at the parties. Giving evidence, he said that he took pleasure in "libertinage" or sexual "free-for-alls". He admitted that his sexual behaviour towards women was sometimes "rougher than that of the average man". 
But he complained angrily: "You would think that I was on trial for deviant sexual practices… there is no longer any such law (in France)." 
DSK's acquittal was widely expected. More surprisingly, the trial judges also threw out the pimping charge against 11 other people. Those cleared included  a Belgian sex-club owner, Dominique - "Dodo the mackerel" – Alderweireld, who was accused of supplying women to the parties.
Two businessmen in the Lille area, Fabrice Paszkowski and David Roquet, accused of organising the sex parties   to ingratiate themselves with Mr Strauss-Kahn, were also declared not guilty.
The only defendant found guilty of pimping was a former concierge at the Carlton hotel in Lille, Rene Kojfer, who was given a one year suspended jail sentence.
The collapse of three years of costly investigations and  a three weeks trial in the glare of international news cameras asks awkward questions of the French judicial system. Investigating or examining magistrates have wide, independent powers. They are supposed to assemble evidence both for and against the accused.
In their ruling, the trial judges repeatedly criticised the work of their investigating colleagies as sloppy, one-sided and "subjective".