There could be further terrorist attacks in France following the "grotesque" beheading of a truck-company boss near Lyon on Friday, the Prime Minister, Manuel Valls, has warned. "It is not a question of whether there will be another terrorist attack, but when," he said.
He urged the country to "hold strongly to its own values" and to resist the "temptation to seek revenge" after the attack on the Air Products liquid gas factory in Saint-Quentin-Fallavier, outside Lyon.
The transport company boss, whose severed head was chained to a fence before the factory attack, allegedly by one of his own drivers, has been named as Hervé Cornara. He was described as an "adorable" man who was "very respectful" towards his employees. It would have been his 55th birthday today.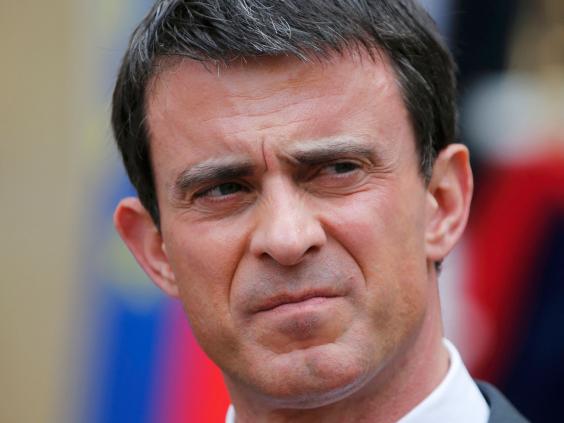 Dozens turned out for a minute of silence in the town, while several hundred also gathered outside a housing project in Fontaines- sur-Saône.
The driver arrested at the scene, Yassin Salhi, 35, was being questioned over the attack. Mr Salhi's wife, sister-in-law and mother were also in custody. A second man arrested on Friday after he was seen driving repeatedly past the factory has been cleared of suspicion.
The beheading was the first of its kind on French soil. Although investigators believe Mr Salhi was acting alone on Friday, they suspect the incident could have been choreographed by others in an attempt to foment fear and anti-Muslim anger in France. There were reports last night that Mr Salhi used a cameraphone taken a picture of himself with the severed head and sent in a picture message to a recipient in Canada. Police are trying to establish whose phone it was sent to.
Security cameras recorded a man attaching Mr Cornara's head to the factory's perimeter fence on Friday morning. On either side of the head, black and white banners were arranged that were inscribed in Arabic with the "shahada", the Muslim profession of faith. Beheading is a favoured tactic of Islamic State (IS), although investigators have not confirmed any links between the suspect and the group.
Mr Salhi, who joined Mr Cornara's ATC company three months ago, drove his delivery van through the factory's first security gate using the transport company's electric pass or "badge". The truck then accelerated through a second fence and into a warehouse, causing an explosion in which he was slightly injured.
He was then overpowered by a fireman as he allegedly tried to detonate cannisters of chemicals in a second warehouse. The headless body of Mr Cornara and a knife were found in the back of the truck. Two factory workers were slightly injured in the first explosion. The Paris chief prosecutor, François Molins, said that there might have been a "very serious explosion" if the fireman had not intervened in time.
Investigators believe that Mr Salhi – briefly under surveillance by the French authorities as an alleged Islamist sympathiser between 2006 and 2008 – was potentially a "suicide bomber". Reports in France late said he was an associate of Frederic Jean Salvi, a radical cleric sought by Indonesian authorities in connection with al-Qaeda–inspired explosions in Jakarta.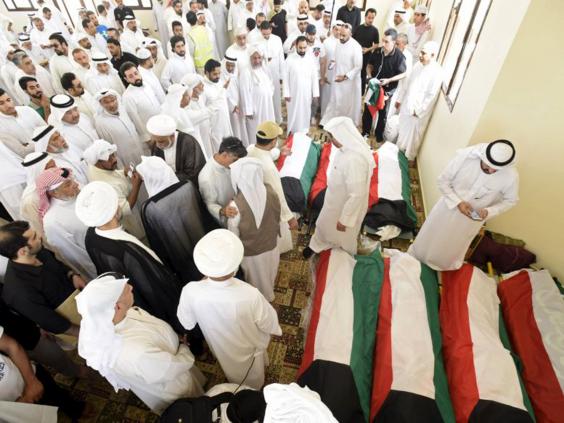 Less than six months after the jihadist attacks in Paris that killed 17 people in January, the French government fears that the beheading and failed assault on the Lyon factory could signal the start of a concerted terror campaign.
The Prime Minister, who cut short a visit to Colombia, said that the "macabre" beheading of Mr Cornara, with its "theatrical arrangement of flags" was "something never seen before in France", and was intended to "excite a strong reaction".
Meanwhile, a national day of mourning was declared in Kuwait on Saturday after an attack by a suicide bomber at a Shia Muslim mosque on Friday, which killed at least 27 and injured around 200 people.
Thousands of people took part in a mass funeral procession, while the police said they were interrogating a number of suspects with possible links to the bombing, which was claimed by an affiliate of IS.
An Interior Ministry statement on Saturday said that the police had arrested the owner of the car used by the bomber to drive to the Imam Sadiq Mosque in Kuwait City, where he detonated his device inside.
Reuse content