The "exceptional" tomb of a noblewoman who lived during the 17th Century has been uncovered in France.
The remarkably preserved remains were unearthed by a team in the north-western city of Rennes, at the excavation site of the convent of the Jacobins, before the area is built over with a convention centre.
The 1.45 metre (five foot) corpse is believed to be that of Louise de Quengo, wife of the powerful noble Toussaint Perrien, who died in 1656 when she was in her 60s. Various local media reported that much of her hair, skin, internal organs and brain were still intact.
According to Le Point, it was customary at the time to leave vital organs of deceased family members to relatives or a religious institution, which would explain why Louise de Quengo retained the heart of her husband after he died so it could be placed in her coffin.
Her body was wrapped in a cloak and she was dressed as a nun – likely because she adopted a monastic life following the death of her husband – and a crucifix was found in her hands.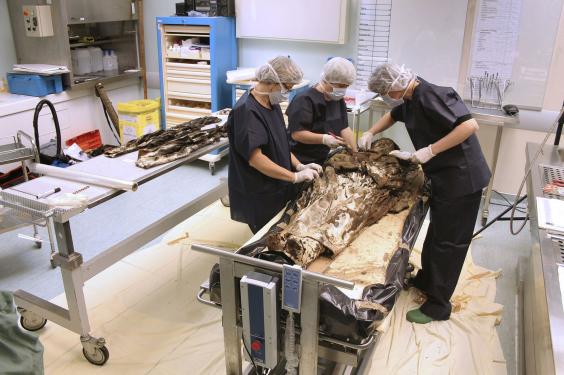 Archaeologists managed to uncover around 800 graves at the site, with five coffins being of particular significance.
Built in 1369 after the War of Succession, the convent marked the victory of Jean IV of Montfort, Duke of Brittany.
A press release from the CNRS (National Centre of Scientific Research), said that the study provided a "rare insight into the funerary practises of the elite during the 17th Century".
Recent archaeological discoveries
Recent archaeological discoveries
1/11 Recent archaeologist's discoveries

Divers Alberto Nava and Susan Bird discover the world's oldest skull found in an underwater cave in Mexico, believed to be the earliest trace of first Americans

2/11 Recent archaeologist's discoveries

Paleontologist Gary Morgan stands over the fossil of a stegomastodon skull discovered in a remote area of Elephant Butte State Park, N.M. in June 2012

AP Photo/Albuquerque Journal, Roberto Rosales

3/11 Recent archaeologist's discoveries

Scientists discovered the world's oldest face, which belongs to this 419 million-year-old fish - an ancient sea predator that might also re-write the history of our evolution from the seas

4/11 Recent archaeologist's discoveries

An archaeologist discovered a tomb of an intact mummy of the Wari prehispanic culture in Lima's Huaca Pucllana ceremonial complex, at Miraflores district

Reuters

5/11 Recent archaeologist's discoveries

One of the 46 fossils found at the site in southern Chile

Wolfgang Stinnesbeck

6/11 Recent archaeologist's discoveries

Archaeologist James Best holding a Roman skull found during the building of a utility tunnel at Crossrail's Liverpool Street station site, London

PA

7/11 Recent archaeologist's discoveries

In 2012 archaeologists unearthed two skeletons from the Middle Ages pierced through the chest with iron rods to keep them from turning into vampires. They were discovered in the Black Sea town of Sozopol, Bulgaria

AFP/Getty Images

8/11 Recent archaeologist's discoveries

Several horse shoes dating from the 2nd century AD have been found stuck in cart ruts in this area. Archaeologists believe the metal shoes, which were strapped rather than nailed to horses, came off as the animals were led up to a timber bridge over the Walbrook River

PA

9/11 Recent archaeologist's discoveries

An archaeologist digs out a skull from the site of the graveyard of the Bethlehem, or Bedlam, hospital

Reuters

10/11 Recent archaeologist's discoveries

Archaeologists discovered a dinosaur tail in Mexico's desert with the 50 vertebrae of the tail completely intact

AP

11/11 Recent archaeologist's discoveries

Archaeologist found a terracotta warrior at the excavation site inside the No. 1 pit of the Museum of Qin Terracotta Warriors and Horses, on the outskirts of Xi'an, Shaanxi province, in June 2010

© Jason Lee / Reuters
A conference on the discovery will be held in Rennes for National Archaeology Day on 21 June.
Reuse content