The French government reportedly has plans to ban an extremist right-wing Jewish organisation following their alleged involvement in violent clashes with pro-Palestinian activists during rallies against the Gaza offensive.
The Jewish Defence League (JDL), which has already been banned in the United States, has been targeted by the French Interior Ministry as tensions over the Middle East crisis continue to spill onto the streets of Paris.
Hundreds of riot police in the French capital were deployed near the Israeli Embassy yesterday for the first major pro-Israel rally since the start of the latest Gaza war.
Several thousand people turned out for the rally, waving signs with slogans like "Gaza hostage of Hamas" and "We protest for peace."
The demonstration happened amid persistent reports that the JDL faces a government ban. JDL militants reportedly stepped in to assure security at synagogues during pro-Gaza protests, but were blamed for provoking violence at pro-Palestinian rallies.
Tensions over the continued violence between Israel and Hamas and its related groups have spilled over to France which has both the largest Jewish and Muslim populations in Western Europe.
The country has experienced a wave of anti-semitic attacks following the resumption of hostilities in Gaza in recent weeks.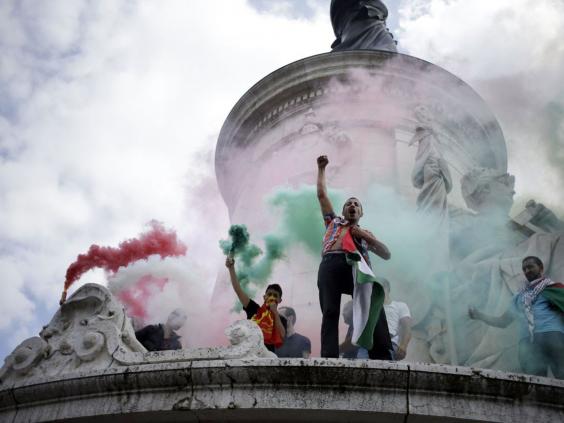 According to local media reports eight synagogues have been attacked and now officials fear Jewish groups could lead reprisals.
Roger Cukierman, head of the group which organised Thursday's rally, said that Israel has the "right and duty to defend its citizens." Interior Minister Bernard Cazeneuve said groups "that can pose problems" can be banned.
Meanwhile in the UK anti-Semitic hate crime is at its highest in five years after a spike last month saw more than 130 incidents motivated by the conflict in Gaza, figures released yesterday suggested.
The Community Security Trust (CST), which records attacks on the Jewish community in the UK, also reported a 36% rise in anti-Semitic incidents, including violent crime and vandalism, between the first six months of this year.
In total, the charity's Anti-Semitic Incidents Report said there were 304 incidents of racially-motivated hate crime between January and June, which was followed by 130 recorded in July alone - the highest monthly total since January 2009, which also coincided with conflict in Israel and Gaza.
Reuse content