An injured potholer who is trapped deep in an Alpine cave is able to walk, rescue teams said, but the effort to free him from narrow passages thousands of feet below the surface could still take days.
The 52-year-old, named in German media as Johann Westhauser, was hit by falling rocks early on Sunday in the Riesending cave system near Berchtesgaden, on the Austrian border.
Mr Westhauser was reportedly one of the team who discovered the cave system in 1995.
A team of six caving experts from Germany, Austria and Switzerland had reached him today. He was conscious and reportedly able to walk, allaying fears that he might have been paralysed.
While the news of his condition was positive, the rescue, in Germany's deepest cave system, remains difficult – some of the passages plunge vertically for almost 1,000 ft and many parts are extremely narrow. The accident happened more than three miles from the cave entrance.
Access to the site about half a mile underground is extremely limited, said rescuers. Mr Westhauser had suffered injuries to his head and torso. One of his two uninjured companions made a 12-hour climb back to the cave entrance to alert authorities, while the other man stayed with him.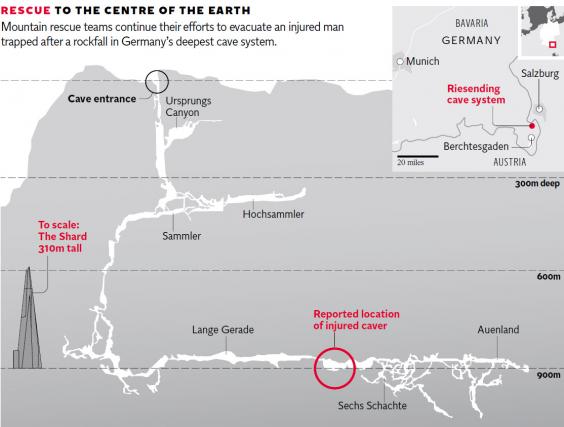 Click HERE for full-size version of graphic
Mr Westhauser is nearly 3,300 ft below the surface "in one of the most difficult caves in Europe", mountain rescue official Klemens Reindl told N-TV television.
By comparison, the deepest known cave in the world is Krubera Cave in Abkhazia on the Black Sea, which plunges to more than 6,500 ft. "Forget everything that you have ever heard about rescue operations in the mountains – we can't get any equipment in at all to reach the injured man," cave rescuer Norbert Rosenberger told German media.
He compared the rescue to "[climbing] the north face of the Eiger – without boots or cables".