A police officer strangled a businessman he had met as part of a cannibalism fetish before dismembering him with an electric saw for a sexual thrill, a German court heard.
Detlev Guenzel and his victim are said to have met through an internet forum devoted to cannibalism which offered users the opportunity to "take the experience beyond fantasy".
After exchanging violent sexual fantasies online the 59-year-old victim, a businessman from Hanover who prosecutors said fantasised about being eaten, agreed to meet at Guenzel's bed and breakfast, south of Dresden.
The prosecution accepts there is no evidence Guenzel, a police handwriting expert, ate any part of his victim but maintains that after murdering him he filmed himself cutting up the body.
Nevertheless, the case has drawn parallels to that of Armin Meiwes, the self-confessed cannibal who was convicted of murder after killing and partially eating Bernd Juergen Brandes who answered his online post appealing for a young man for "slaughter and consumption".
Meiwes, who fried parts of his victim in garlic, is serving a life sentence after failing to convince Germany's highest court that his actions should have been classed as a mercy killing. The trial judge, however, accepted that Juergen Brandes, had been a willing participant and that both victim and perpetrator were "two psychologically sick people".
Andreas Feron, the chief prosecutor in the latest case, said of Guenzel: "He killed and dismembered him to get sexual stimulation and then later to get sexual stimulation by watching the video he made."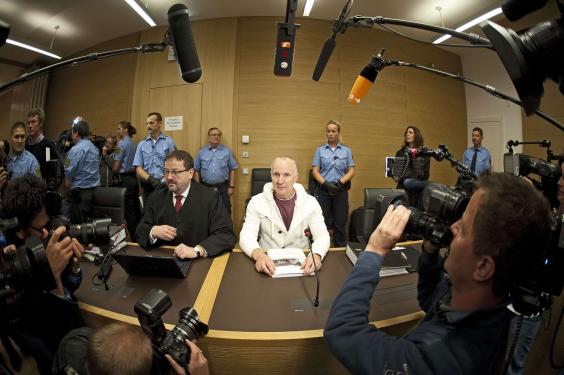 When he was arrested Guenzel, the court heard, directed investigating officers to several locations at his bed and breakfast where body parts had been buried.
Police were able to reconstruct a video he made - and later deleted – of the dismemberment in which, according to the German news agency dpa, he said: "I never thought I'd sink so low."
Guenzel, 56, denies murder and his defence lawyer Endrik Wilhelm said the victim had killed himself. The defendant could face 15 years in prison if convicted of murder.
The court in Dresden heard that Guenzel and his victim went online to the cannibalism fantasy site with the usernames Caligula 31 and Longpig. The Hanover businessman signed his own death warrant, the prosecution said, when he ticked the box saying he wanted to go further than fantasy.
Guenzel outlined his life story to the court, but did not speak of the killing. The trial is expected to resume on 1 September and to last 15 days.