A teenage Isis supporter scouted out some of Germany's most iconic buildings and monuments for a prospective attack, officials have said.
The 19-year-old Syrian man, who has not been identified, was arrested in March for suspected links to the so-called Islamic State after the alleged plans were uncovered.
Judges at the Federal Court of Justice ruled the man could be held for three more months to allow investigators to continue their work on Thursday, amid fears he could be part of a wider network plotting terror attacks.
In its decision, the court said the suspect had scouted out sites including the Brandenburg Gate, Reichstag parliament building and Alexanderplatz square for potential attacks over several months.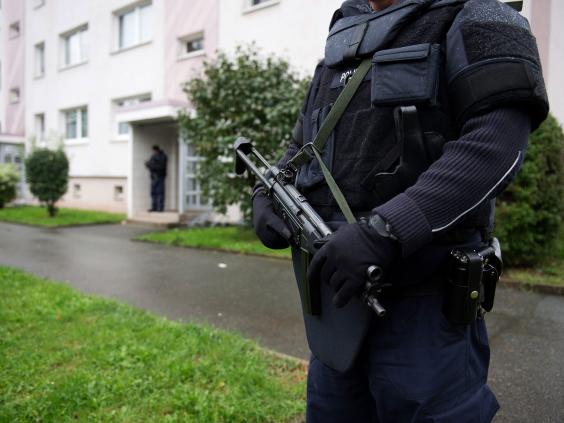 Having arrived in Germany as an asylum seeker in August 2015, he was believed to have been gathering detailed information for Isis until February this about the number of people and tourist buses in different areas.
A court document said intelligence was transmitted to an Isis contact in Syria using a smartphone.
Through electronic messages he also offered to act as a contact for potential attackers in Germany, "commit a non-specified attack" himself "or alternatively with two unknown people" officials said.
Investigators examined four mobile phones and data cards seized during his arrest, and had so far reviewed more than 37,000 text messages and chats, nearly 13,000 visual images and around 9,800 video images, according to the court document.
Investigators believe the man had worked with Isis in Syria since 2013, and maintained contact with the jihadist group using his mobile phone after arriving in Germany.
He also planned to return to Syria, where his parents, wife and son still live, to fight in the conflict there, according to the court document. 
Another Syrian man, Jaber al-Bakr, was arrested on suspicion of planning a major bombing at a Berlin airport in October but killed himself in prison days later.
Terrorism in 2016: Terror attacks in Europe claimed by Isis
Terrorism in 2016: Terror attacks in Europe claimed by Isis
1/9

Policemen outside Rouen's cathedral during the funeral of Jacques Hamel, the priest who was killed in a church in Saint-Etienne-du-Rouvray in Normandy on 26 July during a hostage-taking claimed by Islamic State group

Joel Saget/AFP/Getty Images

2/9

Two jihadists, both 19, slit Hamel's throat while he was celebrating mass in an attack that shocked France as well as the Catholic Church

Joel Saget/AFP/Getty Images

3/9

Muslims place flowers and hold a minute of silence in front of the church if Saint-Etienne-du-Rouvray, western France, where French priest Jacques Hamel was killed on 26 July

Charly Triballeau/AFP/Getty Images

4/9

Two people hold each other by the new makeshift memorial in Nice, in tribute to the victims of the deadly Bastille Day attack at the Promenade des Anglais

Valery Hache/AFP/Getty Images

5/9

The Islamic State group claimed responsibility for the truck attack that killed 84 people in Nice on France's national holiday. Mohamed Lahouaiej-Bouhlel, 31, smashed a 19-tonne truck into a packed crowd of people in the Riviera city celebrating Bastille Day

Valery Hache/AFP/Getty Images

6/9

Police work at a site where a Syrian migrant set off an explosive device in Ansbach, southern Germany, on 25 July, killing himself and wounding a dozen others

Daniel Roland/AFP/Getty Images

7/9

A Syrian migrant set off an explosion at a bar in southern Germany that killed himself and wounded a dozen others in the third attack to hit Bavaria in a week. The 27-year-old, who had spent a stint in a psychiatric facility, had intended to target a music festival in the city of Ansbach but was turned away because he did not have a ticket

Friebe/AFP/Getty Images

8/9

Police officers walk along train tracks in Wuerzburg southern Germany on 19 July, a day after a man attacked train passengers with an axe. German authorities said they had found a hand-painted IS flag among the belongings of the man, an asylum seeker from Afghanistan, who seriously injured four members of a family of tourists from Hong Kong in his rampage

Daniel Roland/AFP/Getty Images

9/9

German police killed a teenage assailant after he attacked passengers on a train in Wuerzburg, southerg Germany with an axe and a knife on 18 July, seriously wounding three people

Karl-Josef Hildenbrand/AFP/Getty Images
Authorities did not confirm whether there was any link between al-Bakr and the 19-year-old currently in custody.
Germany remains on heightened alert after a suicide bombing by a Syrian Isis supporter and axe attack on a train, both in July.
Earlier this year, a German-born former Isis fighter told The Independent he had been asked to return to his home country and carry out a terror attack by commanders in Raqqa last year.
Harry Sarfo said Isis leaders were specifically looking for recruits to attack the UK and Germany, having already set up networks in other targeted nations.
Police arrested five members of a network accused of radicalising German Muslims and sending them to fight for Isis in Syria on Tuesday.
Let by an extremist preacher known as Abu Walaa, the group is accused of using a mosque and Islamic school in the city of Hildesheim to "create the ideological and linguistic foundations for future activity with Isis", then organising recruits' travel to its territories.
Also on Tuesday, a court in Frankfurt sentenced a 30-year-old German man to eight years in prison for war crimes and membership of Isis.
The court said the man, identified only as Abdelkarim E, fought for the group in Syria in 2013 and 2014.

Reuse content