Rush hour for drivers in Dublin yesterday was made much worse after a giant inflatable Minion toppled over in the middle of the road.
Erin Van Londen said she was stuck in a 15-minute traffic jam because the 40ft blow-up version of the character Kevin, from the film Despicable Me, was blocking Old Swords Road in Santry yesterday afternoon.
Strong winds, she said, had knocked the over Minion over.
Many motorists were caught in the traffic jam until the inflatable was eventually wheeled away by a local business.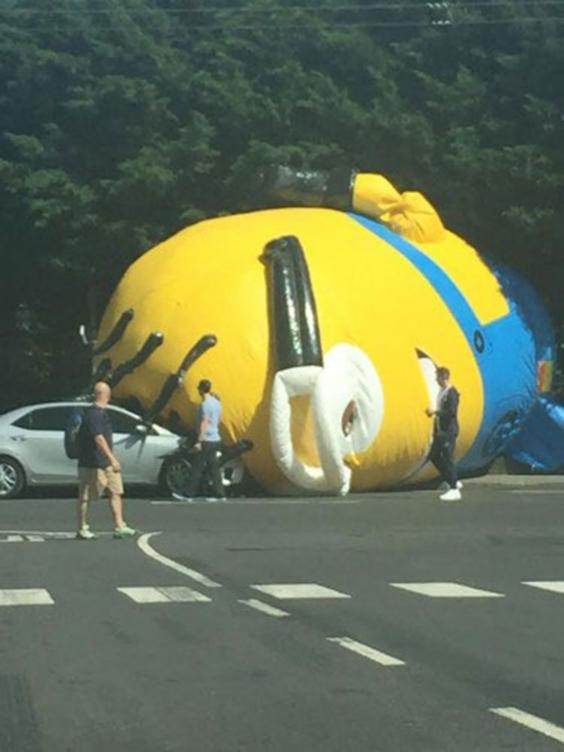 These were the best reactions:
@Independent they looked a lot smaller than that in the movies

— urbankova (@urbankova) August 3, 2015
@Independent This image could cause small children to have nightmares. I find it a little menacing myself; that knowing smile! #minions

— Andy Furlong (@andyfrlng) August 4, 2015
@Independent That will teach me for having a snifter before 12.

— Idle Rich (@IdleRich2) August 4, 2015
@Independent @jamesb6155 Look out Gru can't be far behind...

— Dream Icons (@DreamIconsUK) August 4, 2015
@Independent Good god they're starting to fight back...

— Manny + Monster (@DualGrey) August 3, 2015
@MillyCoogan @Independent minions are they way the world will end

— ella (@ella_langley) August 4, 2015
@Arayaasunshine @Independent that's my bad that's my minion I lost him I guess I know where he is now

— juliet (@champagnejujuu) August 3, 2015
Reuse content