A sprawling country mansion that belonged to Hitler's propaganda chief should be knocked down to stop it falling into "the wrong hands", it has been claimed.
The 70-bedroom property just north of Berlin was used by Joseph Goebbels during the Second World War to host a string of aspiring actresses and love interests.
But German real estate agency Berlin Immobilienmanagement (BIM) said it had effectively given up trying to sell the property, due to fears it could be bought by Nazi sympathisers and used to celebrate the infamous regime.
"I am really afraid that this could become a shrine for Nazis and I don't think we should take that risk," Birgit Moehring, executive director of the BIM, told AFP.
The 42-acre estate, given to Goebbels as a gift from Hitler during the war, is the only Nazi residence still standing undeveloped in Germany.
It contains luxury facilities including a private cinema and spacious living quarters overlooking the lake, and became renowned as his "love nest".
Featuring in a number of Nazi propaganda films, Goebbels described it as "a place of idyllic solitude".
After Goebbels committed suicide alongside his wife and six children at the end of the war, it became a training centre for the FDJ, the communist party's youth indoctrination organisation under Russian leader Joseph Stalin in the early 1950s.
The elaborate hall still has the oak-panelled ceiling, French windows and open fireplace that were installed before Goebbels moved in at the start of the war, but the house has fallen into a state of disrepair after years lying empty.
"At present there is no heating, no running water, there is serious damage to the facades, the roofs are falling apart and inside there is a lot to do too," said Ms Moehring.
"What would really appeal to us would be if someone arrived with an intelligent concept to use this place which is so steeped in history." 
The property management firm believes the building's listed status should be lifted to allow it to be knocked down and redeveloped.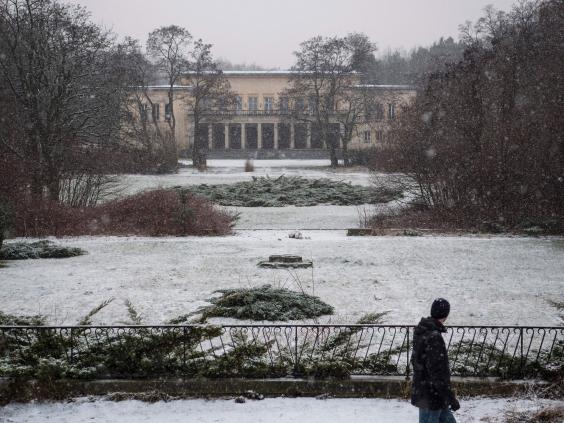 "I am someone who absolutely defends the importance in this city of always being able to feel the presence of history," Ms Moehring said.
"But you also have to ask the question whether it is sensible to maintain certain buildings under the protection a historic monument grants."
This is not the first time Germany has faced questions over what should be done with the sites of its toxic Nazi era.
Hitler's own "Eagle's Nest" mountain-top retreat has been developed into a restaurant and beer garden, drawing thousands of tourists each year who are attracted by the site's historical significance.
The former airport Tempelhof, which was once viewed by Hitler as the centrepiece of the Nazi empire, and the headquarters of communist East Germany's secret police are currently both being used to accommodate large numbers of asylum seekers who have entered the country.

Reuse content