Greece's prospects of staying in the eurozone have dwindled further after the Prime Minister Alexis Tsipras arrived at an emergency summit of his fellow eurozone leaders in Brussels without a concrete plan to resolve his country's debt crisis.
Eurozone leaders and ministers struggled to contain their incredulity as Mr Tsipras and his new Finance Minister, Euclid Tsakalotos, could only offer oral outlines of their request for another bailout, despite the EU's demand for fresh proposals after last Sunday's referendum rejected the previous bailout terms.
"We were under the impression proposals would come today," said the Eurogroup president Jeroen Dijsselbloem after a short meeting of finance ministers in which Mr Tsakalotos spoke about the proposals. Mr Dijsselbloem said the Eurogroup would reconvene on Wednesday for a conference call to discuss Greece's new bailout request through the European Stability Mechanism, assuming a written proposal is submitted.
Malta's Prime Minister Joseph Muscat was less diplomatic. "It is looking likely that it is a waste of time," he said as he arrived at the Eurogroup leaders' summit that followed the finance ministers' meeting. "One would have expected the Greeks to come forward with some sort of proposal, reflecting the urgency of the situation." But there was at least relief that a serious proposal was emerging from Athens. The new plan is similar to that suggested by Mr Tsipras in a letter sent last week to Greece's main creditors. It will include a demand for Greece's €323bn (£229bn) debt to be cut by up to 30 per cent, with a 20-year grace period. And it will seek to keep a VAT rebate for the Greek islands, and leave the tax charged in restaurants at 13 per cent.
Arriving at the summit, the German Chancellor Angela Merkel said Greece had to commit to reforms to secure new loans. "Without solidarity and reforms it's not possible to go where we want to go," she said. "It's not a matter of weeks but of a few days."
The French President François Hollande also said it was Greece's responsibility to come up with "serious, credible, proposals". However, Mr Tsipras faces an increasingly hostile eurozone, with 15 of the 19 members thought to be ready to accept Greece's exit from the single currency: only France and Cyprus have openly pleaded for Greece to stay, while Italy is wavering.
In pictures: Greek referendum
In pictures: Greek referendum
1/28 Greece EU Referendum

People celebrate in Athens after the first exit-polls of the Greek referendum

Getty Images

2/28 Greece EU Referendum

A "No" supporter flashes a victory sign before a Greek flag atop the parliament in Athens, Greece July 5, 2015.Greeks voted overwhelmingly "No" on Sunday in a historic bailout referendum, partial results showed, defying warnings from across Europe that rejecting new austerity terms for fresh financial aid would set their country on a path out of the euro.

REUTERS/Yannis Behrakis

3/28 Greece EU Referendum

Supporters of the No vote react after the first results of the referendum at Syntagma square in Athens

AP

4/28 Greece EU Referendum

Supporters of the No vote wave Greek flags after the referendum's exit polls at Syntagma square in Athens

AP

5/28 Greece EU Referendum

Greece's finance minister Yanis Varoufakis casts his vote in the country's referendum

EPA

6/28 Greece EU Referendum

A ballot box is emptied by a voting official at the closing of polling stations in Athens, Greece July 5, 2015. Greece voted on Sunday on whether to accept more austerity in exchange for international aid, in a high-stakes referendum likely to determine whether it leaves the euro-currency area after seven years of economic pain.

REUTERS/Marko Djurica

7/28 Greece EU Referendum

A photographer photographs a man waiting to vote in the referendum at a school in the suburbs of Athens

Getty

8/28 Greece EU Referendum

Greek voters are being asked to choose between backing their creditor's austerity measures or rejecting them

Getty

9/28 Greece EU Referendum

Tourists walk past posters with slogans that read "OXI" (NO) and "NAI" (YES) ahead of the referendum in Athens

AFP

10/28 Greece EU Referendum

Opposition parties to Syriza, including the centre-right New Democracy, are campaigning for a 'Yes' vote in the referendum

Reuters

11/28 Greece EU Referendum

Protesters on both sides of the argument ('No' pictured here) have rallied in Athens

AP

12/28 Greece EU Referendum

Greek Prime Minister Alexis Tsipras has been branded reckless and a feckless liar by EU leaders

Reuters

13/28 Greece EU Referendum

According to polls which surveyed some 1000 people across the country, 41.5 percent of Greeks would support the new bailout measures to avoid an exit from the Eurozone

AP

14/28 Greece EU Referendum

Despite Tsipras's assurances, many Greek people are not certain whether Sunday's referendum is a vote on whether Greece will remain in the euro or not

Reuters

15/28 Greece EU Referendum

The Greek and EU flags flutter in front of the ancient Acropolis hill in Athens. The Greek people have been called upon to show "calm and national unity"

Getty

16/28 Greece EU Referendum

Greek Prime Minister Alexis Tsipras addresses a crowd of 25,000 'No' supporters in Athens' Syntagma Square

YANNIS BEHRAKIS/Reuters

17/28 Greece EU Referendum

Greece's Prime Minister Alexis Tsipras gave a televised address to the nation ahead of the vote. He has called on voters to reject creditors' proposals for more austerity in return for rescue loans

AP

18/28 Greece EU Referendum

Protesters march holding a torn European Union flag during a demonstration for the 'NO' campaign in Thessaloniki

Getty Images

19/28 Greece EU Referendum

Greek Finance minister Yanis Varoufakis has pledged to resign if his country votes "yes" to the bailout plan

Reuters

20/28 Greece EU Referendum

Pensioner wait to get their pensions outside a National Bank of Greece branch in central Athens. Banks only opened for pensioners to allow them to get their pensions, with a limit of 120 euros.

AFP/Getty Images

21/28 Greece EU Referendum

Protesters attend an anti-austerity pro-government rally in front of the parliament building

Getty

22/28 Greece EU Referendum

The possibility of Greece leaving the Eurozone is increasing by the day. Merchandise already exists to accompany the event

EPA

23/28 Greece EU Referendum

An elderly man waits to receive his pension outside the closed National Bank of Greece headquarters in Athens

AP

24/28 Greece EU Referendum

People stand in a queue to use an ATM outside a closed bank in Athens

AP

25/28 Greece EU Referendum

A banner supporting the NO vote in the upcoming referendum hangs from the offices of the Greek Finance Ministry

Getty Images

26/28 Greece EU Referendum

Greeks will be asked whether they accept the austerity terms demanded by the country's creditors

Getty

27/28 Greece EU Referendum

Eurozone finance ministers expressed disappointment at the Greek decision to hold a referendum on the bailout terms

Getty

28/28 Greece EU Referendum

Alexis Tsipras, the Greek Prime Minister, said bailout conditions had 'asphyxiated' his country

EPA
Most of the leaders in Brussels paid lip service to Sunday's referendum, but underlined that the economic conditions in Greece had not changed. Indeed, officials noted that time was running out. "The Greek economy is in free fall. The banking system is also pretty much in free fall," said the Belgian Finance Minister Johan van Overtveldt.
Speaking at the European Parliament in Strasbourg, Jean-Claude Juncker, the President of the European Commission, said he accepted the referendum but now was the time to start talking seriously. "We're told we must respect the people's vote and I'll certainly do that," he said.
A key issue will be whether the rest of the eurozone is ready to start negotiations on writing down Greece's debt. The Finnish Finance Minister Alexander Stubb was emphatic that this was not on the agenda. "We're not willing to ease Greece's debt load," he said. "We did that already in 2011 and 2012."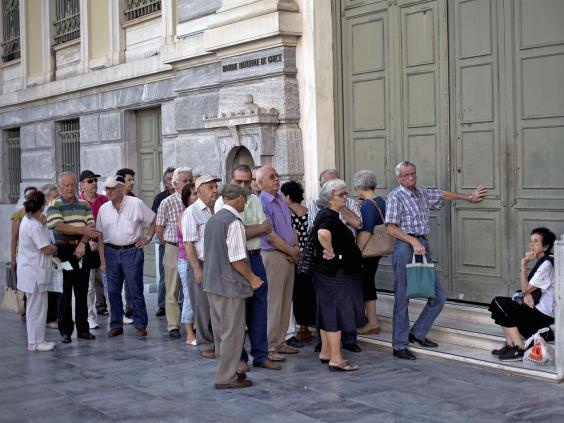 There is also fierce resistance to this among the eurozone's poorer former Communist nations. Some, such as Slovakia, Estonia, Latvia and Lithuania, are also concerned about the costs, saying they too poor to bail out wealthier Greece. "For my country debt relief is impossible," said the Slovakian Finance Minister Peter Kazimir.
However, there was a glimmer of sympathy from an unlikely source: Germany's Vice Chancellor, Sigmar Gabriel, appeared to have changed his position on a debt writedown, saying it was possible but only after Greece reforms. "If we simply emphasise debt, without that much will change in Greece, nothing is won," he said.
Meanwhile, in a sign that Washington was worrying about the potential unravelling, Mr Tsipras's office said that the Prime Minister had briefed the US President Barack Obama about his proposal. The White House also revealed Mr Obama had spoken to Mr Hollande, with the two leaders agreeing on "the importance of finding a path forward that will allow Greece to resume reforms and return to growth and debt sustainability within the eurozone".
Reuse content