Greece's leaders face the challenge of pushing a massive austerity package through their parliament, agreed after 17 hours of negotiations in Brussels, amid angry talk of a German "coup" and the first signs of a popular backlash on the streets of Athens.
Alexis Tsipras, the Greek Prime Minister, tried to cast the result of the often acrimonious talks in the best possible light for his country. "I think the vast majority of the Greek people will support this … because they understand that we have given our best to the bitter end," he said.
But his insistence that "we will keep fighting to regain our lost sovereignty" reflected widespread accusations that he had capitulated in the face of intimidation by Greece's eurozone creditors, the other 18 nations whose leaders had spent the previous night battling to persuade him to bow to their demands.
At dawn on Monday, the creditors unveiled an agreement to restart negotiations that will grant Athens a third bailout worth up to €86bn (£61bn)  and prevent Greece becoming the first nation to crash out of the single currency.
Although the deal prompted an initial sigh of relief from financial markets around the world, the stringent terms demanded by the German Chancellor, Angela Merkel, for signing off on it, including a bold attempt to take control of €50bn of Greek sovereign assets, provoked widespread accusations of an attempted "coup" against the Athens government. Others expressed fears that Germany's threats to expel Greece from the euro unless it capitulated meant Berlin had burnt through a disastrous amount of its political capital across the Continent in one night.
Meanwhile on Monday night around 800 Greeks, some shouting "This is a coup" in an echo of social media protests, gathered outside parliament in Athens to demonstrate against the new austerity proposals.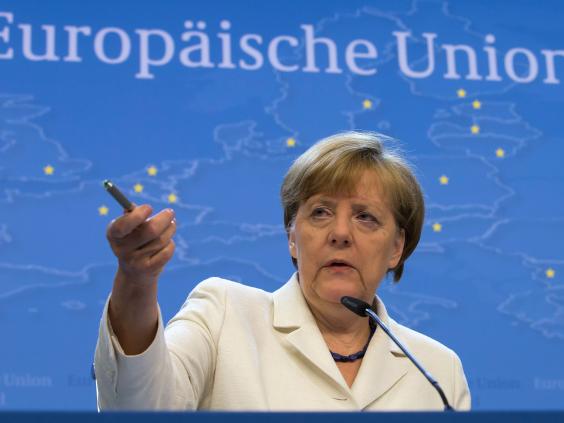 The agreement could also still crumble, forcing Greece out of the single currency as early as next week. Negotiations on a new bailout deal will only begin if the Greek parliament passes a series of contentious laws on Wednesday to raise VAT, cut pension spending and liberalise the country's jobs market. And the country needs at least €7bn in funding to pay sovereign debts due on Monday. This will have to take the form of an emergency short-term loan to Greece from its European partners, since the full bailout deal simply cannot be concluded in time.
The domestic legislation due to be put forward by Athens on Wednesday is expected to face strong resistance from the left wing of Mr Tsipras's Syriza party as the reforms are the very creditor demands that were overwhelmingly rejected by a national referendum in Greece on 5 July.
Unless that legislation is passed, Greece's banks could yet find themselves forced into insolvency by the European Central Bank by as early as Thursday, putting the country on course for an accidental "Grexit".
The chances of Mr Tsipras forcing the legislation through the Athens parliament were significantly boosted after the opposition parties said they would back the Brussels agreement. That means the legislation should have majority support from MPs even if a significant number of parliamentarians from his own Syriza party rebel.
But there may be another obstacle in the form of the outspoken, far-left house Speaker Zoe Konstantopoulou, who is opposed to further austerity and who had said she will not quit, even if she is asked. The Speaker is not obliged to introduce the bills received from the government to be put to the vote, and some MPs fear she will seek to block the process. She could be voted out from her post, but that will take time. "I think it can be done, but it really is an extraordinary amount of stuff to do," said the centrist opposition MP Antigone Lyberaki, who will back the new deal.
In pictures: Greek referendum
In pictures: Greek referendum
1/28 Greece EU Referendum

People celebrate in Athens after the first exit-polls of the Greek referendum

Getty Images

2/28 Greece EU Referendum

A "No" supporter flashes a victory sign before a Greek flag atop the parliament in Athens, Greece July 5, 2015.Greeks voted overwhelmingly "No" on Sunday in a historic bailout referendum, partial results showed, defying warnings from across Europe that rejecting new austerity terms for fresh financial aid would set their country on a path out of the euro.

REUTERS/Yannis Behrakis

3/28 Greece EU Referendum

Supporters of the No vote react after the first results of the referendum at Syntagma square in Athens

AP

4/28 Greece EU Referendum

Supporters of the No vote wave Greek flags after the referendum's exit polls at Syntagma square in Athens

AP

5/28 Greece EU Referendum

Greece's finance minister Yanis Varoufakis casts his vote in the country's referendum

EPA

6/28 Greece EU Referendum

A ballot box is emptied by a voting official at the closing of polling stations in Athens, Greece July 5, 2015. Greece voted on Sunday on whether to accept more austerity in exchange for international aid, in a high-stakes referendum likely to determine whether it leaves the euro-currency area after seven years of economic pain.

REUTERS/Marko Djurica

7/28 Greece EU Referendum

A photographer photographs a man waiting to vote in the referendum at a school in the suburbs of Athens

Getty

8/28 Greece EU Referendum

Greek voters are being asked to choose between backing their creditor's austerity measures or rejecting them

Getty

9/28 Greece EU Referendum

Tourists walk past posters with slogans that read "OXI" (NO) and "NAI" (YES) ahead of the referendum in Athens

AFP

10/28 Greece EU Referendum

Opposition parties to Syriza, including the centre-right New Democracy, are campaigning for a 'Yes' vote in the referendum

Reuters

11/28 Greece EU Referendum

Protesters on both sides of the argument ('No' pictured here) have rallied in Athens

AP

12/28 Greece EU Referendum

Greek Prime Minister Alexis Tsipras has been branded reckless and a feckless liar by EU leaders

Reuters

13/28 Greece EU Referendum

According to polls which surveyed some 1000 people across the country, 41.5 percent of Greeks would support the new bailout measures to avoid an exit from the Eurozone

AP

14/28 Greece EU Referendum

Despite Tsipras's assurances, many Greek people are not certain whether Sunday's referendum is a vote on whether Greece will remain in the euro or not

Reuters

15/28 Greece EU Referendum

The Greek and EU flags flutter in front of the ancient Acropolis hill in Athens. The Greek people have been called upon to show "calm and national unity"

Getty

16/28 Greece EU Referendum

Greek Prime Minister Alexis Tsipras addresses a crowd of 25,000 'No' supporters in Athens' Syntagma Square

YANNIS BEHRAKIS/Reuters

17/28 Greece EU Referendum

Greece's Prime Minister Alexis Tsipras gave a televised address to the nation ahead of the vote. He has called on voters to reject creditors' proposals for more austerity in return for rescue loans

AP

18/28 Greece EU Referendum

Protesters march holding a torn European Union flag during a demonstration for the 'NO' campaign in Thessaloniki

Getty Images

19/28 Greece EU Referendum

Greek Finance minister Yanis Varoufakis has pledged to resign if his country votes "yes" to the bailout plan

Reuters

20/28 Greece EU Referendum

Pensioner wait to get their pensions outside a National Bank of Greece branch in central Athens. Banks only opened for pensioners to allow them to get their pensions, with a limit of 120 euros.

AFP/Getty Images

21/28 Greece EU Referendum

Protesters attend an anti-austerity pro-government rally in front of the parliament building

Getty

22/28 Greece EU Referendum

The possibility of Greece leaving the Eurozone is increasing by the day. Merchandise already exists to accompany the event

EPA

23/28 Greece EU Referendum

An elderly man waits to receive his pension outside the closed National Bank of Greece headquarters in Athens

AP

24/28 Greece EU Referendum

People stand in a queue to use an ATM outside a closed bank in Athens

AP

25/28 Greece EU Referendum

A banner supporting the NO vote in the upcoming referendum hangs from the offices of the Greek Finance Ministry

Getty Images

26/28 Greece EU Referendum

Greeks will be asked whether they accept the austerity terms demanded by the country's creditors

Getty

27/28 Greece EU Referendum

Eurozone finance ministers expressed disappointment at the Greek decision to hold a referendum on the bailout terms

Getty

28/28 Greece EU Referendum

Alexis Tsipras, the Greek Prime Minister, said bailout conditions had 'asphyxiated' his country

EPA
Another potential stumbling block is the bridge financing that Athens will need to see it through next week even if the negotiations start. It is unclear where the money will come from. France has proposed using the remaining funds from the European Financial Stabilisation Mechanism bailout fund to make the loan – but that ran into fierce opposition from Downing Street, since using the EU-guaranteed pot would leave the UK financially exposed.
If Greek MPs do pass the required legislation, eurozone finance ministers will hold a conference call on Thursday over whether to recommend a third bailout. At that point, other national legislatures will also be asked for their approval, including Germany, which will hold a special parliamentary session before a vote.
Reuse content